Nothing is sweeter than filling your baby's stocking for the very first time. It can be a bit of a challenge, though, finding appropriate stocking stuffers for babies. As Meemaw of a 15 month old, much of my time is spent making sure he doesn't put small items into his mouth.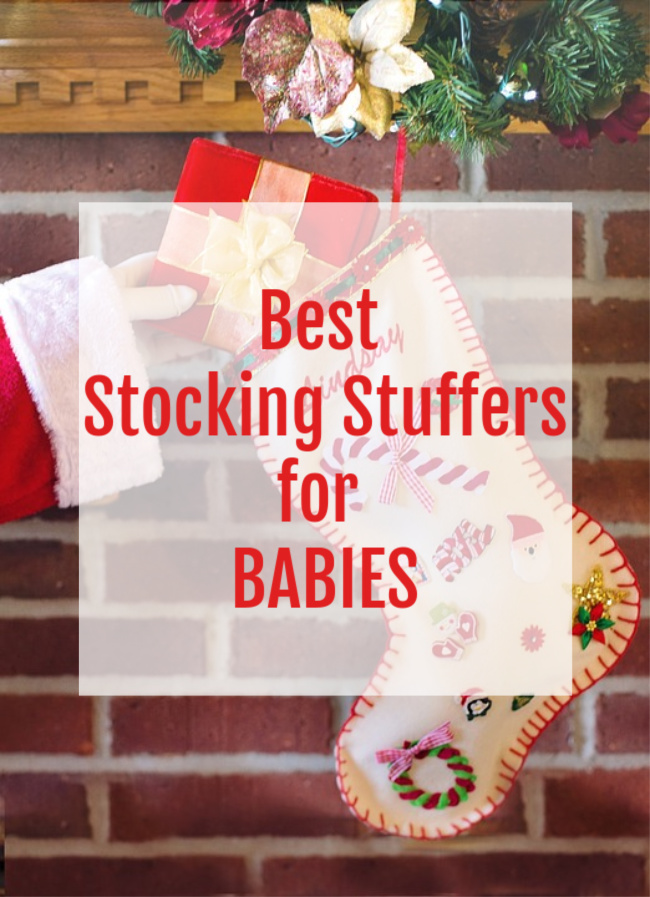 Still, there are some great options!  With my carefully curated (and in most cases, Walter-tested) stocking stuffer gift guide, you'll be all set.
Welcome to Day 12 of the Fourth Annual 12 Days of Christmas Series!
We have teamed up with 50 plus bloggers to bring you a oodles of DIY Ideas and Recipes to make your holiday season merrier. There are 12 different posts in the series and we have spread them out over a four week period with three posts per week. Now is the time to subscribe!
GO HERE for the complete list of Dates and Topics plus a collection of most popular holiday ideas including ornaments, games, recipes and more from all 50 plus talented bloggers!
It's Day 12 and we are ready to Hang the Stockings by the Chimney with Care!
---
Pick out some of these goodies on this baby gift guide for your little bundle of joy. You could also stuff a stocking  for that soon-to-be new mom or dad on your gift list. Merry Christmas!
Stocking Stuffers for Babies
Disclosure: This post contains affiliate links for your convenience. As an Amazon Associate, I earn from qualifying purchases.
Walter's Top Five Personal Recommendations:
Infantino Textured Multi Ball Set
Lamaze Mortimer the Moose
The First Years My First Rattle
Baby Einstein Take Along Tunes Musical Toy
Melissa and Doug's Pull Back Vehicle Set
 Proud Baby DELUXE Clay Hand Print & Footprint Keepsake Kit – 4 RIBBONS – EASEL – GLAZE FINISH – Dries Stone Hard – No Bake – Air Drying (Makes 2 Plaques)
 Earth Mama A Little Something For Baby Gift Set, 4 Piece
 Baby Starters Plush Snuggle Buddy , Sugar N Spice Doll
 Baby GUND Prayer Teddy Bear Musical Stuffed Animal Plush, 8
 Sophie La Girafe – Giraffe Teether and Book Set
 C.R. Gibson Pink and White 'Sweet Baby Girl' Loose Leaf First Five Years Baby Book, 64pgs, 10" W x 11.75" H
 C.R. Gibson Dinosaur 'Boy oh Boy' First Five Years Memory Baby Book, 64pgs, 10" W x 11.75" H
 Skip Hop Explore and More Roll Around Rattle Toy, Hedgehog
 TYRY.HU Pacifier Clips Silicone Teething Beads BPA Free Binky Holder for Girls, Boys, Baby Shower Gift, Teether Toys, Soothie, Mam, Drool Bibs, Set of 2 (Green, Gray)
 Kids Preferred The World of Eric Carle The Very Hungry Caterpillar Jack in the Box baby gift idea
 Baby Aspen, Five Little Monkeys, Baby Shower Gift Set with Keepsake Basket
 Edushape Melody Snaily
 Baby Finger Toothbrush by BabyBaus – Set of 3 for Babies & Toddlers, Kids Love Them – 3 Different Case Colors: Blue, Pink, Clear; Soft Bristles, Train Your Child Healthy Oral Habits and Buy TODAY!
 Silicone Bowl and Silicone Plate Easily Wipe Clean! Self Feeding Set Reduces Spills! Spend Less Time Cleaning After Meals with a Baby or Toddler! Set Includes 2 Colors (Turquoise/Lime Green)
 PandaEar Stay Put Spill Proof Stackable Baby Suction Bowls 3 Sizes for Toddlers with Silicone Feeding Utensils and Secure Lids BPA Free
 Munchkin White Hot Infant Safety Spoons, 4 Count
 Mary Meyer Taggies Oodles Owl Cozy Blanket
 VTech Peek & Play Baby Book Toy
 Baby Aspen
 HALO SleepSack Micro-Fleece Swaddle, Baby Blue, Small
 Muslin Swaddle Blankets by CuddleBug – Spots n' Stripes- 4 Pack Baby Blanket for Newborns – Swaddle Blanket, Swaddle Wrap, Muslin Swaddle and Receiving Blankets
 Skip Hop Bandana Buddies Baby Activity and Teething Toy with Multi-Sensory Rattle and Textures, Fox
 Infantino Textured Multi Ball Set
 C.R. Gibson Animals 'Hello World' Baby Calendar Baby First Year Tracker, 11" W x 18" H
 Lamaze Freddie The Firefly Highchair Toy
 Baby GUND My First Teddy Bear Stuffed Animal Plush, Blue, 15
 Baby GUND My First Teddy Bear Stuffed Animal Plush, Pink, 15
 Oball Toy Ball, Multicolored, Assorted
 Melissa & Doug K's Kids Pull-Back Vehicle Set – Soft Baby Toy Set With 4 Cars and Trucks and Carrying Case
 The First Years My First Rattle
 Baby Einstein Take Along Tunes Musical Toy
 Lamaze Mortimer The Moose
What are your favorite ideas from this year's 12 Days of Christmas? It's so hard to choose! If you'd like to check out what I've done for the previous posts, have a look here:
Easy 15 Minute Stacked Paper Christmas Tree
How to Jazz up Your Christmas Wrapping
Baked Macaroni and Cheese Bites Appetizer
Santa Claus Christmas Countdown