These baked macaroni and cheese bites bring appetizer and comfort food together in one bundle. Yum! Serve them as a snack, appetizer, or even as part of a fun meal for kids.
Appetizers just make me happy. I'll choose savory over sweet 99% of the time and often make whole meals of just appetizers.
Baked Macaroni and Cheese Bites
I call the holiday season "appetizer season – all the tasty little tidbits served over the holidays are foodie heaven for me! I've often said it was the "most wonderful time of the year (for food)"!
You know what though? There is nothing wrong with eating appetizers any time of year. I even make whole meals out of just appys. It's pretty much the perfect meal in my world.
When it comes to appetizers, we often have our favorites that we serve year after year but it's always fun to try something new. I love macaroni and cheese, but I'll be honest.
I've tried those fried mac and cheese balls at restaurants before and didn't like them at all. Still, I knew with my deep abiding love of all things cheesy, there must be a way to tweak it.
The key was baking them. Bonus points: they're lower in calories too!
---
Assembly Tips:
It can take a bit of a knack to get these to hold together well and can be somewhat dependent on the macaroni and cheese recipe you use.
Mine is extra cheesy and I find that makes it easier. But, you can also make your mac and cheese in muffin tins.
I scoop it in there using a big ice cream scoop and then bake it that way. Preforming the balls that way can also help with getting them to hold together later.
Another tip is to form the mac and cheese balls and then freeze them. Coat them while frozen. You may have to add an extra 5-7 minutes to the baking time so they're heated all the way through.
Baked Macaroni and Cheese Bites
Little bites of creamy macaroni and cheese baked to perfection! A great addition to any party menu.
Ingredients
3

cups

macaroni and cheese

3/4

cup

flour

2

eggs

1 1/2

cup

bread crumbs

2

tbsp

olive oil
Instructions
Form cold macaroni and cheese into balls, about the size of a ping pong ball.

Coat a baking sheet with olive oil.

Set out a bowl of flour, a bowl with the beaten eggs in it, and a bowl of bread crumbs.

Coat each mac and cheese ball in flour, dip into the eggs, and then cover in bread crumbs.

Place coated macaroni and cheese bites on the baking sheet.

Bake for 10 minutes at 425 degrees F.

Turn the bites over and bake for an additional 10 minutes.

Serve with dipping sauce – some of our favorite choices are Sriracha, marinara sauce, or Ranch dip.
Recipe Notes
It's best to use leftover macaroni and cheese that is as cold as possible (but not frozen). Make sure it has been in the fridge for a minimum of 12 hours to get the best results. 
Nutrition Facts
Baked Macaroni and Cheese Bites
Amount Per Serving (46 grams)
Calories 66
Calories from Fat 30
% Daily Value*
Fat 3.3g5%
Cholesterol 20.7mg7%
Sodium 75.3mg3%
Carbohydrates 6.8g2%
Protein 2.3g5%
Vitamin A 50IU1%
* Percent Daily Values are based on a 2000 calorie diet.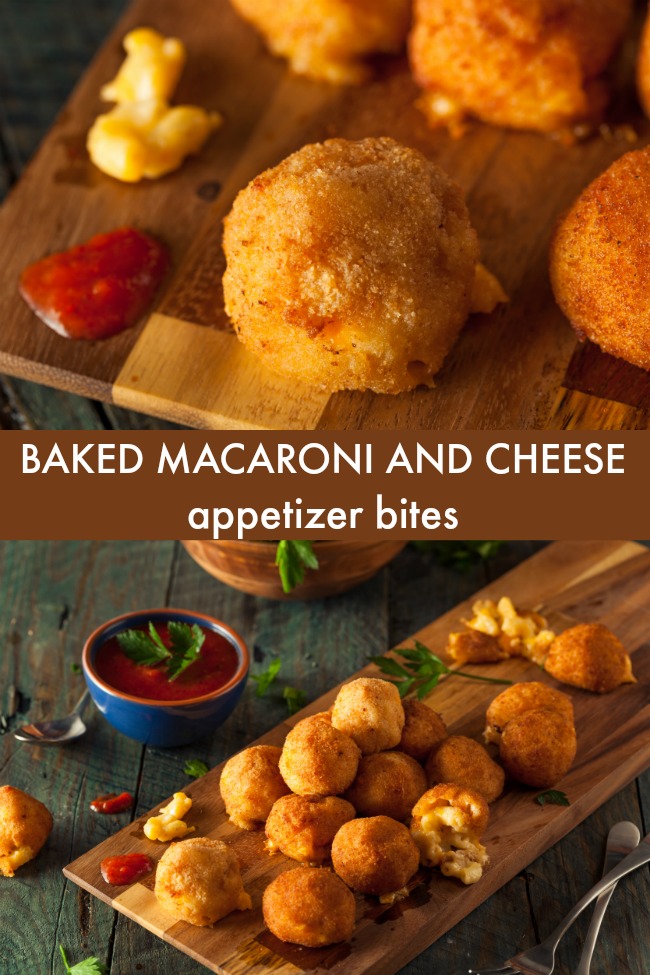 Don't these sound AMAZING? They are too. I'll warn you though – you can't stop at just one.
Looking for more yummy appetizer ideas? I've got you covered!
Four incredibly easy 5-minute appetizers