Y'all, I wait for this all year long. Not only is it a lot of fun to see all the amazing posts in the the 12 Days of Christmas DIY series but it is a blast to participate in too. It really gets my creative mojo going! This DIY Winter White Monochromatic Embroidery Hoop Wreath was born out of me wondering what in heaven's name to do with the box of 30+ embroidery hoops I was given.
It's super simple to make (took me less than 15 minutes) and can be made for under $10 – even if you have to buy your own hoops! 
Welcome to Day 1 of the Fourth Annual 12 Days of Christmas Series!
We have teamed up with 50 plus bloggers to bring you a oodles of DIY Ideas and Recipes to make your holiday season merrier. There are 12 different posts in the series and we have spread them out over a four week period with three posts per week. Now is the time to subscribe!
GO HERE for the complete list of Dates and Topics plus a collection of most popular holiday ideas including ornaments, games, recipes and more from all 50 plus talented bloggers!
It's Day 1 and we are sharing DIY Wreath Ideas!
---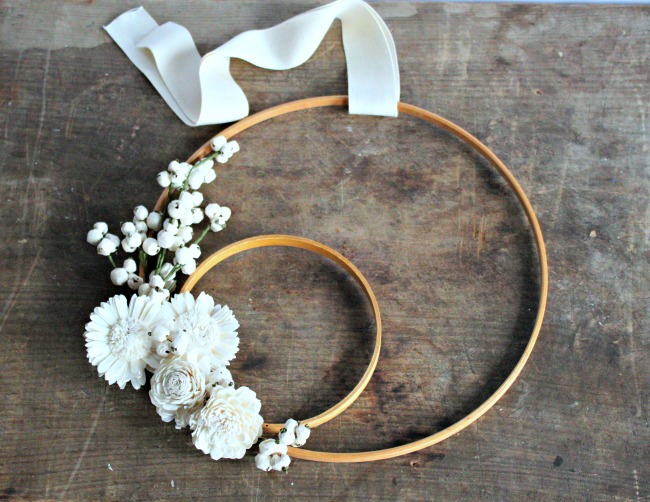 WINTER WHITE EMBROIDERY HOOP WREATH
I love the looks of this wreath. It's minimal, pretty much monochromatic, and best of all, it's perfect not only for Christmas but all winter long! I bought some super cute stuff online (all based on my favorite movie, White Christmas) as well as some Canadiana items from Indigo last year – all on a cozy wintery theme and this is going to fit in beautifully.

Here's what you need to make this embroidery hoop wreath:
Two different sizes of embroidery hoops. Play with them in the store until you get the sizes you prefer. I really liked the juxtaposition of a bunch of floral embellishments on one side and a large open gap on the other. You'll only need the center rings of these. Save the outer parts for another project. You can find these hoops inexpensively on Amazon, at Michaels or other craft stores, or often at second-hand stores as well. Of course, you can use any wreaths or wooden rings that you like but the embroidery hoops are often the least expensive options.
Ribbon to use as a wreath hanger.
Hot glue gun and glue.
Scissors.
Embellishments. I found mine at the local dollar store (Dollarama to be specific) but you could use items from craft stores or even gathered from your own backyard. Some of the options I have thought of: felted wool balls, pine cones, leaves (spray them white or a metallic color for something less fall and more holidays/winter), pebbles, glass marbles, felt or paper flowers, balls of yarn of various sizes, loops of ribbon, and paper quilled shapes. Oh and don't feel like yours has to be monochromatic too. Add as much color in there as you'd like! What will you use for yours?
Instructions for making the wreath:
This is just so simple – you barely need a tutorial at all! Begin by gluing the smaller ring inside of the larger one. Cut a piece of ribbon and glue that to the wreath as desired. I wanted the smaller circle off to one side and near the bottom. Put yours wherever you'd like.
Now, just start embellishing. I like to lay the pieces out on my table first – get a feel for how they'll look on the wreath. If you find that there isn't enough of a surface to glue the embellishments onto for a secure hold, grab a thin piece of cardboard. You can cut a piece to attach to the wreath, thus providing more surface area for the flowers to adhere to. Just make sure you're able to thoroughly hide the cardboard with the embellishments.
Another option: if you're using flowers or other items on wires like I did, you can wire them directly to the wreath. Add a dab of glue for extra security.
That's it. Didn't I say it was really easy?
Scroll down for many more DIY Wreath Ideas for your holiday season!
---