Do you like wrapping gifts? I know so many people who view it as drudgery. I have to admit, if I leave it until the last minute, I really don't enjoy it. But give me plenty of time for a leisurely evening of gift wrapping, a mug of eggnog or hot chocolate beside me, Christmas songs playing, and I am all in!
What I really like best of all is finding ways to go beyond the typical package. The ideas below take mere minutes to make and use simple inexpensive materials, but these embellishment will really help jazz up your gift wrapping!
Welcome to Day 9 of the Fourth Annual 12 Days of Christmas Series!
We have teamed up with 50 plus bloggers to bring you a oodles of DIY Ideas and Recipes to make your holiday season merrier. There are 12 different posts in the series and we have spread them out over a four week period with three posts per week. Now is the time to subscribe!
GO HERE for the complete list of Dates and Topics plus a collection of most popular holiday ideas including ornaments, games, recipes and more from all 50 plus talented bloggers!
It's Day 9 and we are sharing Pretty Gift Wrapping Ideas!
---
Ideas for Embellishing Your Gift Wrapping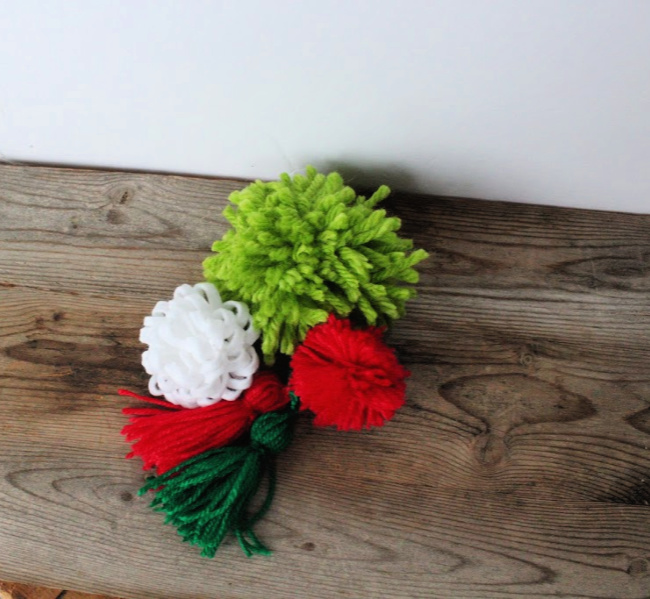 Materials needed:
For tassels and pompoms – scissors, yarn
For felt bow – felt, scissors, glue gun or tacky glue (Tacky glue is my favorite for this but takes a little longer to dry. Remember that felt is porous so hot glue will soak through. Use some glue gun finger protectors to prevent burns.)
Making Pompoms:
You can use a scrap of cardboard or a pompom maker for winding the yarn, but I just used my hands. Wrap the yarn around your fingers – use 2 fingers for smaller pompoms and 3 or 4 for bigger ones. Try not to wrap too tightly.
How many times should you wrap? It depends on how full you want the finished pompoms to be as well as how thick the yarn is but for the ones I made, I wrapped 80 times.
Cut the yarn so that what you've wound is no longer attached to the skein. Carry remove the wrapped yarn from your fingers. Using a separate piece of yarn, tie it around your bundle of wrapped yarn, in the middle. Make a good secure knot!
Cut open the loops. Fluff out your pompom. Using scissors, give your pompom a trim. You can simply cut it so that all the pieces of yarn are even or give it even more of a trim. I find that the more I cut back the pompoms, not only do they get smaller (naturally), but they look fuller and fluffier too.
That's it! You tie or tape the pompoms onto your package.
How to Make a Tassel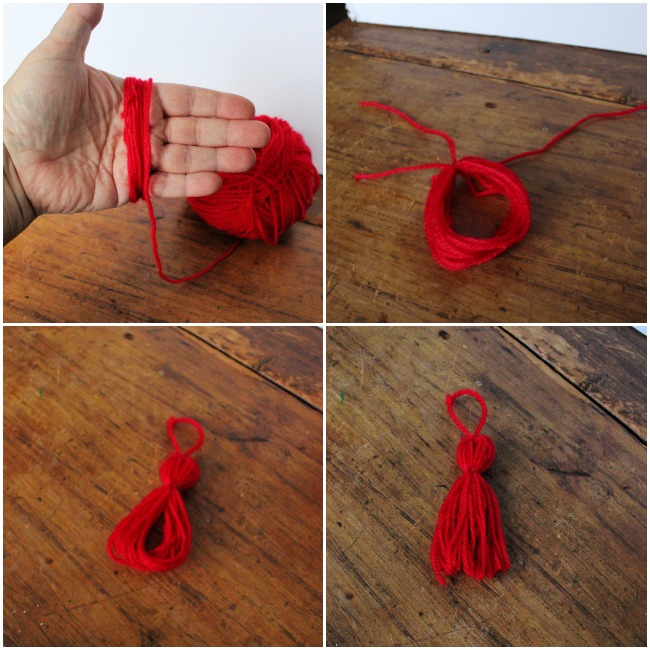 This is very similar to making a pompom. Start by wrapping the yarn around your fingers. You won't want to wrap nearly as many times. If it's too full, it won't have the look of a tassel. And it works best with thinner yarns rather than thick ones.
I wrapped mine about 30 times. Carefully remove the wrapped yarn from your hand. Tie off at the top of the loops. Now tie a piece of yarn around the bundle but unlike for the pompom, you want do this close to one end rather than in the middle.
Trim off any excess pieces of yarn sticking out. Cut the loops open at the bottom (leave top loops intact).
Simple, right? I like to make 2 or 3 tassels and group them together on a gift parcel.
Felt Flower Bow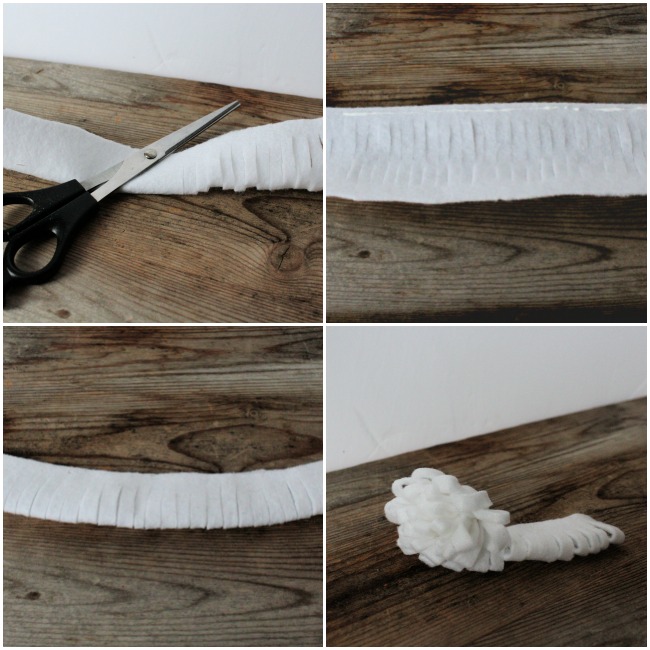 For a large package, you'll want to use a piece of felt that's about 4 inches wide and 12 inches long. Since I was wrapping smaller gifts, mine were 2 1/2 by 8 inches. Fold the felt in half lengthwise. Snip slits into the folded size of the felt, stopping about 1/4 of an inch before you reach the cut edge. I did quarter-inch wide slits but you can vary them for a different look.
Open up the piece of felt and place a line of glue along one of the long edges. Fold in half again so that the glue holds it in place. Once dry enough to handle, start rolling up the felt, beginning at one of the short ends. Secure with glue every inch or so.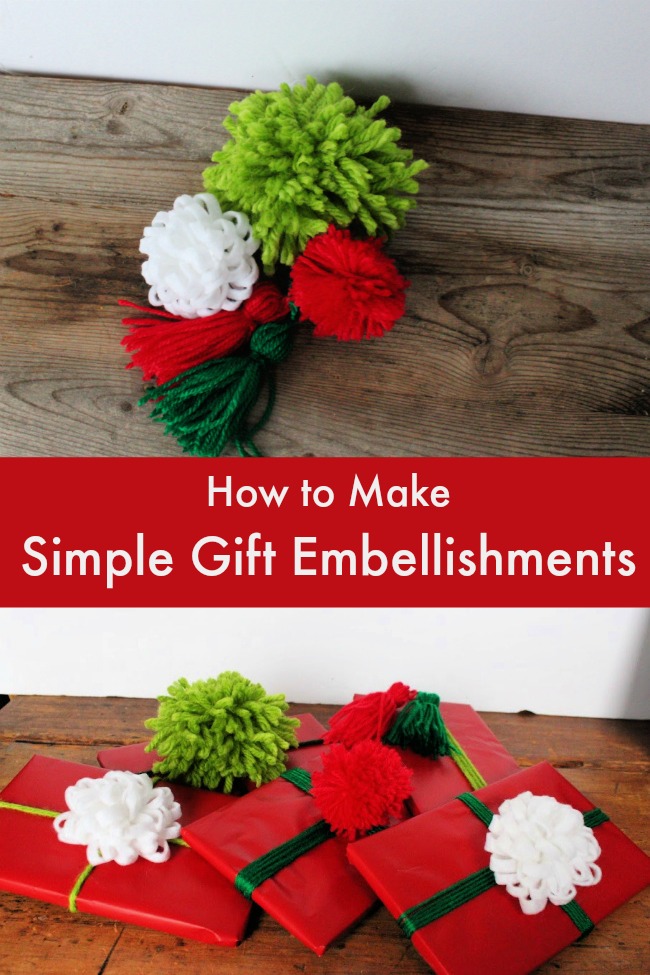 If you're looking for more fun ideas, these Mason Jar Snow Globes make great gifts!
Scroll down for many more Pretty Gift Wrapping Ideas!
---