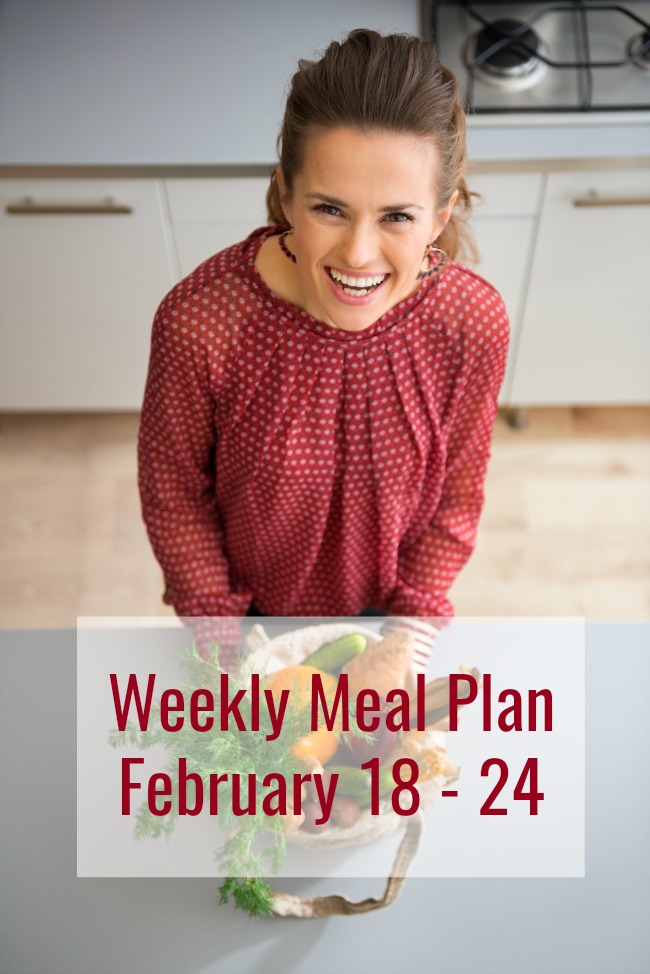 Are you all ready for another weekly meal plan? There are a lot of great sales going on right now. It seems that several of the stores we frequent have been having a lot of $1 sales for the past several weeks and we are taking full advantage. We've been stocking the freezer and the cupboards so we're ready for lots of meals to come.
We've also placed an order through my niece's preschool for one of their Domino's Pizza fundraisers. If you ever get the chance, these can be so handy to have around. We buy the mini pizzas – then each person can customize to their liking. And we can take out just one at a time as needed. They come in boxes with the pizza crusts, packages of shredded cheese, pepperoni, and pouches of pizza sauce. When we run out, I might just put some more of these together on my own!
WEEKLY MEAL PLAN
YOUR GUIDE TO THE MEALS IN MY MENU PLANS:
FF = FREEZER FRIENDLY
SC = SLOW COOKER
MF = MEAT FREE
PLO = PLANNED LEFTOVERS
MA – MAKE AHEAD
BBQ – GRILLED FOOD
I'm also planning extra simple meals on Saturdays and Sundays so that we truly can take a Sabbath and spend some time focusing on family and fun!
This Week's Meals
You will find that most of these meals are under $10 based on prices (sale prices where possible) in London, Ontario, Canada. We are feeding a family of 4 – 3 adults and 1 toddler, all with healthy appetites. We generally have some leftovers from our meals and if these aren't being used as part of another meal, they are used for lunches throughout the week.
Prices are based mostly on those at No Frills and FreshCo, the two grocery stores we frequent most often. Lately, Food Basics and Shoppers Drug Mart have had a few good deals and they are very close to our home too. Note: at this time of year, we are mostly using frozen vegetables as they tend to be better quality and have more nutrients than fresh.
We'll be taking advantage of these specials this week: FreshCo has lean ground beef, bacon, mini sweet peppers, Oktoberfest sausage, and eggs on sale. Loblaws has chicken pieces and pork tenderloin on sale. No Frills has canned soup (50 cents each so we're stocking up), Italpasta (also for 50 cents a bag), coleslaw mix, Roma tomatoes, sweet potatoes, eggplant, yogurt, tortillas, sour cream, and Pillsbury crescent rolls on sale.
Monday
FAMILY DAY (a stat holiday here) – eating out after we go to the London Children's Museum to play
Tuesday
Taco Tuesday (SS) – Taco Cups (use the Pillsbury biscuits or crescent rolls – press down into muffin tins and then fill with taco meat (we use ground beef, taco seasoning, and add some corn and black beans to it). Top with cheese and bake in the oven until the biscuits are done and the cheese is melted. Serve with additional toppings like tomatoes, lettuce, onion, and sour cream if desired. Fruit salad.
Wednesday
Maple Mustard Pork Tenderloin with sweet potatoes (SC), spinach, yellow wax beans
Thursday
Mom's Chicken and Rice Casserole (SS), peas, carrots
Friday
Cranberry Cauliflower Brie Quiche (MF) (using up some of those eggs on sale!), tossed green salad
Saturday
Sloppy Joes (SS), oven fries, coleslaw, pickles
Sunday
Sausage and peppers sheet pan supper with tomatoes and potatoes added, eggplant
Breakfasts and Lunches
Leftovers
Canned soups. Frozen soups and chili.
Grapefruit (I like it with a bit of brown sugar sprinkled over it and placed under the broiler until bubbly)
Eggs
Pancakes or waffles (we always have mix on hand)
Oatmeal
Cold cereal
Yogurt and bran cereal parfaits
Toast with jam and goat cheese or peanut butter
Sandwiches – lunch meat or chicken or cheese or cucumber and onions, selection depending on what's on hand and on sale that week. This week we are having some egg salad wraps since both eggs and tortillas were on sale.
Salads – chef's salad with hard boiled eggs, ham, and cheese added, Waldorf salad, Cobb salad
What is on your menu for this week?
Looking for some super quick and easy meals? Check out these delicious 15 minute main dish recipes.
Save time and effort with 20 Easy Meals Using Rotisserie Chicken
Here's a full 30 days worth of quick, easy, and inexpensive main dish ideas here.
You can find more of my menu plans here.
And check out more meal plan ideas over on Menu Plan Monday at Orgjunkie.com