We've come up with 30 fun things to do at the beach. These are family friendly ideas, some of which can be done with few or no supplies needed. Take a look and start planning your to-do list for the beach.
The beach is a classic location to visit over those hot summer months. As soon as the nice weather hits, many people pack up their beach bags and head off for the ultimate beach experience. The sun, the sand, the water. What could be more invigorating?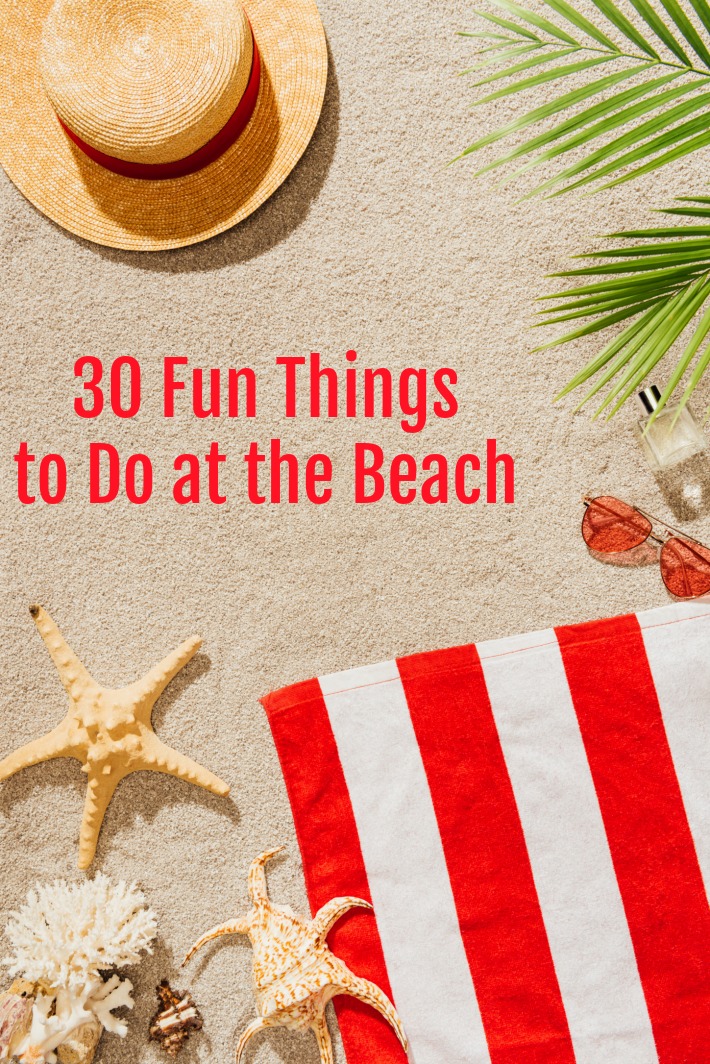 30 FUN THINGS TO DO AT THE BEACH
The truth is though, while relaxing on a beach towel in the sand with the cool breeze in your hair is an inviting experience, some are looking for more.
The beach isn't just about relaxing. In fact, there are many fun things you can do at the beach to make your trip that much more enjoyable. You just have to get creative.
Build a sandcastle – Don't forget the moat.
Fly a kite – See who can fly theirs the highest.
Play beach volleyball – Winning team gets ice cream. You can even just use a beach ball for it!
Go on a beach scavenger hunt – Bring lists of items for everyone to find and check off. You can have them take photos of the objects as proof (and allowing them to maintain safe social distancing).
Collect shells – Gather the prettiest shells that you can. It's important not to take too many and to ensure that there are no creatures using them as a home! Sea glass (or in my area, "lake" glass) is another good option.
Have a picnic – Pack a delicious picnic and enjoy lunch on the beach.
Read a book or magazine – Lounge in the shade with a good book.
Have a swimming race – First one to shore wins! Safety first- don't go too far out. You don't want anyone getting too tired out to make it back safely.
Make a sand casting – It's a simple and really fun beach souvenir.
Play board games – Who says you can't bring board games to the beach? We even have a few oversized games with plastic pieces and plastic mats in place of cardboard game boards. Perfect for outside!
Collect rocks – Find a few of the nicest rocks and keep them! You could even find a few that are well-suited for painting and leaving in your neighborhood as "kindness rocks".
Play "I spy" – I spy with my little eye, something that is fun.
Engage in a game of Simon says – Because Simon says so.
Do yoga on the beach – Want to make the beach even more relaxing? Do some yoga.
Play musical chairs but with beach towels – Same concept as the one with chairs, just using beach towels.
Make sand animals – Dog, cat, alligator, the possibilities are endless.
Play catch with a beach ball – Tossing a ball back and forth can be a ton of fun.
Try a new water sport – Water skiing, surfing, the water is the limit!
Walk barefoot along the shore – because you can.
Make shell necklaces or Christmas ornaments – They make amazing gifts.
Play Frisbee – You can even play Frisbee in the water!
Make sand angels – Kind of like snow angels but much warmer.
Paint rocks – They look great around your garden. As suggested earlier – painting them right at the beach makes for easier cleanup!
Play mini golf – Make pathways in the sand and challenge people to a competition.
Go beach bowling – This is a fun way to spend some time at the beach. Bring plastic pins or make them out of sand.
Watch the wildlife – The beach is the perfect place to watch the animals and birds.
Eat ice cream – because yum.
Have a sand race – It is much harder to run in the sand.
See who can make the biggest splash – This is just too much fun.
Have a water fight – You have an endless supply of water.
Visiting the beach in the summer is an amazing experience. There are so many different activities that you can participate in aside from just the run of the mill relaxation. Just get creative with your planning and activities and you will have the best beach trip ever!
More beachy information you might like:
Planning the perfect day at the beach
Keeping your skin safe in the sun
How to stay safe in the summer sun
Beach themed recipes and crafts
What are your favourite beach activities?