Disclosure: Some of the links in this post on How to Get Your BBQ Ready for Summer are affiliate links provided for your convenience. This means, at no additional cost to you, we will earn a commission if you click through and make a purchase.
When the summer weather starts rolling in, it can seem as though your backyard becomes another room in your home. Reading in the hammock, splashing in the pool, and of course, dinner al fresco.
We love to spend a lot of time back there and so I want to make sure that everything is in good working order. Your grill is a very important part of your backyard summertime fun.
We haven't done much – okay, we haven't done any – grilling yet this year. It had rained so much that it just hasn't been possible. BUT this past weekend was glorious so, I'm going to get our BBQ ready now. Bring on the grilled foods!
How to Get Your BBQ Ready for Summer
It is so important to maintain your barbecue properly for better entertaining (your food will taste better too!) and safety, so getting started before barbecue season is important.
It doesn't matter how often you used your barbecue last summer, now is as good a time as any to do a little spring cleaning and maintenance.
If your backyard is anything like ours, you may find that creatures such as wasps or spiders have taken up residence in your BBQ and you want to give them their eviction notice asap before they get a really strong hold in there.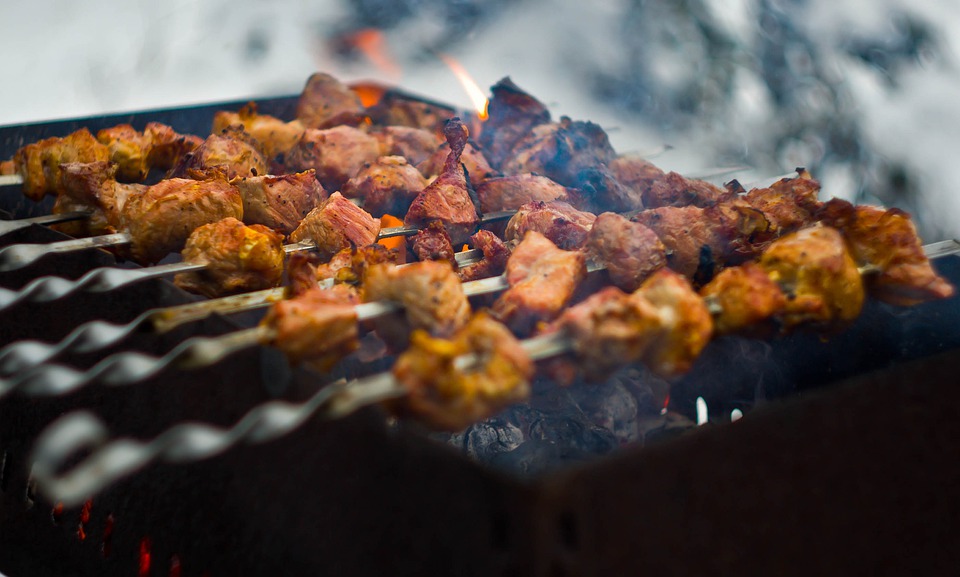 Pro tip: 
When prepping meat for the BBQ, simply put the meat in a freezer bag and pour in a marinade. Pop it into the freezer until ready to serve.
Thaw in your refrigerator overnight and you're ready to start grilling.  I find that marinating in the freezer makes for the best flavour and most tender of meats!
Get Your Supplies Ready
The best way to get started on preparing your barbecue for the upcoming spring and summer, is to make sure that you have everything you need on hand.
Even if you have it well covered, your barbecue can go through some rough weather from one summer to the next. It is a good idea to get started as early as possible in the spring to ensure you can use it right away.
Make sure that you have your barbecue's manufacturer manual ready to reference prior to cleaning. What works for some barbecues may not work for others, so it is a good idea to double check prior to cleaning.
Supplies
Towels
High quality brush (look for brushes that are not made of wire bristles – these can be dangerous)
Pail
Soapy water
Shop vac
Degreaser (dish soap can work as can my lemon and salt trick described below but if it's in really rough shape, you might need an actual degreasing product)
Pro Tip-
Do NOT use oven cleaner on your barbecue. It is corrosive and can damage some of the parts.
VicTsing 3-4 Burner Gas Grill Cover Heavy Duty Fits Most Brands of Grill – 58 inch 600D Waterproof BBQ Grill Cover + Storage Bag (UV & Dust & Water Resistant, Weather Resistant, Rip Resistant)
ASHLEYRIVER Wooden Grill Scraper Natural Wood BBQ Grill Cleaner Barbecue Grill Brush Non-bristles Safer Than Wire Brush Woody Safe Scrape Barbecue Griddle Cleaning Tool-16 Inch
Home-Complete BBQ Grill Tool Set- 16 Piece Stainless Steel Barbecue Grilling Accessories with Aluminum Case, Spatula, Tongs, Skewers
Twisted Wire Stem Gas Grill Venturi Brush
Shop-Vac 2021000 Micro Wet/Dry Vac Portable Compact Micro Vacuum with Collapsible Handle, Wall Bracket & Multifunction Accessories, Uses Type A Filter Bag & Type MM Foam Sleeve
Royal Gourmet BBQ Charcoal Grill and Offset Smoker, 30" L, 800 Square Inch, Outdoor for Camping, Black
Weber 741001 Original Kettle 22-Inch Charcoal Grill
ThermoPro TP20 Wireless Remote Digital Cooking Food Meat Thermometer with Dual Probe for Smoker Grill BBQ Thermometer
BBQ Gloves, Meat Claws and Digital Instant Read BBQ Thermometer (3 pc Set) – Heat Resistant/Silicone Gloves – BBQ Grilling Tool Accessories Make The
Steven Raichlen Project Smoke BBQ Spice Rub Seasoning Combo Gift Pack – 6 Pack World Wide Barbeque
Meat Injector Kit – Marinade Injector Syringe for Food – Fantastic 304 Stainless Steel Syringes, 6 Professional Needles, 4 Silicone O-rings And 2 Cleaning Brushes – Recipe Book Pdf – BBQ Grill Kit
FIREOR Barbecue Grill Light Magnetic Base Super-Bright LED BBQ Lights – 360 Degree Flexible Gooseneck, Weather Resistant, Batteries Included – Pack of 2
Star Wars Lightsaber BBQ Tongs with Sounds – Barbecue Like a Jedi (22
BBQ Guru Rib Rings – Rib Rack and Chicken Roaster for Weber, Green Egg, Kamado Joe, Vision, Grill Dome, Primo Grills and Indoor Ovens
WolfWise Stainless Steel Portable BBQ Grilling Basket for Fish Vegetable Steak Shrimp with an Additional Basting Brush
BearMoo Barbecue Skewer, 17
Vegetable Grilling Tray 1 X Non-stick Grilling Tray (Great for Vegetables, Shrimp & Fish)
Wipe Down and Clean
1. Prepare a surface that you can place the parts of the barbecue on. If you have newspaper around, it can be a good surface to catch the drips as you work.
2. Take out the cooking grates and using a brush, scrub them down. If they're extra grungy, you can sprinkle on some baking soda. Submerge them in a tub of warm water and let them soak for a bit. Then, use a nylon scrubbie to get those last bits of burnt on food once and for all.
Wash with dish soap, rinse, and dry off. If you find them especially greasy, roll a lemon under your foot to get the juices flowing. Cut it in half and sprinkle the cut sides with salt. Rub this all over the greasy grates. Let sit for about 10 minutes and then scrub with a brush. Rinse and dry. Don't forget that if they are cast iron grates you will need to re-season them, as per the instruction manual.
3. Remove plates and wipe them down.
4. Check the other internal elements such as rock and bricks if you have them. Oil, grease and other food items can easily build up to cause flare ups. You can buy replacement rocks at most hardware and home improvement stores.
5. Use the shop vac to clean out the main body of the barbecue.
6. Check the regulators and connection sockets to ensure that they are in good condition. Make sure that all hoses are in prime condition with no cracks or holes, and that knobs are working properly.
7. Do you have a push ignitor? I always find that these are the first parts to wear out on any BBQ we've ever had. They are generally easy and inexpensive to replace but we have often just gone without. Thermometers are another item that quickly gives out but it's simple enough to add an external one.
8. Carefully check the Venturi tubes. This is a prime location for insects to set up residence. If they do, they will block the flow of gas in your BBQ. This results in poor heating performance and can ultimately be quite dangerous. You can buy Venturi tube brushes that make it easy to clean them out thoroughly.
9. Make sure that the grease catcher is properly in place.
10. Reassemble interior of barbecue.
11. Wash down the outside of the barbecue with warm soapy water. If the outside is greasy, use a degreasing solution to avoid streaks on stainless steel.
Maintenance
Keep it simple to have a clean and functioning barbecue all season long by ensuring that you clean as you go. If you're like us, you start barbecuing in the spring and continue on right through until fall! This can certainly make for a lot of cooking debris and grease build up.
I'm a big proponent of cleaning as you go on a regular basis so that you have a lot less work in the long term. Pay special attention to those Venturi tubes. Even just one day without using your BBQ can mean insects will attempt to set up home inside them.
Now that your BBQ is all ready to go for another season, check out these incredibly delicious recipes for the grill:
Easy Grilled Beer Can Chicken with Spice Rub
Grilled Lamb Lollipops with Garlic and Herb Rub Marinade
Delicious Grilled Banana Boats
Grilled Cedar Planked Sockeye Salmon with Maple Blueberry Chutney
Grilled Caprese Salad on a Stick
Happy barbecuing!