The sunshine is here! Bring on the grilled meats, pasta and potato salads, and S'mores. And believe me, you're going to want to keep this herb and garlic rub on hand for all such backyard BBQs. Don't let the fact that I'm using it on lamb here scare you.
This rub is delicious on pretty much any kind of meat you want to cook! We've tried it on chicken, beef, and pork with amazing results. It tastes best on grilled meat (in my opinion) but when the BBQ is buried under a pile of snow, we've made it inside with a grilling pan or in the oven.
Lamb is one of my favourite meats. I mean, I would serve it every week if I could. So when I saw these lamb lollipops, the wheels started turning with all the different ideas for using them.
They are small portions and because of the way they are cut – like lollipops on a stick – they would be perfect for a party. No toothpicks or skewers needed; just grab one by its own little built in handle.
Or for a dinner party as part of a tasting menu – the portion sizes are just perfect for that too. Of course, they're fun for jazzing up an everyday family dinner too. And that's just what we did!
This is such a simple recipe but when I gave one to my daughter to try, she looked at me with that foodie look of love and said, "This is amazing." I had to agree.
Grilled Lamb Lollipops with Garlic and Herb Rub Marinade
In a food processor, blend together 2 cloves of garlic, 1 tablespoon of fresh rosemary, 1 teaspoon fresh thyme, 1 teaspoon fresh basil and 2 tablespoons of olive oil pulsing until it forms a paste. (Hint: if fresh isn't available, you can use the tubes of pureed garlic and herbs. You don't even need to use a food processor in that case. Simply stir together!)
Season the lamb lollipops on both sides using sea salt or Fleur de Sel and fresh cracked pepper.
Rub this paste on both sides of the lamb lollipops. Cover the lamb and place in the refrigerator for 1 hour to marinate. Remove from the fridge and let the lamb come to room temperature before grilling (about 15-20 minutes).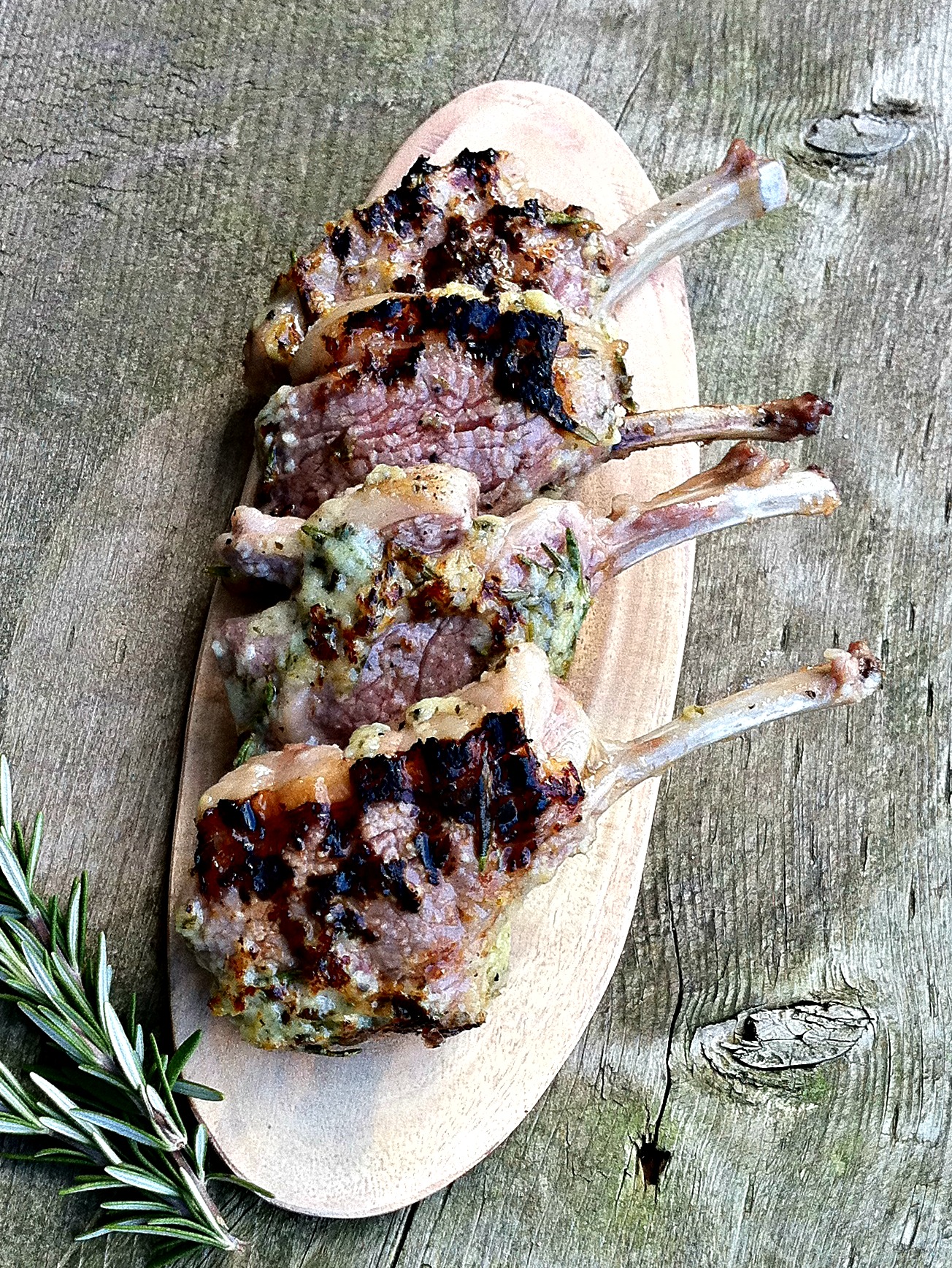 You want your grill or grill pan to be smoking hot. I greased mine ever so slightly just to prevent the rub from sticking. Sear the lamb quickly, about 1 minute on each side, to get it nice and browned.
Continue cooking for another 2 to 2 1/2 minutes for medium-rare, an additional 30-45 seconds for medium.
It's as easy as that! One of the things I love about lamb is that it has such a richness of flavour and these Welsh lamb lollipops were incredibly tender and delicious. I think next I'll give these a try on some elk or moose – YUM!
Herb and Garlic Rub Recipe for Grilled Meat
This herb and garlic rub is fantastic for pretty much any kind of grilled meat. We've tried it with great success on lamb, beef, pork, and chicken. It's delicious as is but add in the element of grilling and YUM!!!!!
Ingredients
2

cloves

garlic

Or use a couple teaspoons of pureed garlic

1

tbsp

rosemary

use fresh for best results

1

tsp

thyme

1

tsp

basil

2

tbsp

olive oil
Instructions
Pulse together in a food processor until it forms a paste. If you use the already pureed garlic from the store, you can even just stir all of this together and won't need the food processor. That's it! You're all set to use this on whatever meat you plan to grill. Will keep for up to 5 days in the refrigerator if you don't use it all up at once.
Nutrition Facts
Herb and Garlic Rub Recipe for Grilled Meat
Amount Per Serving
Calories 67
Calories from Fat 63
% Daily Value*
Fat 7g11%
Carbohydrates 1g0%
Vitamin A 25IU1%
Vitamin C 1.3mg2%
Calcium 13mg1%
Iron 0.2mg1%
* Percent Daily Values are based on a 2000 calorie diet.
Check out these incredibly yummy recipes for the grill too!
Easy Grilled Beer Can Chicken with Spice Rub
Grilled Cedar Plank Sockeye Salmon with Maple Blueberry Chutney
Delicious Grilled Banana Boats