Disclosure: Some of the links in the post below are affiliate links provided for your convenience. This means that if you purchase something through one of these links, I get a small commission at no added cost to you.
Work on shapes, colors, and cutting skills with this simple Dollar Store Clay Pot Leprechaun Hat craft created from dollar store clay pots and craft paint. It's a fun activity to do with the kids and makes an adorable St. Patrick's Day decoration.
These make really cute place cards for a St. Patrick's Day party with the family. You could even hide little treats underneath them and personalize each hat with the person's name.
Find more St. Patrick's Day crafts here:
A different type of clay pot leprechaun hat
CLAY POT LEPRECHAUN HAT
Materials:
You can find most of the materials needed at the dollar store. If you prefer to shop online, there are links below that you can use if you'd like.
Instructions:
STEP ONE
Gather all materials then remove all packaging and labels. Basecoat three 2.5" clay pots with three different shades of green paint, bright green, dark green, and kelly green. Let the paint dry and then apply a second coat, if necessary.
STEP TWO
Once the clay pots are dry, apply black ribbon around the circumference, just above the rim with a glue gun and glue sticks.
STEP THREE
Measure a one-inch by one-inch square of gold glitter cardstock and cut out with scissors. Apply gold glitter buckle to the front of the hat with a glue gun and glue sticks.
STEP FOUR
Tie a bow from rainbow ribbon, cut a triangular notch from the tail ends and attach to the center of the gold glitter buckle with a glue gun and glue sticks.
STEP FIVE
Download and print the Dollar Store Clay Pot Leprechaun Hat Craft Pattern. Cut out the shamrock shape and then trace onto bright green, olive green, kelly green, and lime green craft paper. Cut out shamrock shapes with scissors.
STEP SIX
Decorate with markers, adding either a pattern or the recipient's name. Attach to Leprechaun Hat with a glue gun and glue sticks.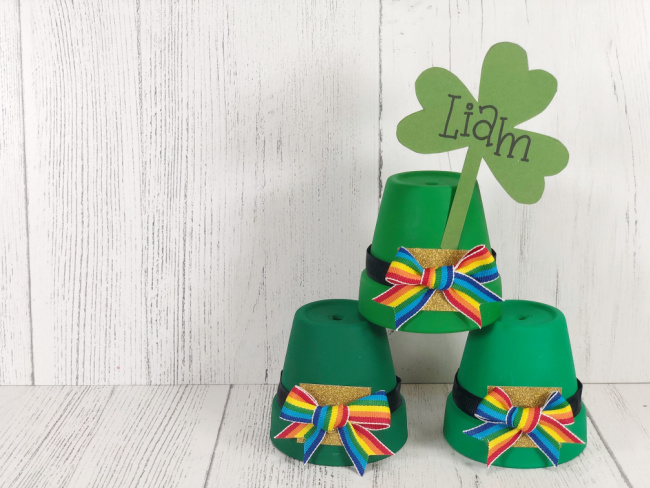 Aren't these adorable? They're a quick and easy St. Patrick's Day decoration and perfect as a little candy holder. I think they'd be really sweet lined up on a shelf or mantel!