Is anyone else having some crazy (as in not seasonal at all) weather these days? It has been warmer than usual around here and we've barely had any snow (pretty much just a dusting here and there).
In fact, we've had several rainy days in the past month. Still, I feel like a big winter storm could be just around the corner. Either way, we need some ideas for having family fun in January. Indoor and outdoor activities to keep us busy and connected, no matter the weather!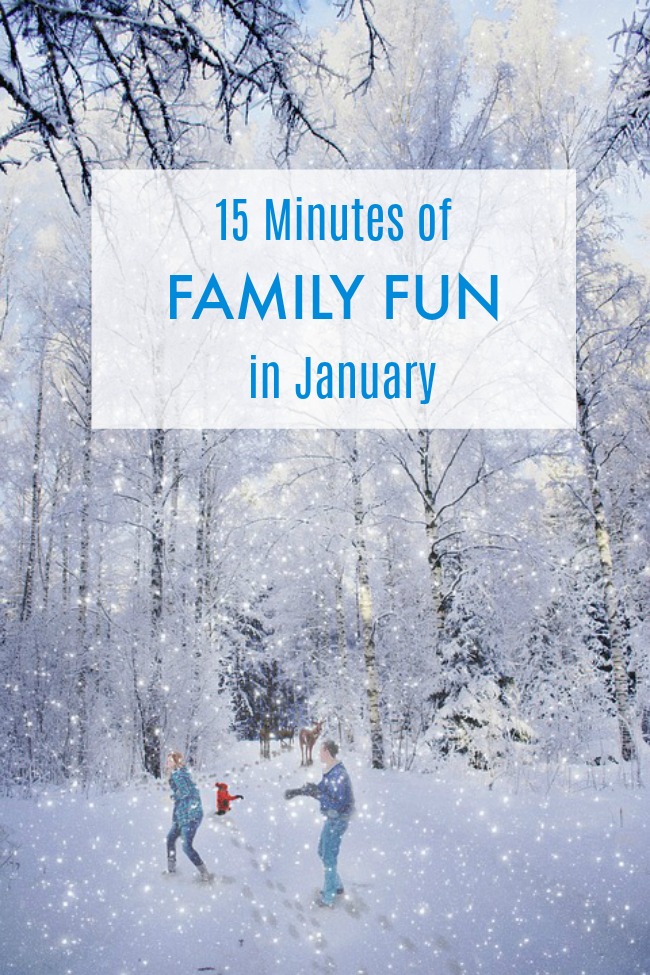 I remember these wintery days back when my daughter was little. Of course, a freshly fallen snow always called for some outdoor play but January tended to be bitter cold and so I had to have plenty of indoor "I need something to do" ideas on hand too.
Cabin fever is a real thing and when it hits the whole family, you need to be ready. So, these ideas for 15 minutes of family fun in January offer a selection of both indoor and outdoor activities. Obviously, many of these options can be extended to fill more than a 15 minute period but they're short enough to take the pressure off.
Drop everything and have some fun for a little bit every day. You might be surprised at the difference it makes for your family.
Remember, family fun doesn't have to take much time. Other related lessons? Fun doesn't have to be complicated. It doesn't have to be expensive. It just has to be fun.
15 Minutes of Family Fun in January
Outdoor Activities:
~ Grab some spray bottles. Fill them with cold water and food coloring and have some fun making spray painted designs in the snow!
~ Build a snowman. Of course, this is a classic! And it can take much longer than 15 minutes if you want it to, but with everyone pitching in, you could get a snow person or two assembled on your front yard in no time!
~ When it's actively snowing, you can head outside and catch some snowflakes. You have to prepare ahead by putting paper in the freezer so I just kept some in there during the winter months so I'd be ready.
~ Take a selfie together out in the snow. Or snuggled up inside.
~ Do you have some leftover bubbles from the summer? Take them outside on a frigid day and blow frozen bubbles! They will often freeze quite quickly and hold their shape much longer than usual. The kids always get a kick out of this!
Indoor Activities:
~ Make snow print pictures. Use black or dark blue paper for best results. You can pick up some inexpensive snow scene stamps (snowflakes, snowmen etc) at your local craft store. Or grab a couple pieces of some Honeycomb cereal and some white paint. They look just like snowflakes falling from the sky when stamped on dark paper.
~ Make your own "snow" crystals! This takes some time for the crystals to form but you can easily do the prep in 15 minutes or less.
~ Make snow ice cream or maple sugar candy for dessert. Head out to gather up some clean snow and make one of these northern treats.
~ Start a large jigsaw puzzle and work on it for 15 minutes at a time.
~ Paint with "snow". This snow is made of whipped Ivory Snow and it produces such fun peaks of snowy looking textured paint.
~ Start reading a chapter book together, one or two chapters at a time. The Long Winter (one of the Little House on the Prairie books), The Lion, The Witch, and The Wardrobe, Mr. Popper's Penguins, and Stone Fox are great choices for this time of year.
What will you do for fun with your family this month?