I love summer but I don't do heat well. I get whiny and cranky and miserable to be around. So, on those really hot days, I'm always looking for something, ANYTHING that will help. This roundup is for me just as much as it's for you.
First things first, clear some space in your freezer. If you're anything like me in the summer, you're eating mostly fresh local foods anyway and don't need as much freezer space as in winter. Plus – priorities, people! Do you want casseroles or frozen treats? If you said frozen treats, you are my people.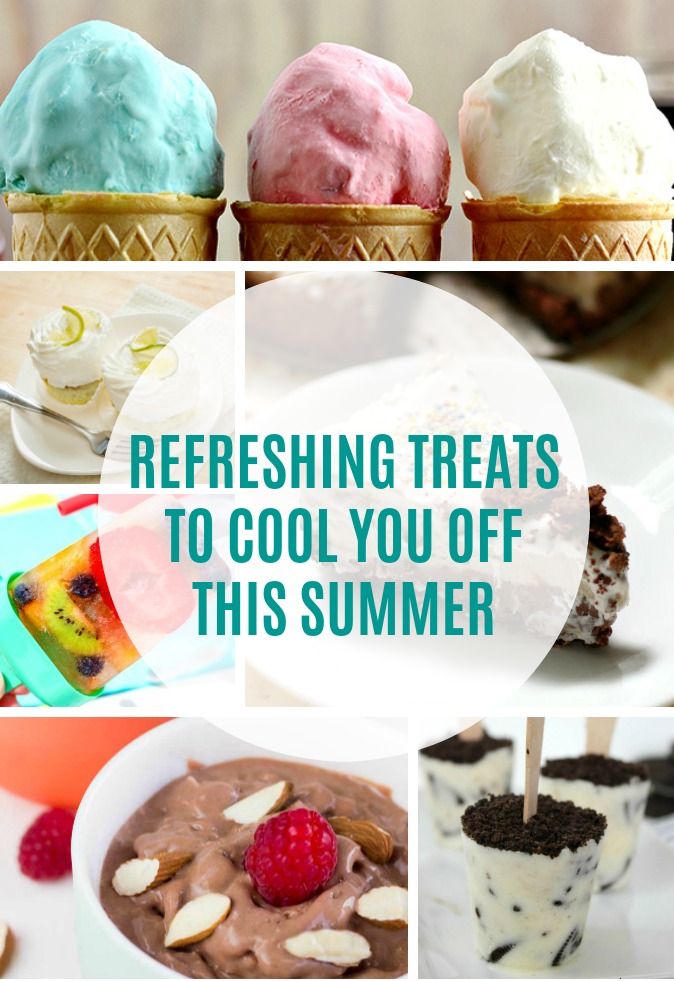 Refreshing Treats to Cool You Off This Summer
Cookie Dough Klondike Bars from My Heavenly Recipes
Decadent S'mores Milkshake from A Side of Sweet
Champagne Floats from The Bewitchin' Kitchen
Patriotic Ice Cream from Just Plum Crazy
Frozen Berry Meringue from A Lady in France
Healthy Homemade Fruit Popsicles from Natural Beach Living
Homemade Gluten-Free Vegan Ice Cream Cake from Strength & Sunshine
Vanilla Pudding Pops with Berries from It's Free at Last 
Frozen Pineapple Yogurt Pops from Mom Does Reviews
Kool-Aid Ice Cream from Wanna Bite
Protein Shaved Ice from The Bewitchin' Kitchen
Mango Sorbet from Mid Life Healthy Living
No Bake Mud Pie from Ann's Entitled Life
Oreo Pudding Pops from Cincy Shopper
Peanut Butter Chocolate Chip No Churn Ice Cream from Cooking with Carlee
Pineapple Cherry Yogurt Pops from Reuse Grow Enjoy
Strawberry Cheesecake Ice Cream from Mom Does Reviews
Reese Spreads Peanut Butter Chocolate Crunch Popsicles from Extreme Couponing Mom
Strawberry Basil Granita from Playdates to Parties
Sugar-Free Chocolate Greek Yogurt Ice Cream from The Fit Blog
The Best Ever Key Lime Sundae from Recipe This
Creamy Paleo Coffee Popsicles from The Bewitchin' Kitchen
Easy Oreo S'mores Ice Pops from Creative Cynchronicity
Well, which one are you going to make first? It's so hard to choose but those champagne floats have been calling my name for a while. So, if you're looking for me this summer, you'll probably find me in the backyard, lounging in the hammock with one of those floats in my hand.