Today is Shrove Tuesday (also known as Mardi Gras, French for Fat Tuesday), the day before Ash Wednesday, which signifies the beginning of the Lenten season. Shrove Tuesday can take place anywhere between February 3rd and March 9th (it's actual date each year is dependent on the lunar calendar) but it is always 47 days before Easter. Because Lent is a time of sacrifice, which in the past included giving up meat, fat, eggs, and dairy, the idea behind Shrove Tuesday is to have a big feast. So, let's celebrate with some really yummy pancake recipes. I'm sharing two of my favourites – Chocolate Chip and Cranberry Pecan Pancakes.
Want to learn more about Shrove Tuesday? Check out my post over here: https://creativecynchronicity.com/2013/02/happy-shrove-tuesday/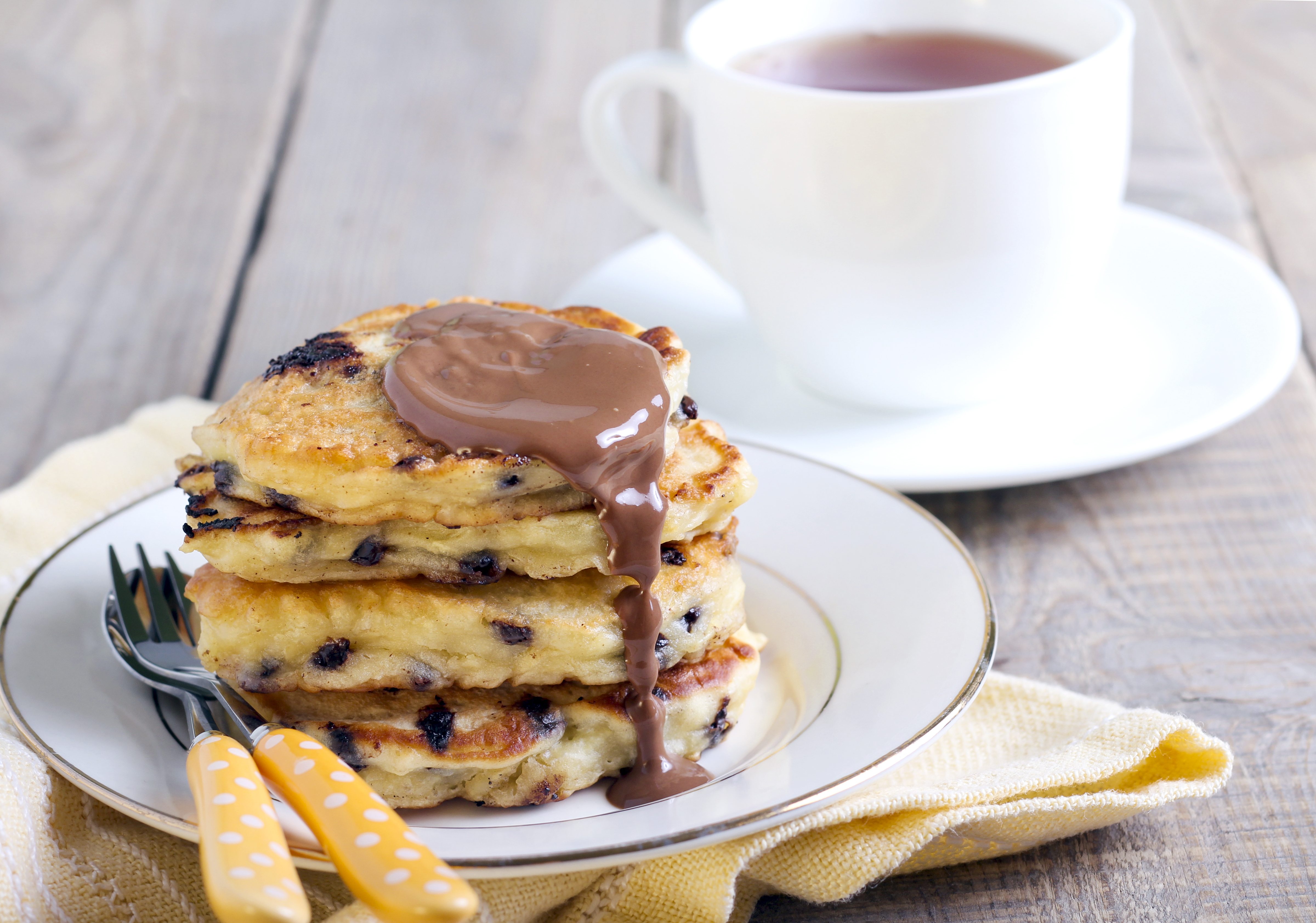 Chocolate Chip Pancakes
Ingredients:
1 ½ cups flour
3 ½ tsp. baking powder
1 tsp. salt
1 T. sugar
1 ¼ cups chocolate milk (note: if making regular pancakes simply use regular white milk and omit the chocolate chips)
1 egg
3 T. butter, melted
chocolate chips (quantity to your preferences)
Instructions: Sift together the dry ingredients – yes it is important to sift in this recipe if you want lovely fluffy pancakes. Make a well in the middle of the dry ingredients and add the remaining ingredients. Mix this together until smooth. Use about ¼ cup of batter for each pancake and cook them in a greased skillet or on a griddle over medium high heat. My mom always taught me to watch for little bubbles to form on the tops of the pancakes – when they were pretty much covered with little bubbles it was time to flip them over to brown the second side. (Why is it that almost everyone I know says that the first pancake they make out of any batch is always ruined? It's like you need to get a "practice" one out of the way so you can get down to business!)
Want to make other variations? Use the plain milk and then add about a cup of fresh berries, chopped apples, or diced peaches or pineapple. You can also use about ¾ cup cooked crumbled bacon, ¼ cup chopped nuts, or a large banana, chopped. I have heard of more adventurous types even adding things like grated carrots or zucchini to them. I've even heard of some adding flaked crab meat to them!
Cranberry Pecan Pancakes
Ingredients:
1 cup flour
1/2 cup dry milk powder
2 1/2 tsp. baking powder
1/2 tsp. baking soda
1/2 tsp. salt
3/4 cup whole wheat flour
1/2 tsp. ground cinnamon
1/3 cup cornmeal
1/3 cup packed brown sugar
2/3 cup dried cranberries
2/3 cup chopped toasted pecans
1/4 cup rolled oats
5 T. butter
3 eggs. beaten
1 1/2 cups water
Instructions: Mix all dry ingredients together. Melt the butter and beat the eggs. Stir the water and butter into the beaten eggs. Pour over the dry ingredients and mix well with a fork (don't beat). Cook 1/4 cup portions over medium heat in a buttered skillet about 2-3 minutes on each side.
Check out my recipe for Red Velvet Pancakes with Butter Pecan Maple Syrup and Whipped Cream Cheese over here: https://creativecynchronicity.com/2011/03/red-velvet-pancakes-2/