Disclosure: Some of the links in the post below are affiliate links provided for your convenience. This means that if you purchase something through one of these links, I get a small commission at no added cost to you.
If you've been around here for a while (and if you are a regular reader, thank you! I so appreciate it!), you'll know that my family and I have a deep love of all things Nutcracker ballet. So, this year when I was trying to come up with some sort of a Christmas countdown craft, I settled on this simple Nutcracker Paper Chain Advent Calendar.
This is PERFECT for making with the kids! Paper chains are a pretty simple craft for little ones. Walter is still a bit small for it and he's at that wiggly don't want to sit still and craft for more than 1 minute stage. But many preschoolers and early school age kids could easily make this project.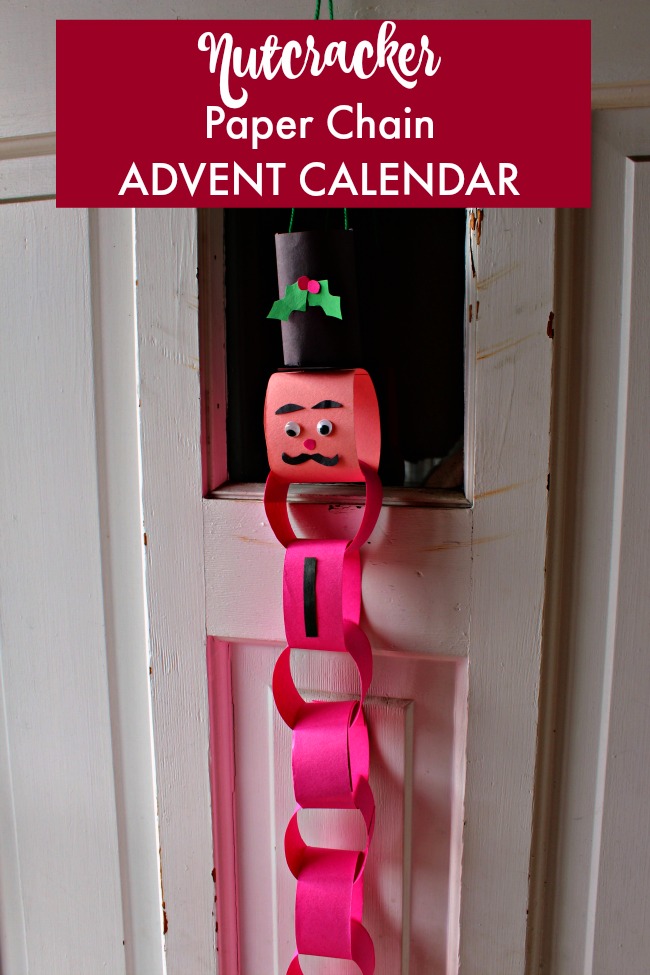 Nutcracker Paper Chain Advent Calendar
Paper chains are so simple that you don't really need a tutorial for it, but I do have some tips to share on adding the nutcracker feature AND for how to take this to the next step by turning it into a holiday activity (bucket list) calendar too!
Welcome to the 5th annual 12 Days of Holiday Ideas event, hosted by Shirley of Intelligent Domestications and Erlene of My Pinterventures.
Between November 11th and December 6th, there will be hundreds of new ideas shared by over 55 co-host bloggers. Today, we're sharing Holiday Advent Calendars.
You'll find the kickoff collection of 50+ Holiday Ideas as well as all of this year's talented participating DIY and foodie blogs here.
Download this year's November and December calendars with all of the topics and dates coming up!
We are hosting a BIG GIVEAWAY from our sponsors this year. Be sure to scroll all the way down for more information and to enter to win!
SUPPLIES NEEDED TO MAKE THIS HOLIDAY COUNTDOWN CALENDAR:
Construction paper –
colors will depend on the particular design you want to make! – I got 8 links per piece of paper (Note: the really super thin construction paper won't hold up as well under the weight of the paper chain. Something as thick as cardstock won't curl as nicely and might crease)
Glue
(and/or tape or a stapler – this may show a bit though if that matters to you). A glue stick works well as does liquid glue. I used Glue Dots and found that they were quick and easy to use, but they might be a bit finicky for the littlest hands. You may want liquid glue on hand for gluing on the features and embellishments.
Scissors or a paper cutter.
This is a great project for kids to work on their scissor skills!
Yarn
or something similar to hang it up with.
Googly eyes –
if you want them for your holiday character.
Optional: Glitter, sequins, beads, pompoms, and other small trim items for embellishing your designs. Put out a variety and let the kids go wild!
Tru-Ray Heavyweight Construction Paper, Color Wheel Assortment, 9
Glue Dots Craft Glue Dot Value Pack, 1/2 Inch, Clear, Pack of 600
Aleene's 33143 Original Tacky Always Ready Adhesives, 4 oz.
Duck Brand Matte Finish Invisible Tape With Dispenser, 3 Rolls, Each Roll 3/4-Inch x 500 Inches for 1500 Total Inches
Westcott 5
Fiskars 152490-1004 SureCut Deluxe Craft Paper Trimmer, 12 Inch
Red Heart Super Saver Jumbo Yarn, Cherry Red
Creative Arts by Creative Arts by Charles Leonard Wiggle Eyes, Peel'n Stick, Black, Assorted Sizes, 100/Bag (64530)
Original Stationery Glitter Shake Jars – Extra Fine Powder, 24 Multi Color Assorted Set – Works for Slime, School and Children's Projects – Perfect for Holiday Crafts, Face Paint, Nails (24 pcs)
7mm Cup Sequins Boxed 7500PCS Rainbow Loose Sequin Bulk Iridescent Spangles Craft Mixed 15 Color Assorted for DIY Arts Crafts Making by CCINEE
Caydo 300 Pieces 1 Inch Assorted Pompoms Multicolor Arts and Crafts Pom Poms Balls for Hobby Supplies and Creative Craft DIY Material
Instructions:
1. Of course, the basic instructions are that you cut strips of paper. Take each strip, add some glue to one end, and then roll it into a loop shape, securing in place with the glue.
2. Take another strip, feed it through the first loop, add some glue, and secure it into a loop shape so that you create a chain of loops. Easy peasy, right?
3. Hint: if your kids aren't quite ready for cutting the strips or if that will take too much time, you can prep that ahead of time. They can then do the gluing and decorating.
4. Once you've created the chain that will form the main part of the Advent calendar, it's time to decide how you want to finish it off. Mine is a Nutcracker, but your kids might want to make a snowman, Santa, an elf, angel, or reindeer instead. I found it easiest to add the face to the piece I was using for the Nutcracker's head BEFORE making it into a loop. Because I was using Glue Dots, it didn't require any drying time, but if you're using another kind of glue, let it dry a bit before handling it.
5. When it comes to the Nutcracker's hat, I cut a strip of paper a little bit taller than I wanted the end product to be. This way, I was able to cut some small slits along the bottom edge of the hat. I folded these in towards the center and this is where I applied the glue to adhere it to the face loop. I added a simple crescent moon shaped piece of construction paper to form the hat's brim. This gave it a little more dimension over the face and covered any excess glue.
6. Once complete, I taped a piece of yarn inside the hat to use as a hanger. Hang it up in a prominent place and tear off a loop every day until Christmas.
SANTA CLAUS CHRISTMAS COUNTDOWN CALENDAR (THE PAPER LOOPS ARE HIS BEARD!)
Variations:
As mentioned above, you can make whatever kind of holiday character you like at the top of your paper chain. Or, don't make a character at all! Simply make a paper chain to decorate your tree, mantel, or hang in a doorway.
What I like to do is to add activities to some of the loops. When you tear that loop off, it will tell you what family fun activity is happening that day! Here are some tips if you want to do this as well:
1. I find it's best to number the loops so you don't get the days mixed up. For example, we celebrate St. Nicholas Day, so I want to be sure that the loop for St. Nicholas Eve is in the right place!
2. It can be fairly easy to see what's written on the loops if your child is savvy enough. To counteract this, I let the kids make the plain loops but I made the ones with the activities. I made them double-wide so that they could be folded in half and the activities could be on the inside, hidden from view.
3. I have 5 pages of activity suggestions for you below. Pick and choose any you'd like to do or come up with your own. You could even have the whole family brainstorm some ideas for this! You could print these out and stick them to the inside of the loops or you can just write your activities on.
Christmas Activity Paper Chains Page 1
Christmas Activity Paper Chains Page 2
Christmas Activity Paper Chains Page 3
Christmas Activity Paper Chains Page 4
Christmas Activity Paper Chains Page 5
MORE FUN CHRISTMAS ACTIVITIES FOR KIDS
MEET OUR SPONSORS who have generously donated fabulous prizes for the Big Christmas Giveaway!
DecoArt winner will receive a prize package valued at $100!
Dixie Crystals/Imperial Sugar winner will receive a Keurig Coffee Maker valued at $100!
Oriental Trading winner will receive an OrientalTrading.com gift card valued at $200!
Cabot Cheese winner will receive a gift basket of Cabot products valued at $75!
Burlap Fabric winner will receive a prize pack of products valued at $50!
Zulay Kitchens winner will receive one Milk Frother and a Lemon Squeezer valued at $21
It's Home To You winner will receive one wooden Santa sign valued at $65
Giveaway begins Nov. 8, 2019 and ends Dec. 6, 2019. Winners will be notified by December 13, 2019. Sponsors will ship each prize to the winner. There will be a total of six winners, one for each prize. Drawing is by random selection using the Rafflecopter widget.
Must be 18 to win. Open to U.S. residents only. Terms & Conditions