I come from a family of coffee fanatics. So, when I was thinking about making a little something to send to my Mom, I immediately thought of a coffee cup sleeve.
It's a fun gift that's quick and easy to make, very inexpensive, and fits right into an envelope for easy mailing.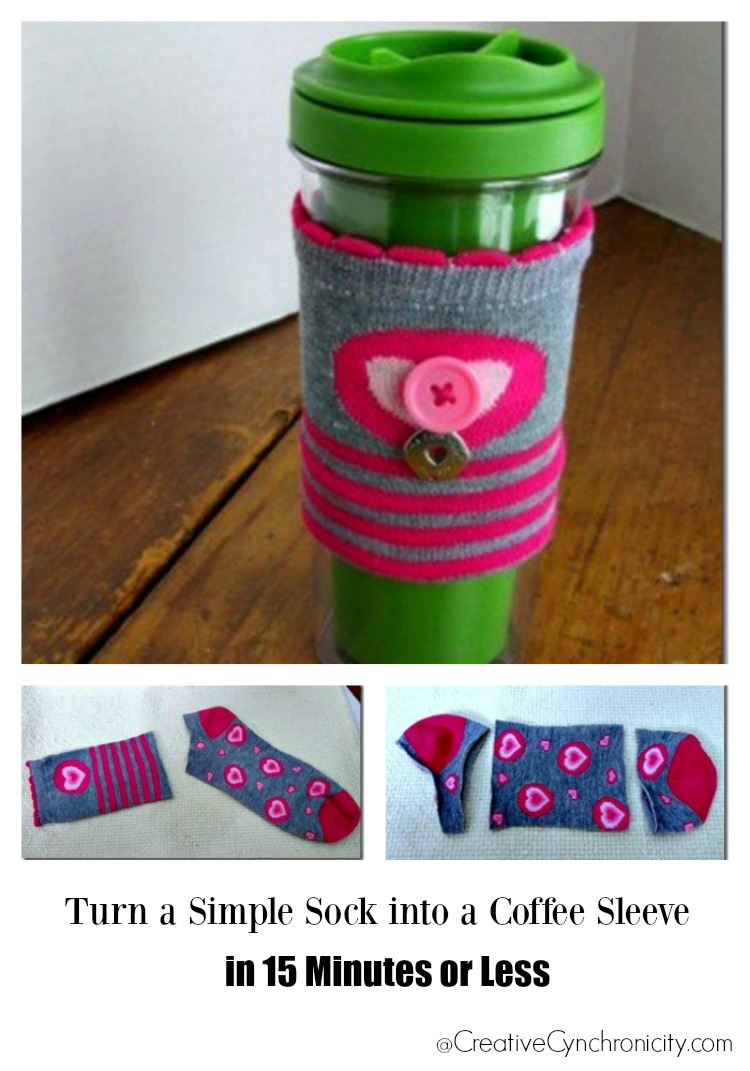 Make a Coffee Cup Sleeve in Under 15 Minutes
The supplies you need for one sleeve:
a sock (I found a huge variety at the dollar store)
some fabric glue like Fabri-Tac from Beacon Adhesives
a pair of scissors
any embellishments you'd like to add to your coffee sleeve: buttons, felt shapes, charms, and beads all make good choices.
I decided that I wanted the look of the stitching as part of the detail so I'm also using some embroidery floss and a needle to add those on.
Step One:
With a typical pair of socks, I'm able to get two coffee sleeves from one sock. First, I cut the foot from the top.
Then I trim the toe and heel from the foot. The straight rectangular sections are perfect for the coffee cup sleeves!
Step Two:
I find that with some socks, the cut edges may tend to curl a bit. This is where the Fabri-Tac comes in handy. Simply use it to fold the edge under and secure it.
Now just start embellishing!
I sewed on a button and charm (it says "Follow your heart").  You could also sew or glue on pretty ribbons or lace trims.
This is such a quick and easy gift idea. You can make one for every coffee lover on your list. They're perfect as stocking stuffers, to add to Easter baskets, or as a co-worker or neighbor gift.
You can even add a few packets of coffee and a tumbler to go along with it if you want to make a themed gift out of it.