This is a classic summer camp or Vacation Bible School craft. Weaving yarn around criss-crossed sticks, you can create a beautiful God's Eye craft project to hang in your home. You basically only need two craft materials to make these and can often find them at your local dollar store.
This is a great craft to make with large groups like Scouts, church groups, and so on because it uses inexpensive supplies. You can make smaller versions as backpack or hat crafts (do they still make hat crafts in Brownies and Guides?). Make several medium-sized God's eyes to hang in an arrangement in a window.
Looking for more summer fun Fridays ideas? Click here.
GOD'S EYE CRAFT PROJECT
Disclosure: Some of the links in the post below are affiliate links provided for your convenience. This means that if you purchase something through one of these links, I get a small commission at no added cost to you.
Supplies:
Yarn
Wooden Dowels, Two (you can also use sticks you find in your backyard or popsicle sticks as well)
Scissors
Instructions:
STEP ONE
Gather all supplies. Tie a double knot around the center of the first dowel. 
STEP TWO
Lay the second dowel across the first and tie a second double knot, joining the two dowels together in a cross shape. Trim tail of yarn with scissors.
STEP THREE
Hold the dowels in one hand and start wrapping the yarn around each dowel in a counterclockwise direction.
STEP FOUR
Continue wrapping the yarn around each dowel and you will notice a pattern appearing. The variegated yarn creates stripes.
STEP FIVE
Once the dowels are wrapped, tie off the end with a slip knot. Leave a 12" tail on the yarn, trimming with scissors. 
STEP SIX
Loop the cut end of the yarn back around to the top of the dowel. Secure a second 12" length of yarn around the dowel, finishing with a bow.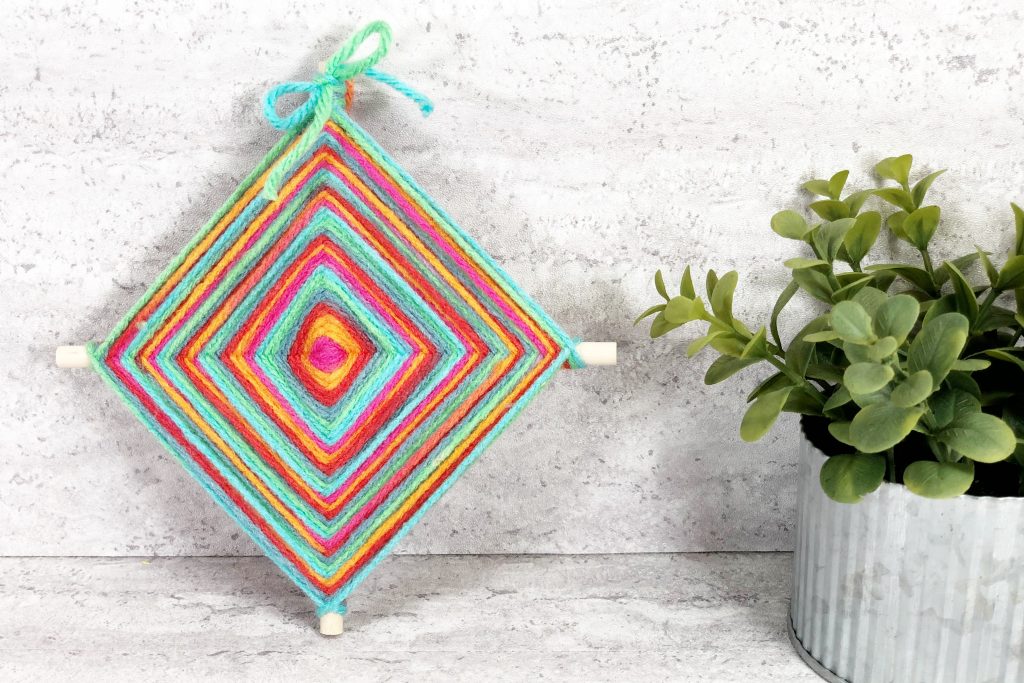 Pro Tip: A dot of liquid craft glue will keep the knots permanently secure.
Variegated rainbow-colored yarn was used for this project, but color-blocking with scraps of yarn would look beautiful.