It might have been because of my love of all things King Arthur that I developed a fascination with unicorns. Whatever caused it, this recent trend towards all things unicorn has certainly not gone unnoticed. So this, year, I thought why not a DIY Unicorn Christmas Ornament tutorial?
This is a simple gift idea for any unicorn fan on your list. Or how about gathering up the kids and letting them each make their own? The only thing that may need a bit of advance planning is the horn – it will need some baking or drying time, depending on whether you're using air dry or baking clay.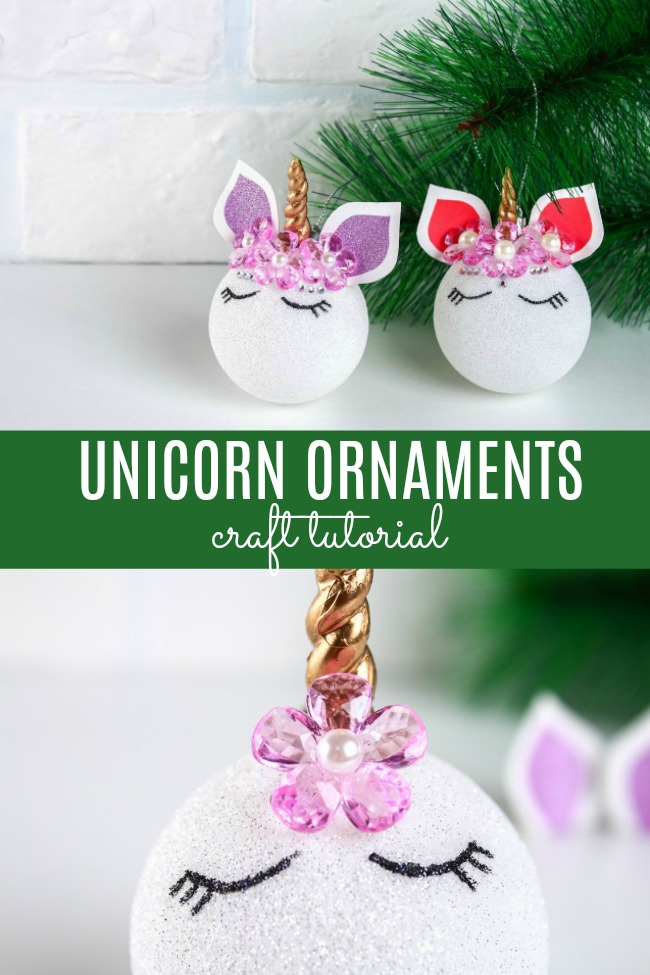 Welcome to the 5th Annual 12 Days of Christmas Event
Welcome to the 5th annual 12 Days of Holiday Ideas event, hosted by Shirley of Intelligent Domestications and Erlene of My Pinterventures.
Between November 11th and December 6th, there will be hundreds of new ideas shared by over 55 co-host bloggers. Today, we're sharing DIY ornament ideas.
You'll find the kickoff collection of 50+ Holiday Ideas as well as all of this year's talented participating DIY and foodie blogs here.
Download this year's November and December calendars with all of the topics and dates coming up!
We are hosting a BIG GIVEAWAY from our sponsors this year. Be sure to scroll all the way down for more information and to enter to win!
DIY Unicorn Christmas Ornament
Disclosure: Some of the links in the post below are affiliate links provided for your convenience. This means that if you purchase something through one of these links, I get a small commission at no added cost to you.
MATERIALS NEEDED:
Plain white Christmas ornament (or you can use the clear ones and swirl white paint inside to color them appropriately). You can also use a white Styrofoam craft ball instead.
Glue – Glue gun with glue and a glue stick or white glue
Clay – I used Sculpey but you could use another brand or an air dry clay instead
A bamboo skewer
Metallic paint in your choice of color – I'm using gold
Paint brush
Scissors
Black permanent ink marker
Low tack tape
Felt – white and other colors like pink and purple (scraps will work!)
Embellishments – sequins, rhinestones, beads, flowers, glitter
Thread or yarn for a hanger
Products I recommend:
Sleetly Christmas Ball Ornaments, White Snowball, 2.36 inch, Set of 18
DIY Christmas Tree Decorative Ball Ornaments – 2¼
FloraCraft Foam 6 Piece Ball 2.8 Inch White
AdTech 0453 2-Temp Dual Temperature Hot Glue Gun Full Size, White
Ad-Tech 14ZIP50 Multi Temp Glue Stick (4 x 0.44-Inch), Pack of 50
Dritz 401 Fabric Glue Stick, 0.28-Ounce
I Love To Create Aleene's Always Ready Turbo
Polyform Sculpey III Polymer Clay 8 Oz: White
Crayola Air Dry Clay Bucket, White, 2.5 Pound
DecoArt DASK268 Dazzling Metallics Sample Pack
Crayola Big Paint Brushes (4 Count Round), Great for Kids
Sharpie Twin Tip Permanent Markers, Fine & Ultra-Fine Points, Black, 4 Pack (32175PP)
Fiskars 12-94518697WJ The Original Orange Handled Scissors, 8 Inch, Orange
3M 3051/WI07536 Scotch 3051 Low Tack Paper Tape: 3/4
Embellishments you might want to choose from:
Outus Flat Back Pearl Self-Adhesive Back Pearl Sticker Sheets Assorted Size, 700 Pieces
25 Sheet Assorted Acrylic Craft Felt
COATS & CLARK Metallic Thread, 125-Yard, Silver
7mm Cup Sequins Boxed 7500PCS Rainbow Loose Sequin Bulk Iridescent Spangles Craft Mixed 15 Color Assorted for DIY Arts Crafts Making by CCINEE
Fake flower heads in bulk wholesale for Crafts Artificial Silk Flowers Head Peony Daisy Decor DIY Flower Decoration for Home Wedding Party Car Corsage Decoration Fake Flowers 50PCS 4cm (Colorful)
JPSOR 600pcs Gems Acrylic Flatback Rhinestones Gemstone Embellishments, 6 Shapes, 6-13mm, with Tweezers and Bag
Slime Supplies Glitter Powder Sequins for Slime,Arts Crafts Extra Solvent Resistant Glitter Powder Shakers,Bulk Acrylic Polyester Craft Supplies Glitter Loose Eyeshadow,Assorted Colors,12 Pack Glitter
PRO TIP FROM CYN: Grab some old jar/bottle lids or hair elastics or something like that to use as a temporary base for the ornaments. You can sit them in these bases while painting and gluing without them rolling around.
INSTRUCTIONS:
Let's start by making the horn.
It will need time to dry (if air dry clay) or to bake and cool. Roll out a piece of clay – like a snake. You need a little more than double the length of the finished size you want your unicorn horn to be. Remember that there might be a bit of shrinkage after drying/baking.
Fold the snake in half and twist the two pieces together as shown in the photo above.
PRO TIP FROM CYN: Before baking/drying, I like to insert a bamboo skewer into the bottom of the horn. This makes it so much easier to paint as it provides you with a "handle" to hold onto. After it's dry, you can simply break or cut off the skewer. If you're using a foam ball, you can leave a bit sticking out and use this, along with some glue, to secure the horn to the ball.
Once the horn is dry or baked and cooled, paint it and put it to one side to dry.
Adding eyes to your ornament:
You can certainly freehand some simple semi-circles and lashes on your ornament to make the eyes for your unicorn. If you want to be a bit more precise, check out my tip below.
PRO TIP FROM CYN: Draw the eye shapes along the edge of a piece of tape. Cut along the lines to leave an eye shaped opening. Wrap the piece of tape around your ornament and use the cutouts as your guide for drawing the eyes in place.
Embellishing the unicorn ornament
Next, you're going to want to attach the horn. This will help with placement of the ears and other embellishments. Glue the horn on. If using a foam ball, cut the skewer off leaving about an inch. Add glue to the end of the skewer and push into the foam ball.
Cut out some ears from the white felt. Make smaller ears from your colored felt and attach it to the white felt as the inner part of the ears. I find it best to use a glue stick (the extra tacky kind or the kind for fabric) or white glue for this part.
PRO TIP FROM CYN: Give the ears a little pinch at the bottom and glue together. This gives them a bit of dimension.
Continuing embellishing until you are satisfied with your unicorn design! Don't forget to add some thread or yard as a hanger if needed.
CHECK OUT OTHER AMAZING ORNAMENT IDEAS BELOW:
MEET OUR SPONSORS who have generously donated fabulous prizes for the Big Christmas Giveaway!
DecoArt winner will receive a prize package valued at $100!
Dixie Crystals/Imperial Sugar winner will receive a Keurig Coffee Maker valued at $100!
Oriental Trading winner will receive an OrientalTrading.com gift card valued at $200!
Cabot Cheese winner will receive a gift basket of Cabot products valued at $75!
Burlap Fabric winner will receive a prize pack of products valued at $50!
Zulay Kitchens winner will receive one Milk Frother and a Lemon Squeezer valued at $21
It's Home To You winner will receive one wooden Santa sign valued at $65
Giveaway begins Nov. 8, 2019 and ends Dec. 6, 2019. Winners will be notified by December 13, 2019. Sponsors will ship each prize to the winner. There will be a total of six winners, one for each prize. Drawing is by random selection using the Rafflecopter widget.
Must be 18 to win. Open to U.S. residents only. Terms & Conditions