Using simple supplies from your local dollar store, you can create this quick and easy Clay Pot Grad Cap in just 30 minutes. You can make them in the graduate's school colors and use them as party decor.
In addition, you can even personalize these with the year and graduate's name. Add some flowers or other embellishments as desired.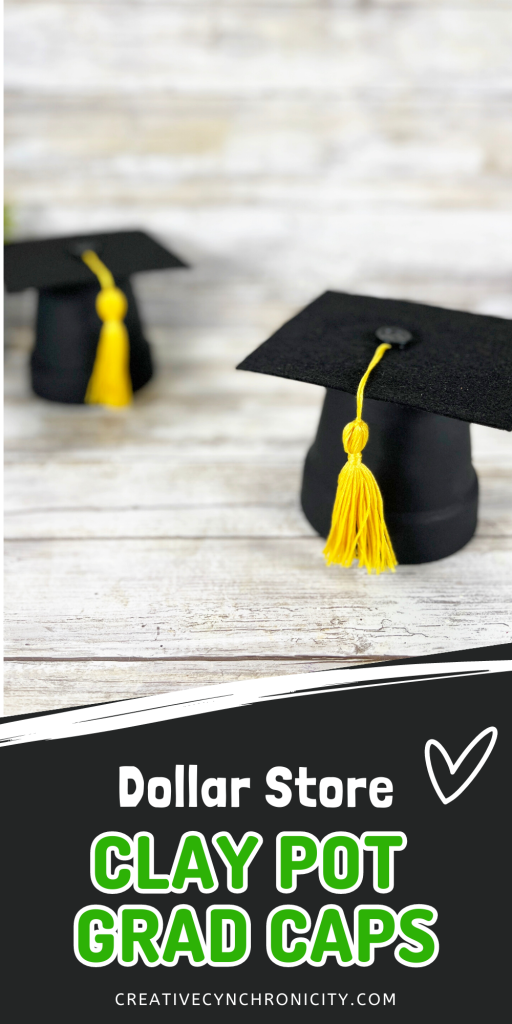 DOLLAR STORE CLAY POT GRAD CAP CRAFT
Materials needed:
Clay Pots, 3.5"
Felt Craft Sheet – Black
Embroidery Floss Skein – Yellow
Button, Black
Glue Gun and Glue Sticks – You can use liquid craft glue for this project, but you will have to wait for it to dry.
Acrylic Craft Paint – Black
Paintbrush
Scissors
Ruler
Pencil
Recycled Cardboard Box (think crackers or cereal)
Instructions:
STEP ONE
Gather all supplies. Remove the labels and packaging from the supplies. Base coat the terra cotta clay pots with black acrylic craft paint. Let dry, and apply a second coat, if necessary.
STEP TWO
Remove the labels from the embroidery floss skein, then measure and cut four lengths that are 12 inches each. Open the middle of the skein of floss.
Tie and knot one of the embroidery floss lengths through and around each of the loops at the ends of the skein.  
STEP THREE
Approximately three quarters of an inch down from the top knot, tie one length of embroidery floss around the skein, securing with a knot. Wrap each end around the skein three times. Wrap one to the left and one   to the right. Secure again with a knot. Repeat on the opposite end of the skein. 
STEP FOUR
Trim the longs ends of the wrapped embroidery floss with scissors. Measure and cut the skein of embroidery floss in half at the three inch mark with scissors.
Secure the knots with a small dot of glue from the glue gun.
STEP FIVE
Download and print the grad cap pattern. Cut out the pattern with scissors. Trace twice onto a cardboard cereal box with a pencil, and then cut out with scissors.
Trace twice onto black craft felt, and the cut out with scissors.
STEP SIX
Attach the craft felt squares to the top of the cardboard squares with a glue gun and glue sticks.
Glue the felt and cardboard squares to the bottom of the clay pots.
STEP SEVEN
Lay the tassel out on top of the grad cap. Trim the tassel hanger with scissors and attach to the center of the grad cap top with a glue gun and glue sticks. To finish, glue the button on top of the tassel hanger to cover the cut end.