We are just about done with the #12DaysOf Christmas ideas! I'm actually a little sad that it's coming to an end. I hope you have found some really amazing recipes and crafts to do with your family this holiday season. I sure did! 
This Christmas Lights cake is really easy to make and super cute! It would be the hit of any holiday meal or Christmas party. I am no cake decorator but even I could make this sweet cake!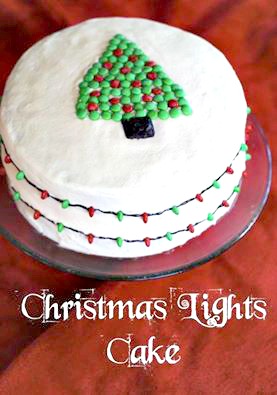 Christmas Lights Cake
Today's recipe for a Christmas Lights Cake comes from Janell at Saving You Dinero. It's so cute with its strands of lights around it. Plus she shares a secret tip to make the cake icing look flat – almost like fondant but it's actually a can of icing! Visit SavingyYouDinero.com for the full recipe. It's fun for the whole family to make together.
Make sure you check out the other recipes and crafts that are part of this 12 day event!