Do you use coasters or are you one of those uncivilized types who just sit a drink down anywhere? Ha! Just kidding. If you're looking for some easy and creative DIY mug rugs and coasters, you've come to the right place.
20+ Easy and Creative Mug Rugs and Coasters
I just grew up in a home filled with antiques. So it was ingrained into us that you must always use a coaster under your beverage.
Fast forward a few years and I discovered the joy of mug rugs and added those to my coaster collection.
You see, while coasters are meant for your glasses and cups, a mug rug is slightly larger. It gives you room to place a couple cookies or crackers beside your drink.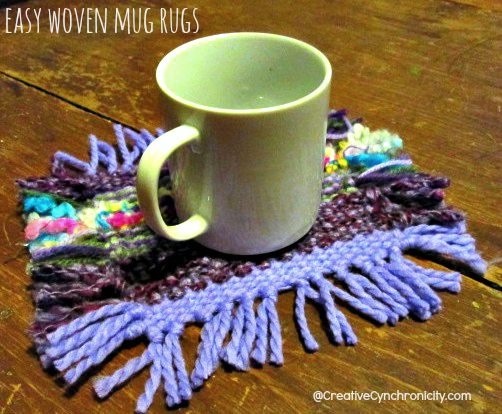 Here's one from right here on Creative Cynchronicity – you can make it quickly with a super easy and very clever weaving technique – Woven Yarn Mug Rug
One of the great things about coasters and mug rugs is that they make fantastic gifts.
You can whip them up in almost no time too. They're a perfect little project to get started on now for the holiday season but they are great for any time of year and any occasion.