I admit it. I'm not really into it most of the year but Christmas time brings out my inner baker. Pies, cakes, squares, and most of all, cookies! They're just part of the tradition. So, keep reading for the favourite Christmas cookie recipe for each one of my family members – delicious!
We (and by we, I actually mean my sister, niece Katy and nephew TC – I've just been watching) have spent the past two days baking cookies galore! Pretty soon we'll be settling in for a Christmas movie marathon on Netflix and munching away on some of these delectable treats. Here's our favourites for your next cookie exchange or just for sharing with your family over the holidays while watching your favourite Christmas movies on Netflix.
Our Family's Favourite Christmas Cookies
Shortbread
3 c. butter, softened
1 and 1/2 c. icing sugar, sifted
4 and 1/2 c. flour, sifted
1 and 1/2 c. cornstarch, sifted
Cream butter and sugar together until light and fluffy. Gradually add in the flour and cornstarch. Keep beating until it's well blended. Roll into 1 inch balls – it's best to dust your hands with cornstarch to prevent sticking. Place them on an ungreased cookie sheet, leaving about an inch of space between them. Press gently with a fork that is coated in cornstarch. Bake at 300 degrees F for 20-22 minutes, until they are lightly browned on the bottom. Cool on the cookie sheet for about 5 minutes and then move to wire racks.
These are the favourites of my mom. my niece M, my nephew J, and me!
Sugar Cookies
1 1/2 c. butter, softened
2 c. sugar
4 eggs
1 tsp. vanilla extract
5 c. flour
2 tsp. baking powder
1 tsp. salt
Cream the butter and sugar together. Add in the eggs and vanilla and beat. Mix in the remaining dry ingredients. Cover the bowl and chill the dough in the refrigerator for at least an hour or overnight. Roll out the dough on a floured surface to a thickness of about 1/4 inch. Cut using cookie cutters in festive holiday shapes. Place on ungreased cookie sheets about an inch apart. Bake at 400 degrees F for 6-8 minutes. Cool for a few minutes on the cookie sheets and move to wire racks to finish cooling. Leave as is or decorate with icing.
This is my son in law G's, my niece K's, my sister B's, and my niece D's favourites. My grand niece C and nephew J also love these – well, they love any with icing! Although my dad isn't with us anymore, I remember him especially loving sugar cookies too.
Peanut Butter Cookies
1/2 cup shortening
3/4 cup Peanut Butter
1/3 cup granulated sugar
1/3 cup packed light brown sugar
1 egg
2 tablespoons milk
1 teaspoon vanilla extract
1-1/2 cups all-purpose flour
1 teaspoon baking soda
1/2 teaspoon salt
Beat the shortening and peanut butter together until well blended. Add in sugar and brown sugar – keep beating until light and fluffy. Blend in the egg, milk, and vanilla. Combine the flour, baking soda, and salt. Mix this into the peanut butter mixture a little at a time until thoroughly mixed. Roll dough into 1 inch balls. Bake at 375 degrees F for 8-10 minutes. Remove from the oven when lightly browned. If you like them the way my nephew Patrick and sister Barb do, while fresh and hot out of the oven, press an unwrapped chocolate kiss in the middle of each one.
These are the favourite of my sister in law J. The peanut butter cookies are my daughter Samantha's favourite too but she likes it when I roll them out, cut them into circles that I then pinch in a little bit to shape kind of like a horse's head. I use a piece of a pretzel twist on each side of the head as antlers, a red cinnamon heart or other candy as a nose, and some mini chocolate chips for the eyes and boom! Adorable Rudolph cookies!
Snickerdoodles
2 3/4 cups all-purpose flour
2 tsp baking powder
1/2 tsp coarse salt
1 cups (2 sticks) unsalted butter, room temperature
1 1/2 cups sugar
2 large eggs
For coating:
2 T. sugar
2 tsp. cinnamon
Sift the flour, baking powder, and salt into a bowl. Cream the butter and sugar together in another bowl until light and fluffy. Reduce mixer speed to low and slowly add in the flour mixture. Stir together the coating mixture. Roll the dough into 1 1/2 inch balls. Roll in the coating mixture. Line baking sheets with parchment paper and place the cookie balls on it, leaving about 3 inches of space in between. Bake at 400 degrees F for 10-12 minutes. Rotate the sheets halfway through for more even baking.
My nieces K and M really love these!
Chocolate Chip Cookies
2 1/4 cups all-purpose flour
1 teaspoon baking soda
1 teaspoon salt
1 cup (2 sticks) butter, softened
3/4 cup granulated sugar
3/4 cup packed brown sugar
1 teaspoon vanilla extract
2 large eggs
2 cups (12-oz. pkg.) chocolate chips
Mix together the flour, baking soda, and salt. Cream sugar, butter, brown sugar, and vanilla together until light and fluffy. Add in the eggs one at a time, mixing well. Slowly mix in the the flour mixture. Once well blended, stir in the chocolate chips. Drop by rounded tablespoon onto ungreased cookie sheets. Bake 9-11 minutes at 375 degrees F until golden brown.
These are the favourites of my nephew TC, my brother D, and my brother in law M.
Gingerbread Cookies
3 c flour
2 tsp ground ginger
1 tsp ground cinnamon
1 tsp baking soda
1/4 tsp ground nutmeg
1/4 tsp salt
3/4 c (1 1/2 sticks) butter, softened
3/4 c firmly packed brown sugar
1/2 c molasses
1 egg
1 tsp vanilla extract
Combine flour, ginger, cinnamon, baking soda, nutmeg, and salt. Cream the butter and brown sugar together until light and creamy. Blend in molasses, egg, and vanilla. Slowly beat in flour mixture until well blended. Press dough out into a thick circle and wrap up in plastic wrap. Refrigerate at least 4 hours or overnight. Roll out to 1/4 inch thick and cut into gingerbread shapes. Put on ungreased cookie sheets about 1 inch apart. Bake 8-10 minutes at 350 degrees F. Decorate cooled cookies as you wish.
This is a favourite of my grand nephew J and my grand niece C.
Meringue Cookies
2 egg whites
1 pkg. chocolate chips
1 cup sugar
1 cup chopped nuts
1 tsp. vanilla
Preheat your oven to 350 degrees F. Beat the egg whites until they form stiff peaks. Fold in the sugar and vanilla. Add chocolate chips and nuts. Drop onto ungreased cookie sheet by tablespoonful. Put the cookie sheet into the oven and turn off the heat. Leave in the oven for at least 4 hours.
These are my niece D's favourite!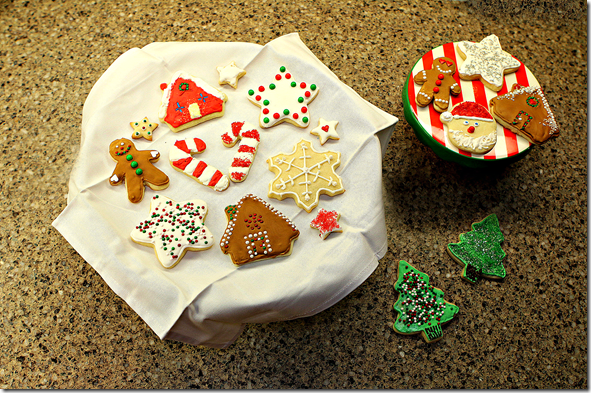 Other favourites
My nephew P especially likes when you take two Ritz crackers, spread on peanut butter, and make a "sandwich" of them. Dip the whole thing into melted chocolate. YUM! My nephew C doesn't really have a favourite Christmas cookie – instead he prefers fruitcake with icing and mincemeat tarts.
Now for Our Netflix Christmas Picks to Go Along with The Cookies
Christmas with the Kranks
Melisa mentioned this comedy as one of her favourites. When the Kranks' daughter tells her parents that she's not coming home for Christmas, they decide to skip the holiday and head out of town. She has a change of heart though and they're left scrambling to get all the holiday trimmings in place without much time to get them done. Of course, hilarity ensues.
The Grinch
This was on the list of favourites for many family members including Sam, Melisa, and me. Jim Carey delivers a hysterically funny Grinch alongside Taylor Momsen's adorable, innocent portrayal of Cindy Lou Who. Watch as the Grinch (and the rest of Whoville) rediscovers the spirit of Christmas and his heart grows 3 sizes.
Katy and TC love The Nightmare before Christmas – it's like Halloween and Christmas all rolled into one!
Of course, for the kids there are also fun titles like:
New ones to check out
Bill Murray rounds up an all-star cast for an evening of music, mischief and barroom camaraderie in this irreverent twist on holiday variety shows. For me, anything with Bill Murray in it is a sure win!
What about you? What your favourite Christmas cookie recipes and movies? Share them in the comments below – links are welcome!