We love Dr. Seuss books around here. I've been reading them ever since I was a child (my favorite was Are You My Mother?). So, in celebration of Dr. Seuss' birthday, I've got this super cute Thing 1 Thing 2 Pencils Craft.
Made from Dollar Store pencils, wiggle eyes and some felt, they're easy and inexpensive to make.  Get creative and hand-write your favorite quotes from the famous Dr. Seuss book to add to them.
Check out these DIY Thing 1 Thing 2 photo frames too!
Thing 1 Thing 2 Pencils Craft
This is a fun and creative activity to keep the kids busy with counting, cutting, and motor skills.  When you twirl the pencil in between your hands, the hair gets wild just like Thing 1 and Thing 2.  Such fun!
Supplies needed:
Pencils, Red – Dollar Store (I scored 12 for just $1.00)
Wiggle Eyes – Dollar Store
Black and White Bakers Twine – Dollar Store
Markers – Red, Black, and Blue – Dollar Store
Craft Felt Sheets (9" by 12") – Brilliant Blue
Cardstock, White
Glue Gun and Glue Sticks (or Liquid Craft Glue)
Adhesive Tape Runner (or Glue Stick)
Permanent Marker – Black
Scissors
Ruler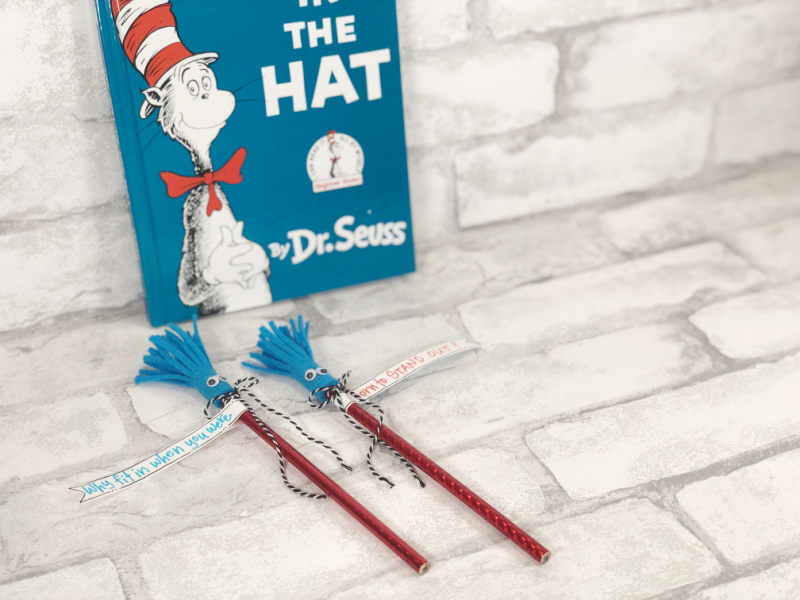 Step-by-Step Instructions:
STEP ONE
Gather all supplies.  Measure strips of Brilliant Blue craft felt 2.5" by 9" using a ruler and permanent marker.  Cut out with scissors.
STEP TWO
Cut fringe along the length of each strip, leaving a one-inch solid border along the opposite edge.  Measure and cut the fringed strips into 3" sections.  
STEP THREE
Apply a bead of glue along the short and long edge of the blue felt fringe and attach to the eraser end of the pencil. Roll the fringe onto the pencil tightly. Apply additional glue from a glue gun on the second short edge to finish the fringe.
Attach two wiggle eyes to the blue felt fringe with a glue gun and glue sticks.  
STEP FOUR
Measure and cut strips of white cardstock 1/2″ by 8 1/2″ to create flags.  Fold the strip in half around the pencil, to find the center.  Hand letter the quote "Why fit in when you were" on the left-hand section with a blue marker, and "born to STAND OUT" on the right-hand section with a red marker.  Cut a triangular notch from each end of the flag and then outline each quote with a black marker, using a loose sketchy style.
STEP FIVE
Apply adhesive to the back of the flag. Line up the cardstock around the top of the pencil and attach both sides together to create the flag.
To finish, measure and cut a 20" length of black and white baker's twine and tie in a bow around the top of the pencil.