We just love Sparta, Ontario. Ever since I first discovered it back about 20 years ago, our family has visited often. It's sweet and charming and just the kind of idyllic small town you might see in a movie. You wouldn't think there would be much to do given the size of it, would you? But really it's quite easy to fill an entire day. With local places to visit such as a winery, a lavender farm, antique store, candle shop, artists' studios, tearoom, and more, there's lots to do.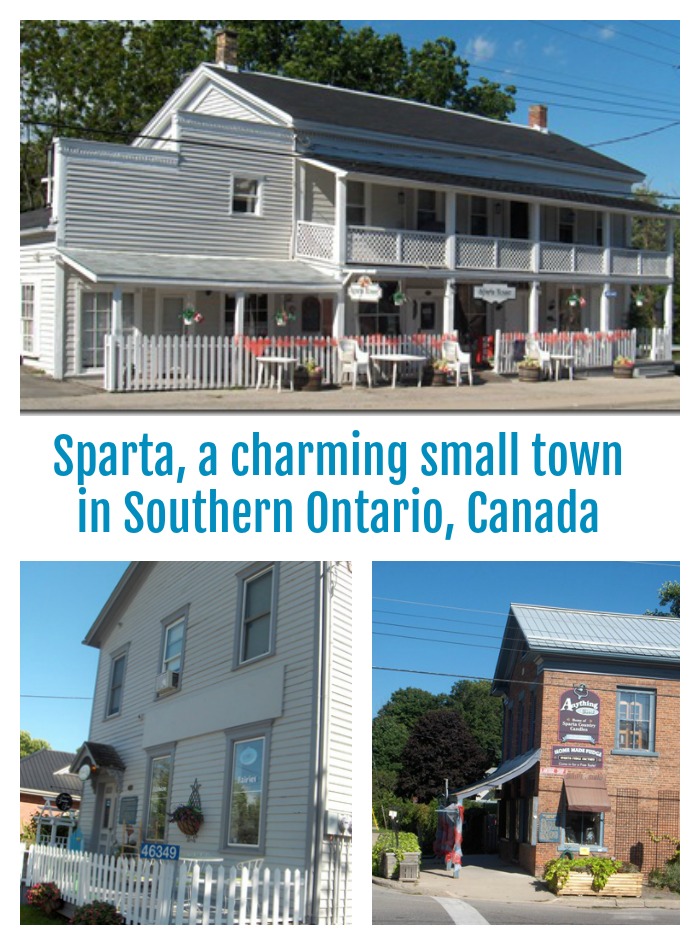 One of our favourite places in Sparta is the Sparta House Tearoom and Restaurant.
This is Sparta House as it looked about 100 years ago.
And this is Sparta House now.
Sparta House serves a traditional British menu. We have never had a bad meal there. If you can go on a Sunday or special occasion, they serve a full roast beef dinner with Yorkshire pudding. We can also highly recommend the chicken pot pie, scouse, Ploughman's Lunch, hot roast beef sandwich, cream tea, bangers and mash, and Shepherd's pie. If you're looking for something lighter, their sandwiches are quite tasty too.
Sparta House was built in the 1840s by David Mills in the American Colonial style. At this time it was a hotel and since that time has also been the town's first library, a general store, a furniture store, a funeral parlour, a hardware store, a barbershop, a pub, and now a tearoom. It was purchased in 1992 by Ken and Norma Roberts. Norma began collecting teapots to display in the tearoom and to date, has over 350 of them.
Sparta House is said to house a ghost and has been featured on the TV show Rescue Mediums. They often have tarot readings and other such events there, along with themed celebrations of Downton Abbey, Coronation Street, and various royal events.
The Settlement of Sparta
Sparta began to be settled by Quakers during the War of 1812. During the War of Independence, many Quakers from the Niagara Region in New York and from Pennsylvania had come to Canada to settle. They had been suffering persecution in the United States because of their conscientious objector status and refusal to take sides during the war. Jonathan Doan and his family were among the first to explore and settle the area. Doan built a tannery and had others build a grist mill on the creek that went through his land.
The settlement, known as The Corners, was established in 1822 and grew quite steadily with Quakers and other settlers buying land and setting up businesses. It was a popular area for many Methodists to settle in as well. In 1834, the name of the town was officially changed to Sparta, named both after the Greek city and after a town named Sparta in the U.S. from which several of the settlers had come.
Sparta continued to grow into quite a prosperous town until the 1870s. At that time, two railroad lines were constructed, passing through nearby St. Thomas and most businesses relocated to be closer to the railroad. Sparta shrunk in size shortly after to reflect the size that it is today. The town still boasts 28 buildings that date to pre-Confederation times.
Above left: Anything Used, the home of Sparta Country Candles, owned by Patrick and Mary Muscat.
Just as people come from all over to visit the tearoom and nearby Winter Wheat, Sparta Country Candles/Anything Used is a place that draws visitors from all over. They have the nicest candles I've ever found, gift items, and second hand flea market and antique treasures. If you're into fairy gardens, they have the best selection of fairy garden accessories I've ever seen. This building was originally Eakin's General Store.
Lucy Ogletree is a Canadian folk artist. Her residence, known as Winter Wheat is also the site of her studio and store. Winter Wheat is a magical, tranquil, whimsical piece of serenity tucked away in the woods. She and her husband (also a folk artist – Lucy mostly creates paintings while his is more wood carvings/metal sculptures) are welcoming and lovely. They have created, out in the woods, a beautiful oasis of peace and calm.
This is just a snippet of our 3 favourite places in Sparta. There really is so much more to do! It's a great place for a weekend or summer day trip. You're guaranteed to come home feeling positively blissful about your day.