Ever since my dad took me to my first performance of The Nutcracker, I have been smitten by the story. I even collect Nutcracker soldiers! Your kids will have a blast making these adorable paper bag nutcracker puppets. This is a fun Christmas craft that's easy and inexpensive!
Once they've made these, they might even be inspired to create their own Mouse King, Clara, and Sugarplum Fairy puppets to go with it! Find the full tutorial and patterns below.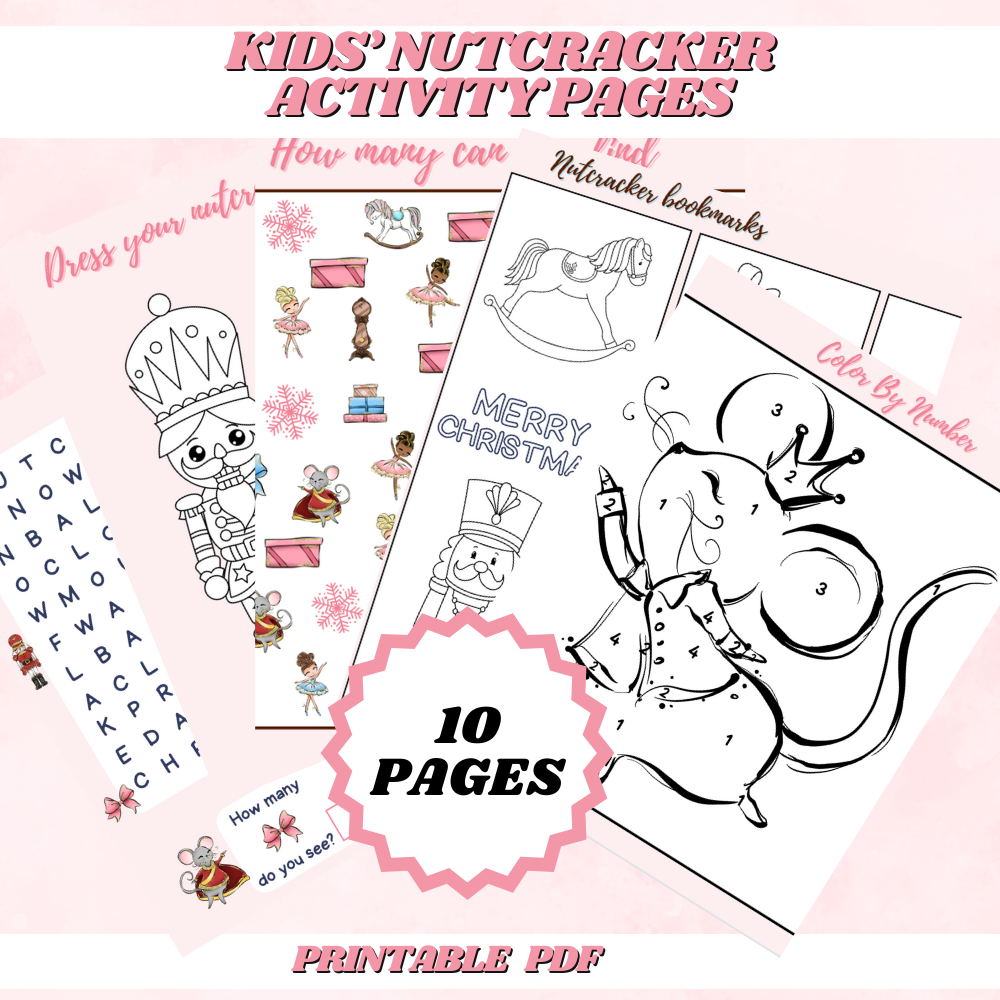 Subscribe to our email newsletter and we'll send you this FREE printable PDF. Unsubscribe at any time! – SIGN UP HERE
Paper Bag Nutcracker Puppets
List of Supplies:
Colored craft papers
Pencil – to trace the template
Craft glue
Sharpie or gel pen
Paper bag
Instructions:
Step 1:
Select different colored craft papers for the nutcracker puppet. Print and cut out the template patterns. Trace the template patterns on the selected craft papers and cut out the traced pattern.
Step 2:
Take the hat patterns and attach the zigzag border along the top side of the hat base, keeping the straight side along the top border of the hat base.
Step 3:
Attach the hat borders along the top and bottom side of the hat base.
Step 4:
Take the head and hair cutouts. Attach the hair cutouts on both sides of the head cutout.
Step 5:
Attach the nose, and moustache on the head cutout and the hat on the top side of the head. Use a pencil to trace the eyes and eyebrows of the papercraft nutcracker.
Step 6:
Use a sharpie to fill the traced eyes and eyebrows.
Step 7:
Attach the hand cutouts with the sleeve cutouts and attach the buckle cutout with the belt cutout.
Step 8:
Prepare a piece of paper to cover the front surface of the paper bag (the paper bag can either be crafted or you can use store-bought ones).
Step 9:
Attach the belt and 2 strips above the belt on the prepared paper. Use sharpie to draw buttons and lines between the buttons on the attached strips.
Step 10:
Attach the arms on both sides of the prepared paper and then attach the paper on the front surface of the paper bag.
Step 11:
Attach the boot cutouts on the bottom side of the (open side of the bag) uniform.
Step 12:
Flatten the bottom part of the paper bag with the front side of the puppet. Attach the head on the flat bottom part of the bag to complete the paper bag puppet craft.