It's time for another week of quick and easy meal ideas! As always, the two steps in my meal planning process are to "shop my own kitchen" for items I already have on hand and to make use of as many sale items available in the London, Ontario area as I can to keep my food budget low. These are the items I found that I will be adding to my menu plan this week (or staples I will be replenishing).
At FreshCo:
Kraft peanut butter – $2.47
Smucker's Jam – $2.47
Black Diamond Cheese Bars (400-450 g) – on sale for $4.99 and then has a $1.00 off coupon matchup
Taco kits – $2.99 (Caddle has a deal for $1.25 back on taco kits)
Butter – $3.99
At Food Basics:
Brussels sprouts – $2.88 lb.
Cauliflower – $2.88 a head (Caddle has a deal for 25 cents back on cauliflower too)
Ragu spaghetti sauce – 99 cents a jar
Sweet potatoes – 98 cents lb.
Ground beef – $2.97 lb.
At Real Canadian Superstore:
Broccoli – $1.98 each (Caddle has a deal for 25 cents back)
Stewing beef – $5.89 lb.
At Loblaws:
Potatoes – 15 lb. bag is $5.99
At Walmart:
Onions – 3 lb. bag is $1.47
Maple Leaf Prime whole chicken – $2.97 lb.
At Sobeys:
Carrots – 3 lb. bag is $1.99
Just to clarify, no I don't go to all of these stores. There are actually 6 grocery stores within a mile of my house but still, who wants to store hop when you can just go to one that price matches? Real Canadian Superstore, Walmart, and FreshCo all price match. The ones in my area will price match from a mobile device so I can show them my clippings from the Flipp app. You should check with yours though because I've heard it tends to be on a store by store basis.
Menu Plan Monday, January 25, 2016
Monday: Beef stew in the slow cooker (with carrots, potatoes, onions, peas, Worcestershire sauce, red wine, tomato paste), 7Up biscuits
***Also making a pot of cream of cauliflower soup – some for lunches this week and some for the freezer.
Tuesday: (Using leftover cottage roll from Sunday) – Ham and noodle casserole, broccoli
Wednesday: Beercan chicken (in the oven), sweet potatoes, cauliflower
Thursday: Spaghetti with meat sauce, tossed salad, garlic toast
Friday: Meat Free Friday – Macaroni and cheese (this one has cauliflower in it – can you tell I've missed cauliflower while it was at those high prices?), Brussels sprouts
Saturday: Chicken soup with dumplings, tossed salad
Sunday: Make your own taco bar (from taco kit), avocado and bean salad (avocado, black beans, chickpeas, onion, garlic, lime vinaigrette)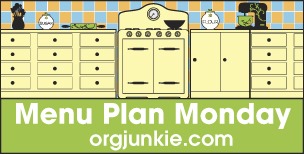 For more meal plan ideas:
Check out my previous menu plan posts here.
Check out my friend Annie's site – she posts a meal plan each week too!
And be sure to head over to Orgjunkie.com where the Meal Plan linkup is.
What are you making for dinner this week?