Here we go! Another year is coming to an end and a new one is just beginning. Do you do anything special to get ready for a new year? I know some people who have really complicated new year routines, but I like to keep things simple with a few basic tasks.
Ever since I was a kid, I've liked to go into a new year with everything all ship-shape. While I don't want to spend my Christmas holidays cleaning and organizing the entire time, accomplishing a few simple things can make me feel like I'm going into the new year ready to tackle anything!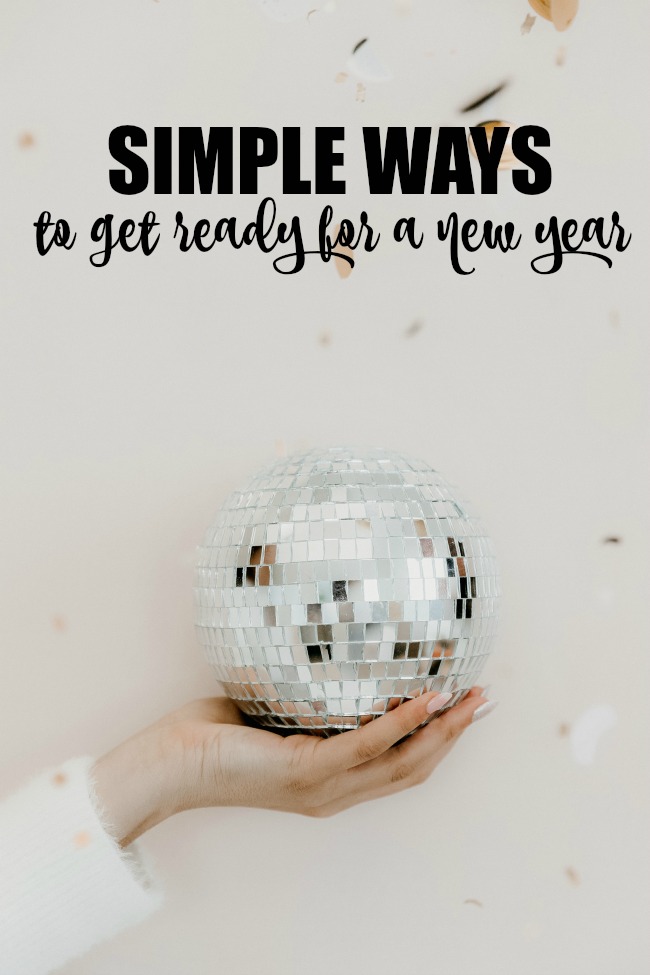 HOW TO GET READY FOR A NEW YEAR.
with at least a partially clean slate!
Empty out your pantry.
Throw away any expired goods, and take inventory of what's left. If you're feeling really ambitious, do the same with your freezer!
Clean out your purse and wallet.
I'll be honest. I'm pretty fastidious about this and tend to do it on a weekly basis. If you prefer not to deal with it quite so often, now is a great time to get rid of all those old receipts, lint-covered breath mints, and random objects (why do I have a screwdriver in my purse???).
Get all your laundry up to date.
I keep the laundry pretty well up to date most of the time, but this is a great time to catch up on any of those last bits. For us, it's usually spare blankets that are waiting to be done, along with new clothes we received as gifts.
Clean out your medicine cabinet.
Take expired medication to your pharmacy for disposal. Take inventory and make a list of what you need to replenish. Cold and flu season isn't over!
Empty out your email inbox.
Ack. This is a TALL order for me. Here's how I deal with it at the beginning of a new year. I create folders and move everything into them. To make it super simple, I just label them Folder 1, Folder 2, Folder 3, etc.
Here's the truth about my inbox. I have already dealt with the most important things. I get nervous though about deleting some because I think I might need it later. Filing them away into folders keeps them out of my way, but still available.
After a certain period of time (maybe the next time you do this the following year?), just delete the folders. Chances are, if you haven't need them in that time, you won't ever need them.
Note: if you KNOW you have some super important emails, find those and put them in a special folder first (I have one of old love letters and ego boosting notes of gratitude. They're great for bad days.) Then, try to get in the habit of doing that as soon as they come in.