Are you heading off on vacation? It's supposed to be a time of adventure and having fun, right? The last thing you want is to have to worry about your home. There are various ways of protecting your home while away but a house sitter, I believe, is the absolute best way. There are so many things that can happen while you're gone! Package deliveries. Ice storms causing frozen water pipes. Power outages. Wind storms knocking tree branches down. Having someone staying there (or at the very least spending some time there every day) can be a great source of relief. But, do you know how to get organized for a house sitter?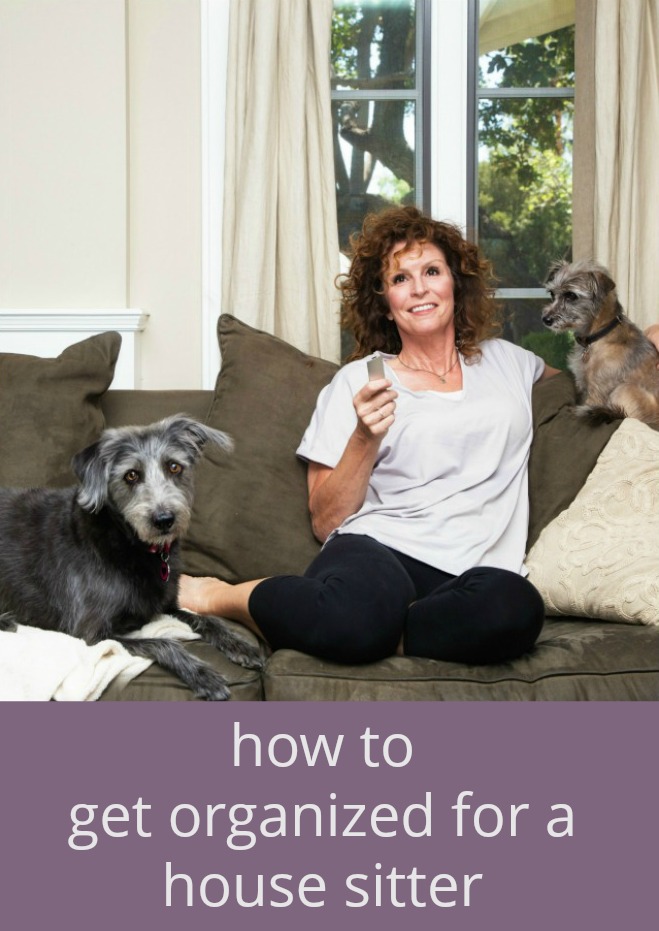 How to Get Organized for a House Sitter
Begin by making sure that your house sitter has a list of phone numbers and email addresses that they may need while you're gone.
These include how to reach you, your alarm service, your vet (if you have pets), and service people you usually deal with in case of a home emergency (plumber, electrician, and so on). Leave them some emergency contact information too – a family member or friend they can contact if they can't reach you.
I like to put out my file folder of household owner's manuals.
This can be really helpful in case your house sitter can't figure out how to use the stove or run the dishwasher and so on.
Provide a basic outline of your household schedule.
By this, I mean letting them know about things like the trash and recycling pickup schedule (and any rules for putting it out at the curb). They'll need the names and schedules of your landscaper, pool maintenance person, or anyone else who regularly comes to your home to perform services.
Be sure to test the keys that you are leaving behind for them.
If you are leaving a vehicle behind, leave them a key for that as well just in case they need to move it for you if there's an emergency. Clarify the use of your vehicle in writing too.
Give them a list of rules, routines, and preferences for your pets if they will be caring for them while you're gone.
Include how often to feed them, how much to feed them, and so on. I also added information about any of their particular quirks – the cat will hide under a bed if there's a thunderstorm, the dog likes to howl along with sirens, and so on. Be sure to put out all pet supplies or leave clear instructions of where to find them (cat litter, the dog's leash, etc.)
If they will be caring for your plants while you're gone, leave a schedule for watering them as well.
Don't forget your garden plants too! And if any of them require any special care (needs to be placed in full sun for 2 hours a day and then moved, etc.) be sure to include that too.
Clearly write out any rules you have for the use of your house.
For example, how would you feel about your house sitter having guests? Are there items that are out of bounds? Are there rooms that are out of bounds?Can they use your laundry machines? Are they allowed to order Pay Per View movies on your cable network? (If so, don't forget to leave them your pin number).
Make sure you home is clean and that you've left a list of where they can find things they may need.
Don't forget about putting out clean sheets and towels and letting them know where to find extras. Think about various scenarios and what they might need if they were to get chilly. Or too hot. For example, where is the thermostat? Extra blankets? Fans? The circuit breakers/fuse box? Oh and don't forget to leave them your WIFI password!
Are you providing food for your house sitter?
If you are, you will need to consult them about their preferences so that you can stock your kitchen for them. I've never done this with any of my house sitters but if it were a friend or relative, I would. I would also leave them some special treats as an extra thank you.
Leave them a welcome meal.
This is a lovely touch. Prepare a meal for their first dinner in your home. This could be a slow cooker meal or something you prepare ahead of time that they can simply heat up.
It's a good idea to have all of this ready for the house sitter a few days before you leave.
I like to invite them over and go through it with them. That way I'm right there to answer any other questions and to show them things in the house in person. If you have pets, this is a good chance for your house sitter to meet them too.
A trusted house sitter is a great way to keep your home, pets, and plants cared for while you are away. It's also a wonderful way to set your mind at ease. I like to check in with the house sitter regularly while I'm away – just to see how things are going and find out if they have any questions. This keeps the open communication going and lets me enjoy my vacation!