We just love this quick and easy upcycled dollar store terrarium craft. They go together in just about half an hour and use limited supplies.
These terrariums are the perfect addition to pretty much any style of home decor. This is a great beginner craft and because most, if not all, the supplies can be found at the dollar store, it's easy on the wallet too.
DOLLAR STORE TERRARIUM CRAFT
Materials needed:
Clay Pots, 2.5" – Dollar Store
Mini Faux Cactus Plants – Dollar Store
Gingham Ribbon, Black and White – Dollar Store
Mini Water Bottles, 8 oz. Size – Dollar Store
Natural Jute Twine – Dollar Store
Glue Gun and Glue Sticks – Dollar Store
Crinkle Paper, Brown – Dollar Store
Wine Corks
Scissors
Instructions:
STEP ONE
Gather all supplies. Wash and thoroughly dry three of the 8 oz. plastic water bottles. Remove the labels and plastic rings around the neck of the bottles with scissors. Cut the top portion of the bottles off at the first indentation.
STEP TWO
Insert recycled wine corks into each of the water bottle tops. They fit PERFECTLY! Wrap natural jute twine around the neck of each plastic water bottle several times, securing with a knot. Trim any long ends with scissors.
STEP THREE
Remove the faux cactus from its pot, add some brown crinkle paper, and then glue the cactus back into the pot. Repeat with the other two faux cactus.
NOTE: Loose faux plants can be used. Just secure a piece of Styrofoam in the bottom of the clay pot first. Then layer on the crinkle paper and insert the plastic cactus.
STEP FOUR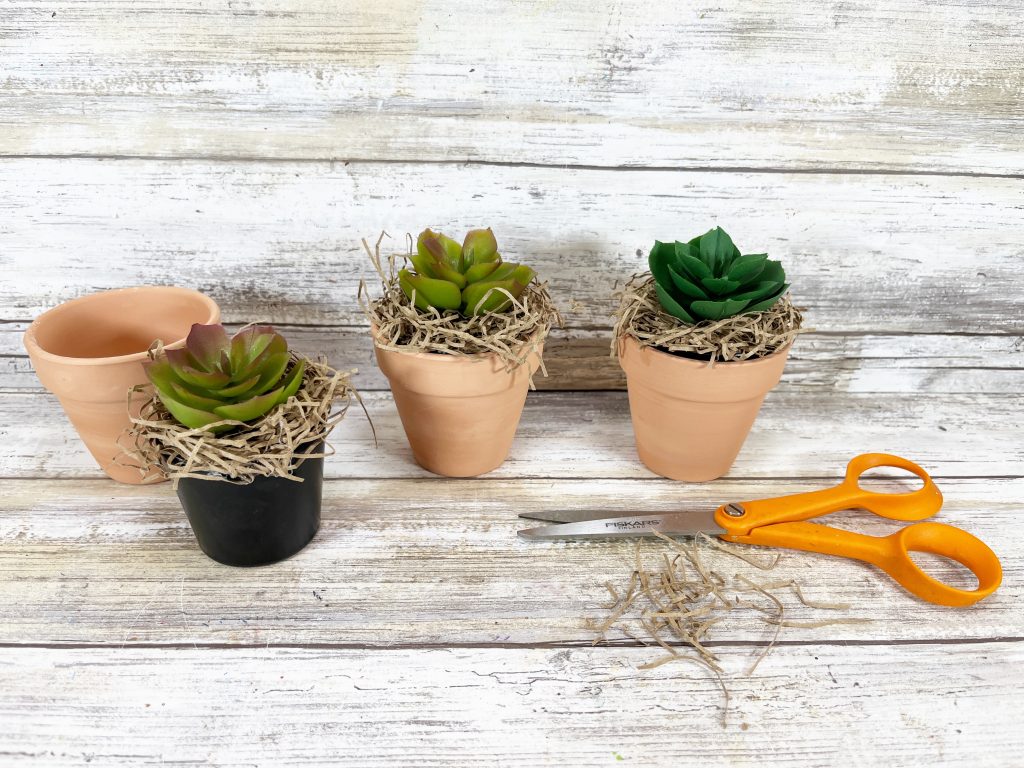 Place the faux cactus pots into the terra cotta clay pots and push down to secure. Trim any excess brown crinkle paper with scissors, and then place the plastic bottle terrarium on top of the clay pot.
STEP FIVE
Attach a piece of ribbon around the rim of the clay pot with a glue gun and glue sticks. Tie a bow with the black and white gingham ribbon, trim the ends with scissors, and then glue to the rim of the clay pot. Repeat with the other two clay pots.