Welcome back to another Summer Fun Friday! This week, I've got a fun DIY to share with you. This DIY Travel Tic Tac Toe Game is so quick and easy that you can let the kids help paint, create and even personalize it! Best of all, once it's finished, it becomes a game that the kids can play with all summer long – in fact, all year long!
Take it with you to the beach, the backyard, on your road trip, on a camping getaway, or even on a visit to the grandparents' house. We like to make an extra set and keep one in the car. Whenever we're out and about and need something to keep the kids occupied, just grab the game and go! You can even take it into restaurants and doctor's offices.
DIY Travel Tic Tac Toe Game
Materials Needed:
Burlap Drawstring Bag
Americana Paints by DecoArt – Lavender, Sour Apple and Laguna
Americana Dura Clear Matte Varnish by DecoArt
River Rocks – 12 small and flat
Painters Tape
Paint Brush #4 Flat
Palette (simple as a paper plate)
Paper Towels
Scrap of Cardboard
Ruler
Pencil
Disclosure: The following are affiliate links to the products needed for this DIY Travel Tic Tac Toe Game. As an Amazon Associate I earn from qualifying purchases. There is no added cost to you. Thank you for supporting Creative Cynchronicity!
YUXIER Burlap Bags Drawstring Party Favor Bags Small-12/25/30/75 Party Gift Bags-5.3×3.7in Treat Bags for Baby Shower Wedding Kids Party Presents Jewelry Pouches
DecoArt Americana Acrylic Paint, 2-Ounce, Lavender
DecoArt Americana Acrylic Paint, 2-Ounce, Sour Apple
DecoArt 2 Ounce, Laguna Americana Craft Paint
DecoArt DuraClear Varnish 8oz Matte
Rock Canvas Painting Rocks – Smooth Rocks for Painting Kindness Rocks, Size 1 Assorted Size and Shapes 1-3 Inch, 4lbs of Rocks/About 13-18 Rocks – Stone Perfect for Easy Painting and Creative Art
Frog Tape 1396748 Multi-Surface Painting Tape.94 Inches Wide x 45 Yards Long, Green
Crafts 4 ALL Paint Brushes 12 Set Professional Paint Brush Round Pointed Tip Nylon Hair Artist Acrylic Brush for Acrylic Watercolor Oil Painting
Instructions:
1 – Insert scrap cardboard into burlap bag, so the paint does not seep through. Measure and lightly sketch tic tac toe grid on to burlap bag. Apply painters tape to create two vertical lines approximately 1/4″ wide each. Apply Lavender paint, remove the tape, and let dry. Repeat with horizontal lines, let dry.
2 – Using a #4 flat paintbrush, paint X's on six rocks with Laguna paint, let dry and then apply a second coat, if necessary.
3 – Paint O's on six rocks with Sour Apple paint, using a #4 flat paintbrush. Let dry and then apply a second coat, if necessary.
4 – Once the paint is dry, apply two coats of Dura Clear Matte Varnish, letting rocks dry completely between coats.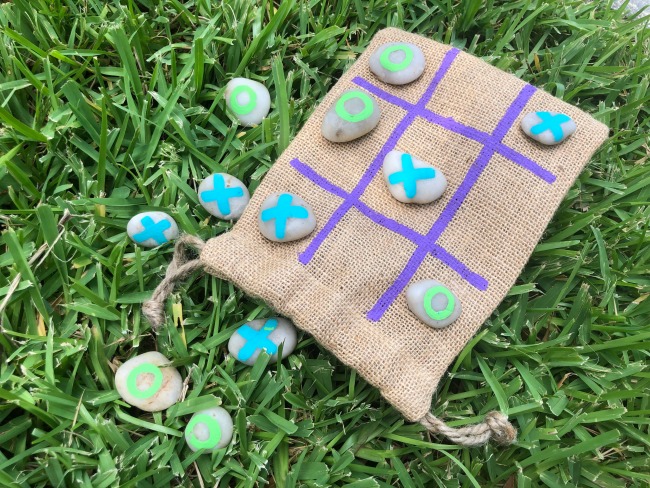 Have the kids collect rocks from their travels to make this game an extra special keepsake. They could also use their initials instead of X's and O's. Or paint the rocks and then use some Mod Podge to glue and seal their photos on in place of the initials. There are so many ways to customize this project!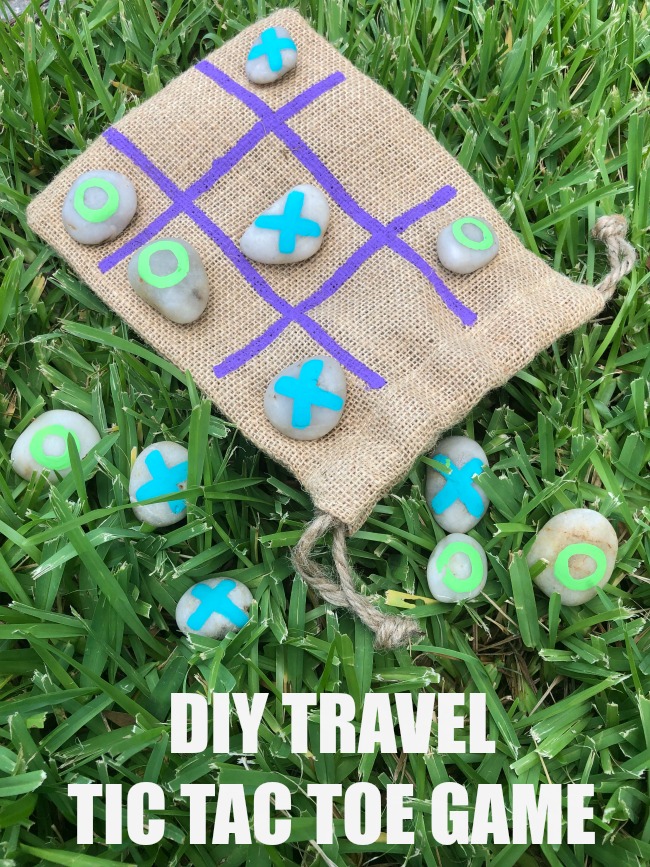 Looking for more ideas? Check out these summer fun posts!