Have you seen the new "augmented reality" items that are around these days?  Recently, I had the opportunity to head out to Walmart and purchase some #CypherKidsClub Augmented Reality Learning Cards to give them a try. 
These cards are available at select Walmart Canada stores.  I expected them to be with the other Apple accessories since they work with Apple devices but after asking for some assistance, found they were actually with the video games in the Entertainment section of the store.  You can see my full shopping trip here.
There are three different sets to choose from:  Letters (26 cards), Numbers (20 cards), and Animals (18 cards).for ages 3 and up.  To use them, you will need to download a free app for them on your iPhone 4 or higher, iPad 2 or 3, iPad Touch 4th Generation or higher  These cards work in conjunction with the camera feature on your device.
I chose the animal set since I would be using it with a 3 year old and a 5 year old.  They are both pretty bright and know their letters and numbers quite well.  The company refers to these as 3D flash cards and there was a description on their website of what each set does.  However, without knowing precisely what each of the card sets was like, I was concerned that the letters and numbers sets might be too basic, especially for J (age 5), and that they might get bored or outgrow them quickly.  Had I just been getting this for C (age 3), these two sets would have been great choices.  But, to get something that would appeal and hold the interest of both of them, I ultimately settled on the animal card set.
There was a bit of a learning curve at first but it didn't take us long to get the hang of it.  First step is to download and enable the app.  Each box tells you what app you need – you can also scan the QR code on the box to download it.  It was very easy to download on the iPad but I found that to get it on my iPhone 4, I had to connect to Wifi as the file was too large to download over my data plan.  Place the card on a flat surface with the 3D marker side up (the opposite side of the animal's picture).  The instructions state that for best results you need to use these cards in a well lit room, ensuring that there is no glare on the marker and that you should hold your Apple device about 12 inches away from the card.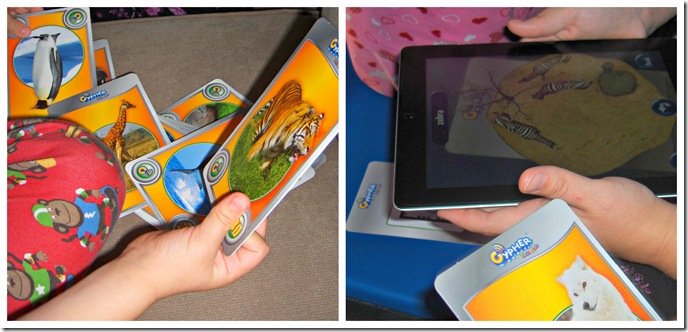 Now you will see a 3D image of the animal you have chosen appearing on your screen.  These animals move around your screen while a voice tells you fun and interesting facts about that animal.  By holding the device flat, you can see a bird's eye view of the animals but by moving either the device or the card at different angles, you can see a variety of other views.  We found it easier to move the device rather than the card.  Some animals had a "background' with them that was indicative of their habitat as you can see in the upper right picture of the zebras.  Others basically appeared on top of the 3D marker – I found that a bit distracting but it didn't seem to phase the kids.  All of the animal cards gave clear 3D images with the exception of the octopus.  We found it a bit tough to see it in the water habitat it was shown in but again, the kids seemed fine with it.
Near the end of each description of animal facts, there is an opportunity for the children to interact with the app.  For example, it shows how an elephant takes a bath and then instructs the child to touch the elephant to make it take another bath.  Or you can touch the dolphin to feed it a fish or touch the crab to watch it do a flip and so on.  Both kids really enjoyed it and kept wanting to try out more animals or redo the ones we had already tried but some of the descriptions were a bit long for their attention spans at the time (they were both sick).  So, often they wanted to move on to a different animal before encountering the interaction stage with the one we were currently playing with.
Another fun feature is that while viewing the animal in 3D, there is a function which allows you to take a screenshot of it (as pictured above).  It will be saved into your device's photo album.  I thought this could be a really great plus if the child has a project to do for school on a certain animal.  They'd be able to learn fun facts by playing with these learning cards and then take a screen shot to include in their project.
After about 15-20 minutes of playing with it together, J (age 5) was able to use the learning cards and app by himself.  He could choose a card, press the proper buttons, and hold the device over to be able to see and interact with the animal and then repeat that for a different animal.  The only thing he had some problems with was that he wanted to be able to sit back and hold the iPad on his lap like a book.  When he did that, he sometimes would completely lose the animal's picture or it would be stuck up into one corner of the screen.  Being used to the touch screen capability of iPad games, he would keep trying to drag it into the middle where he could see it better and that doesn't work with this particular app.  We had to reinforce with him that he would have to move the card and/or the device in order to see it on the screen the way he wanted to.  Figuring out how to see different views of the animals was something he continued to need some assistance with as well but I'm sure with time, he would get the hang of that too.
Overall, both kids had a lot of fun playing with the animal cards and interacting with them.  It was both fun and educational (their mom and I even learned something!).  My only worry with this is that any bends or creases in the cards could affect the ability of the app to read the 3D marker.  We had to keep reminding the kids not to sit on the cards or fiddle with them so this will have to, for now, be something that is kept up on a shelf and only taken down when there can be adequate supervision.
Check out the #CypherKidsClub Youtube channel and you can see the Wild Animal set in action here.  And be sure to follow #CypherKidsClub on social media for all the latest news:
"I am a member of the Collective Bias™ Social Fabric® Community.  This shop has been compensated as part of a social shopper insights study for Collective Bias™ and Cypher Kids Club #CBias #SocialFabric All opinions and ideas are my own. "