I'm going to be honest with you. I'm more of a savoury over sweet kind of girl. Oh I like something sweet now and then (mmmmm cheesecake) but really, if you ask me to choose between a second serving of a savoury dish I really like and a dessert I really like, I'll pick savoury every time. Then offer me the choice between a full meal or some little appetizer bites and I'll usually choose the appetizers. So you have to know that holiday party season is my jam. I'm already cruisin' Pinterest and searching Google to put together my plans for our upcoming family Thanksgiving get-together, our Halloween Ghoulish Gathering, and of course, the Christmas meals, parties, and potlucks already filling the calendar. This list of tasty snacks is an excellent start.
1. Your Cup of Cake – Slow Cooker Cheesy Spinach Artichoke Dip
2. Yes to Yolks – Bacon & Apple Stuffed Jalapeno Poppers
3. Vicky Barone – Pepperoni Pizza Rolls
4. Tastes of Lizzy T – Cheesy Ranch Potato Bites
5. Trish Sutton – Simple Cream Cheese, Bacon & Jalapeno Dip
6. Typically Simple – Easy to Make Pizza Ring
7. Snappy Gourmet – Buffalo Chicken Biscuit Poppers
8. Cherished Bliss – Pumpkin Pie Party Dip Recipe
9. Krystal's Kitsch – Peanut Butter Popcorn Recipe
10. Bake Your Day – Pumpkin Yogurt Dip
11. How Sweet It Is – Jalapeno Honey Hummus With Spiced Olive Oil Tortilla Chips
12. Yes to Yolks – Chili-Spiced Soft Pretzel Bites with Chorizo-Cheddar Queso
13. Tastes of Lizzy T – Smoked Mozzarella Fonduta
14. Trish Sutton – Chocolate Dipped Caramel Stuffed Pretzels
15. A Turtles Life For Me – Bacon-Wrapped Jalapeno Poppers
16. Amanda's Cookin – Rotisserie Chicken Nachos
17. Crazy for Crust – Caramel Cheesecake Dip
18. Cookies and Cups – Outrageous Peanut Butter Candy Bars
19. Bake Your Day – Cheddar-Ranch Dip
20. This Silly Girl's Life – Cheddar Bacon Ranch Pinwheels
21. Sweet As a Cookie – Zesty Ranch Fries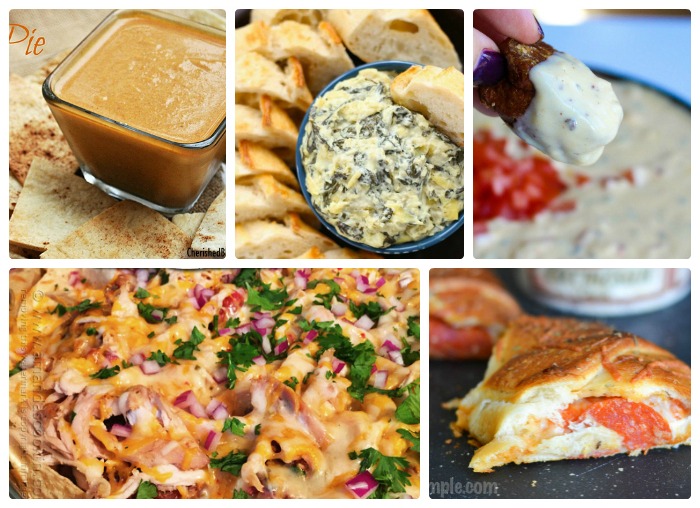 What's your favourite holiday snack?
Related articles across the web