Affiliate Disclosure: Some of the links in the Summer Reading List below are affiliate links. That means that if you click through and purchase any of them, Creative Cynchronicity will make a small commission at no extra cost to you.
I've always been an avid reader but find that I'm devouring more books than usual lately. Here are my picks for my 2020 Summer Reading List.
There's quite a mixture below. Honestly, it suits my brain lately. I'm kind of an eclectic person and with all the things going on in the world, I've been jumping around from topic to topic and interest to interest even more.
You'll find some Christian content, a couple biographies, some really good "don't want to put it down" fiction, and educational books reflecting current events in our world.
2020 Summer Reading List
NR = not read yet
Praying Women: How to Pray When You Don't Know What to Say by Sheila Walsh
This is such a great book if you're looking to deepen your prayer relationship with God. Sheila explains the ways in which we over-complicate prayer and just how easy it can be to feel that intimacy with God.
The personal stories she shares are poignant and help the reader to feel a bond with the author. Even more than that, you feel a connection of similarity. I could see myself in Sheila and so it was easy to believe that her approach to prayer would work for me.
Rating: 10/10
The Rural Diaries: Love, Livestock, and Big Life Lessons Down on Mischief Farm by Hilarie Burton
My daughter and I used to watch One Tree Hill all the time. I've always loved Hilarie Burton and it's so much fun to see her in the Christmas movies she has been in since then.
I so enjoy following her on Instagram and through the video chats she does with her husband. She is engaging, interesting, and enlightening. So, when I saw she wrote a book about her life, I knew I had to buy it.
The book talks about Burton's change from life in Hollywood to life on a working farm in New York. She shares details of her life with her husband, son, and neighbors as they manage their farm and bring the town's candy store back to life.
It's part cookbook, part home design and gardening book, and all charming stories of inspiration and transformation. Burton takes you on her journey and it's an uplifting ride. This is a great book for summer reading.
Rating: 10/10
Fierce, Free, and Full of Fire: The Guide to Being Glorious You by Jen Hatmaker
Oh Jen Hatmaker. You inspire me. You encourage me. Whew, you challenge me. And you seem to know me so deeply that sometimes it's a bit uncomfortable (but yet, always so necessary).
Hatmaker challenges the reader to be themselves – fully and completely themselves. She inspires us to put aside all the drama of our pasts and to embrace who we really are and what we truly want. She wants us to leave behind the guilt and to stand firmly in our own space.
Jen wants us to OWN our lives and I'm here for it.
Rating: 10/10
I Know Why the Caged Bird Sings by Maya Angelou
Can you believe I've never read this before? I'll be honest. I added this to my list when I heard that a town in Alaska was banning it. Yep that's me. Cyn the rebel always rails against those who say I can't.
I want to know why and what I'm missing. More than that, I knew too that this was a powerful book – life-changing is the way many of my friends described it so I am anxious to dig in.
This is a coming of age story that tackles really tough topics like racism and trauma. It is Angelou's autobiography and begins when she is 3 and has been sent to live with her grandmother in Arkansas. Detailing her experiences, we see her go from victim to powerful woman.
NR
Praying Women: How to Pray When You Don't Know What to Say
The Rural Diaries: Love, Livestock, and Big Life Lessons Down on Mischief Farm
Fierce, Free, and Full of Fire: The Guide to Being Glorious You
I Know Why The Caged Bird Sings(Paperback) – 1984 Edition
The Little Bookshop on the Seine by Rebecca Raisin
Bookstore owner Sarah trades places with her friend Sophie in Paris for 6 months and she is thrilled at the prospects. Unfortunately, reality doesn't quite meet expectations. Her job, her relationship, and her life are quickly put out of order.
With Christmas on the horizon, Sarah is determined to make her Parisian dreams come true and gets started on her journey to happily-ever-after. I'm a sucker for books revolving around bookstores – they're just so cozy!
Add into that a healthy dose of life in Paris (yes please) culminating in Christmas (it's nearly July – let's just call it Christmas in July) and you've got a delightful choice for summer reading. I'll be finishing this one in the hammock.
NR
White Fragility: Why It's So Hard for White People to Talk about Racism by Robin J. Diangelo
This book is pretty self-explanatory. I would say "given the times we're in", but really I should be reading it anyway. As much as I know I love all people, I also recognize that by virtue of my own life experiences, I have a lot to learn.
I don't want to be just a non-racist. I want to be anti-racist. And I really want to be an ally who can actually help. It's not enough for me (nor I think for any of us) to simply sit in the background doing nothing. My friends, my brothers and sisters in Christ need me to step up.
This book, I hope, is going to help me learn how.
NR
The Great Influenza by John M. Barry
Yep. We're in the midst of a pandemic and I've decided to read about a previous one. Call me a glutton for punishment!
Actually, I've read a few articles about the influenza pandemic and it was quite interesting to hear about how it all played out. I am a firm believer in learning from history and I feel like there are a lot of lessons here.
Not only that, but I'm a science nerd and so, any topics like this are fascinating to me. I know that Covid-19 isn't the same as the flu, but there are some similarities to be drawn here.
I'm the type of person who feels more secure with more information. Are you like that too? I know for some it can make them even more anxious, but the more I understand, the more I feel like I can prepare for it. (hence why I'm following about 45 epidemiologists on Twitter!)
This is history meets medicine/science meets my current reality. I'm all in.
NR
The Sunday Potluck Club by Melissa Storm
As always, I'm going to be perfectly honest with you. Out of the other books on this list, this would probably be at the bottom.
To be fair, I haven't read all of these books yet, but of the ones I have, this is my least favorite. It's not that it's a bad book. It's just that it's not a great one.
The Sunday Potluck Club is comprised of friends who bonded at a hospital where they were all visiting loved ones who were dying. They become a tightly knit group who support each other through life's ups and downs.
This is a perfectly fine read for an afternoon at the beach. It's one of those quick and easy books – I'd call it a light read despite the fact that the people in it bonded over death. The death isn't a central player in terms of the reader experiencing it firsthand.
Instead, it's the backdrop for the main (and other) characters as they learn to navigate life after losing their loved one. Of course, there are highs and lows but the lows never get so low as to make this a traumatic or depressing book to read.
I think my main issue with it is that I didn't feel the usual bond I do with book characters. I felt like I was I was looking in from the outside on an interesting story, but I didn't feel drawn in, if that makes sense.
I'm not sure if I found it hard to relate to the characters or simply didn't feel a connection, but I just didn't find them very compelling or relatable. There was, in a sense, a lack of depth to them – at least for me.
This book was good enough to keep reading, but not good enough to tell everyone they need to run out and buy it. Rating: 5/10
The Little Bookshop on the Seine
White Fragility: Why It's So Hard for White People to Talk About Racism
The Great Influenza: The Epic Story of the Deadliest Plague in History
The Sunday Potluck Club
This is How it Always Is by Laurie Frankel
This was recommended by a friend. It's the story of a loving family raising a transgender child. The parents want to help their children reach their full potential of becoming the person they each truly want to be.
It's a story of love and acceptance. It presents an optimistic outlook on leading a happy life as the person you are despite the difficulties and challenges. I haven't read this one yet, but can't wait to dive in.
NR
The Unlikely Pilgrimage of Harold Fry by Rachel Joyce
This book drew me in immediately and kept my attention all the way through. It's engaging and delightful. As Harold Fry takes his pilgrimage, we accompany him and it's a wonderful journey.
Harold learns so much more about who he is and who he wants to be. It seemed to me that he had lost a bit of himself and he gains that back, along with a great deal of joy.
He works through the regrets of his life as he learns more about his deceased wife. At first, he struggles with his feelings -seeing them as failures. Ultimately though, he turns those feelings into opportunities.
I found the book incredibly uplifting and as a person approaching my senior years, it was incredibly poignant to see him embrace his past AND his future.
This is an amazing book for summer reading!
Rating: 10/10
A Mind of Her Own by Paula McLain
As you may know, I'm a huge Paula McLain fan. The way that she combines history with fiction is truly inspired. I'm always incredibly drawn into the stories and invested in the characters.
In this book, the main character is 25 year old Marie Sklodowska – later known as Marie Curie. The Sorbonne is one of the few universities in the world at the time to accept women, so Marie has moved a thousand miles from her home in Poland to Paris to study science.
Marie is determined to succeed in what is a man's world. She devotes herself to her studies and is convinced that she will have to spend her life alone in order to achieve her goals.
Her plans are thrown off course by her attraction to Pierre Curie. Although he believes they can pursue their dreams together, Marie regards him as a distraction. Will he be able to convince her otherwise?
Spoiler alert – of course he does, but I'll be so interested to see their journey towards being together and making such amazing scientific contributions.
NR
Home by Julie Andrews
I adore Julie Andrews. This is her memoir of her early years. Note: She has another one that picks up where this one leaves off.
Her story begins in war-torn England and tells of life being raised by her father, a teacher, and her mother, a vaudeville star. It takes us through her parents' divorce, mother's remarriage, and her childhood spent being raised in the music industry.
Her professional career began at 12 and at 13, she became the youngest soloist to perform for the Queen. At age 18, she made her Broadway debut. The journey continues through performing in My Fair Lady and Camelot.
We hear about her first marriage to set/costume designer Tony Walton and the birth of their daughter Emma. The book culminates with Andrews being discovered on Broadway by Walt Disney and the rest, as they say, is history.
This Is How It Always Is: A Novel
The Unlikely Pilgrimage of Harold Fry: A Novel
A Mind of Her Own
Home: A Memoir of My Early Years
The Library of Lost and Found by Phaedra Patrick
Another favorite author, Phaedra Patrick always presents characters who are full of life and filled with vivid details. Again, just as with Paula McLain, Patrick gives me characters that I become quickly connected to.
This novel focuses on Martha Storm, a librarian. Martha connects very easily with books, but finds it quite awkward with people.
It's not for a lack of trying. She even has a superhero-themed notebook where she maintains lists of ways she can help others.. Still, she feels unseen.
This all changes when she receives a book of fairy tales with a dedication written by her beloved grandmother Zelda. In true Patrick fashion, a heartwarming story looking into Zelda's past unfolds, taking both Martha and the reader on a poignant journey.
What she finds will change her life forever.
NR
The Book Woman of Troublesome Creek by Kim Michelle Richardson
Have you ever heard of the blue-skinned people of the Appalachian hills of Kentucky? I hadn't until this book was introduced to me.
This book is set in 1936 and stars Bluet, the last of the Kentucky Blues. She's 19 and has lost her chance at marriage.
So, she joins the Pack Horse Library Project of Kentucky and becomes a traveling librarian. She rides through the mountains on a mule to deliver books to the poorest communities of Eastern Kentucky.
The people she encounters are mistrustful of strangers, and in particular, of Bluet's blue skin. Anytime anything goes wrong in one of the towns she visits, they blame her.
This is inspired by the very real blue-skinned people and the Kentucky Pack Horse Library project. As such it appeals to my love of learning new things and of history. More than that though, the storage of Bluet's strength, courage, and most of all, hope, really appeals to me.
NR
The Library of Lost and Found: A Novel
The Book Woman of Troublesome Creek: A Novel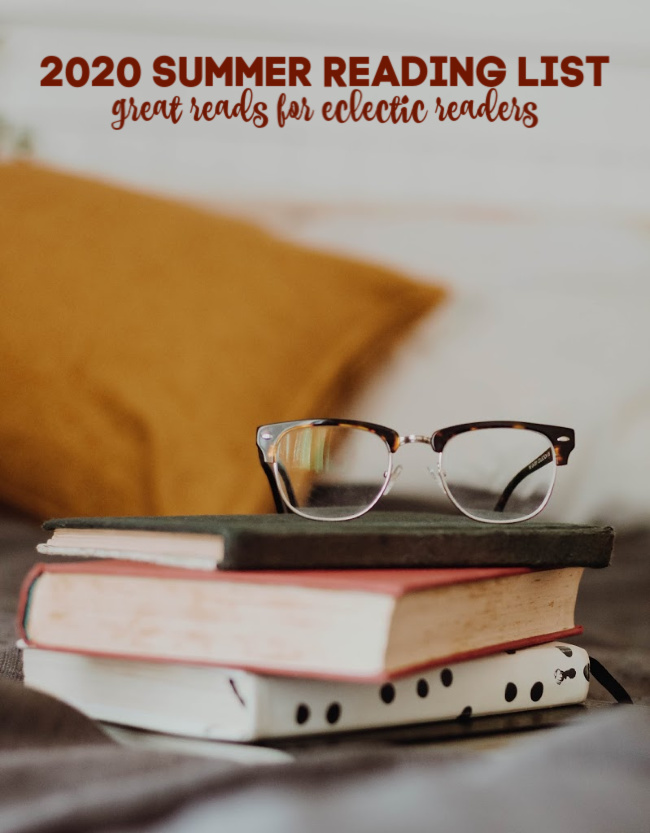 Looking for more books for summer reading? You can find my previous Summer Reads List here.