If you live in or plan to spend time in Ohio this year during the holiday season, you will want to check out these top Christmas towns in Ohio!
These are the best places that you can spend some time celebrating the season. This state has some wonderful towns and communities that really know how to celebrate the season!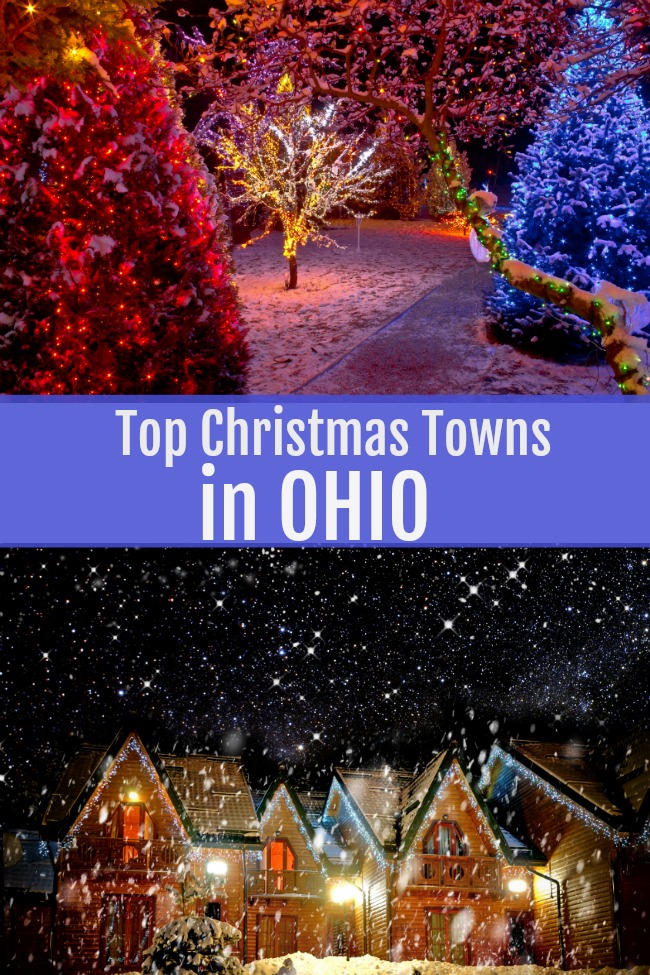 Top Christmas Towns in Ohio
If you are ready to really enjoy the holiday season this year, here are the top Christmas towns in Ohio for you to enjoy this December:
Morrow
Morrow is home to the Christmas Ranch, which is a wildly popular holiday attraction that brings thousands of visitors each year.  Here you can enjoy over a million synchronized lights, a visit and photos with Santa, wagon and train rides and more!
Lebanon
In early December, this town throws a great party!  The Lebanon Horse Drawn Carriage Parade & Christmas Festival features a parade, festival, food, drink and craft vendors, musical events, carolers and more.  Oh, and you can hop on a train to the North Pole to visit Santa! The kids are going to have a blast here this Christmas!
Medina
Medina is another town that is well known for its Christmas attraction. Here you will find Castle Noel, which is also known as "America's Largest Indoor Christmas Entertainment Attraction."
Castle Noel is actually open year round so you can enjoy the season any time you want.
Cambridge
A visit to Cambridge during the holidays will allow you to see the "Dickens Victorian Village," which is when the town transforms into an old world village which puts you in the middle of 80 different Victorian scenes reminiscent of a Dicken's novel.  
When you visit Cambridge for the holidays, you will be transported back to the Christmas' of old.
I got to visit Cambridge and get a behind the scenes peek into what goes into their Dickens' village every year. It's such a fun take on the Christmas celebration!
Clifton
Clifton is home to the Legendary Lights of Clifton Mill.  This popular light display and Christmas event is well known as one of the best light displays in the country.  Here you will find over 3 million lights, Santa's workshop, a Santa Museum, and more holiday fun.
Middletown
Middletown is home to Light Up Middletown which is a well-known light display that you can drive through every day from the day after Thanksgiving through New Year's Eve.  The entire town gets into the festivities too with brightly lit decor and craft fairs, etc.
Washington Township
Washington Township features a half-mile of light displays and holiday festivals in Countryside Park. These festivities take place from the day after Thanksgiving clear through the day before Christmas Eve.
Kirtland
In the month of December, Kirtland transforms itself into a unique holiday village featuring over a thousand different nativity scenes from around the world.  While there, don't forget to grab your free hot cocoa and enjoy Christmas carolers.
Steubenville
Steubenville is home to the Steubenville Nutcracker Village, which is the largest display of life-size nutcrackers in the U.S.  Each year in Steubenville, you will also find light displays, holiday vendors, Christmas carolers and more to enjoy in Steubenville.
Gallipolis
The small town of Gallipolis boasts a park that sets the stage for a memorable holiday season. Light displays, Santa's house, and more festive activities can be enjoyed here starting in late November.
Have you spent much time in Ohio during the holiday season? Did I leave any of your favorites out?