Gee's Bend is a small poor rural town located near Selma, Alabama. In the past it was comprised of cotton plantations, owned by Joseph Gee and a relative of his, Mark Pettway.
Pettway bought the Gee estate in 1850 and after the Civil War, his freed slaves took the name of Pettway. They continued to work for Pettway as tenant farmers and created an all-black community.
The Quilts of Gee's Bend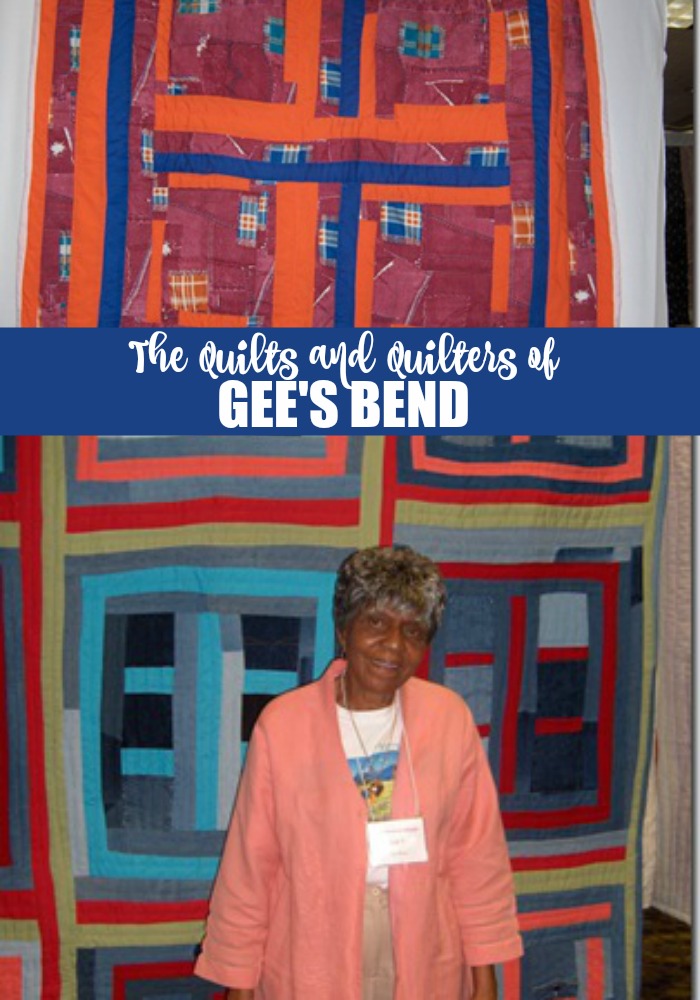 The Women of Gee's Bend
This community was quite isolated, being surrounded by the Alabama River on three sides. The women of Gee's bend bonded together through quilting and developed a very distinctive style to their quilts.
The quilt designs were based on traditional African American patterns and resemble the simplistic geometric patterns found in Amish quilting and modern art. The quilting skills and style of the Gee's Bend women have been passed down to at least generations.
The Gee's Bend Quilters' Collective
In 2003, the women formed the Gee's Bend Quilters' Collective and it is through this that they display and sell their quilts. All of their quilts are handmade and unique. These women had virtually nothing and yet they were able to take old worn clothes and turn them into pieces of art.
Since the collective was formed, the quilts have been on display at several major museums and the quilters have appeared on such shows as Martha Stewart Living and Oprah. There are now books, DVDs, and CDs (of the women singing) produced about the quilts of Gee's Bend. The United States Postal Service even released a stamp in honour of the quilts of Gee's Bend.
Recently, I had the privilege of seeing an exhibit of the quilts of Gee's Bend and to meet a couple of the quilters themselves. On their only Canadian stop, the largest ever exhibit of Gee's Bend quilts took place here in my city of London, Ontario.
The Beauty of the Gee's Bend Quilts
The quilts were beautiful in a very simple, rustic way. I see so many quilts now that are machine made, with tiny even stitches…ones that in many ways, seem to have achieved "perfection". But these quilts were perfect in a different way.
The stitches were often large, uneven, imperfect. The fabrics were sometimes a mishmash of colours and patterns that, in some ways, didn't even seem to go together. And yet, there was such beauty to them. There was such art within them.
The perfect, machine made quilts are beautiful, no doubt, but there's a richness in the Gee's Bend quilts that you just don't see every day. You look at them and it feels like they are more than something beautiful and functional – it's as though you can hear the stories coming from them, as though you can feel the history they hold.
I wish I had the opportunity to take one of the workshops these quilters were holding during this weekend exhibit. I was entranced by them just in the brief time I got to meet them and chat with them. You could feel the warmth and the love emanating from them.
Lessons from the Quilters
You could tell that these are not women who are wrapped up in the rat-race, who are held hostage by technology, who are consumed by material possessions. It was obvious that they have their priorities in order and that they enjoy the simple joys of life. The moment I met them I could picture myself sitting with them on the front porch, sipping a sweet tea, and watching the summer sun set.
But, I was drawn to them for so much more than that. These women had a quiet strength about them. I felt like – and this was just my feeling – they had lived through so much and yet, came through it. They had endured whatever life had given them and came through on the other side still grateful.
They actually made me think of my great grandmother. She was an immigrant from Germany to the United States. The stories I know of her are ones of poverty and hardship. I still have some of the quilt squares she made, out of her family's old, worn clothing. And I have a photograph of her, sitting in the grass, sewing a quilt with a huge smile on her face.
My grandmother said that no matter how hard life got, her mother kept on smiling and kept on counting her blessings. That's the kind of women I saw when I had the honor of meeting some of the quilters of Gee's Bend.