I adapted this recipe for Chicken Parmesan Meatballs and Spaghetti from one I saw demonstrated on The Rachael Ray Show. Over the years, it has become a family favorite and one we make every time that ground chicken goes on sale. It adds a new twist to both spaghetti and meatballs and chicken Parmesan.
This is a fantastic recipe to serve to guests. It's quick and easy but always a hit. It makes for an inexpensive family-style meal too – you can even stretch it a bit further by adding a bit more spaghetti and serving each person fewer meatballs. Instead of 6, you can easily get 8 servings out this recipe with that trick!
CHICKEN PARMESAN MEATBALLS AND SPAGHETTI RECIPE
One of the things I love about it, as the person preparing it, is how quick and easy it is to make. We just had it again tonight and dinner was ready in under 30 minutes. To break it down, I begin lining a baking sheet with parchment paper and preheating my oven to 325 degrees F.
Pro Tip: Then, I chop the onions and mix up the meatballs. If you want to save even more time, there are grocery stores that carry containers of chopped onions. Personally, whenever I chop onions, I chop the whole thing for recipes I'll be using later in the week. You can even freeze chopped onions (not great for eating raw but perfect for cooking!). I also always keep a garlic of garlic puree in my fridge.
Once all of the ingredients are combined, it's time to form them into meatballs. When I first saw a similar recipe demonstrated on Rachael Ray, she made 12 chicken meatballs but I found them much too large. I usually get 18 meatballs, perhaps slightly larger than a golf ball out of this recipe.
Pro Tip: You want the meatballs to all be roughly the same size so that they cook evenly. If you don't like forming them with your hands or find it difficult to make them the same size, try some sort of a scoop. One of the smaller ice cream scoops makes meatballs that are a little bit larger than the ones I make. You can also find cookie scoops for making drop cookies and these will make slightly smaller meatballs.
Place the meatballs on the parchment lined cookie sheet and brush on some of the glaze over each meatball. I like to be really generous with it! Put them in the oven and bake for about 20 minutes at 325 degrees F. Isn't it great that they're baked? Between using ground chicken and baking instead of frying, this recipe is a healthier twist on some traditional Italian recipes.
Pro Tip: Want to make this recipe even healthier? Be sure to include the optional spinach. You can also serve the meatballs over some zucchini "noodles" or spaghetti squash. When I make homemade spaghetti sauce, I puree vegetables and mix them in for more nutrients too.
As soon as they go in the oven, I put the pot of water on the stove to come to a boil for the spaghetti. I make use of the time while waiting for the water to boil and the meatballs to cook to prepare our sides. We usually like to go the classic route with garlic bread and Caesar salad. I work on the salad first.
When the water has come to a boil, that's my cue that it's time to not only put the pasta in the water but also to pop the garlic bread in the oven. This way, when the timer goes off for the meatballs, the entire meal will be perfectly timed to be ready at the same time!
Pro Tip: Reserve about 1 cup of the pasta water when draining your spaghetti. You might need it when it comes time to toss the spaghetti with the sauce.
VARIATIONS:
Try chopping up some cooked spinach and mix it into the meatballs. You can also cook and puree some sweet potatoes or carrots and mix them in as well. It's a great way to boost the nutritional content of the meal. Instead of serving over spaghetti, you can use these for a meatball sub sandwich or serve them over a bed of cooked spinach or kale. They're yummy over polenta too!
CHICKEN PARMESAN MEATBALLS AND SPAGHETTI RECIPE
Over the years, this Chicken Parmesan Meatballs with Spaghetti has become a family favorite and one we make every time that ground chicken goes on sale. It adds a new twist to both spaghetti and meatballs and chicken Parmesan.
Ingredients
1

lb.

ground chicken

3

cloves

garlic

grated or finely minced

4

tbsp

onion

grated or finely minced

1/2

cup

breadcrumbs

1/2

cup

grated Parmesan

1/4

tsp.

dried ground nutmeg

1/4

cup

milk

1

egg

salt and pepper

to taste

6

oz

tomato paste

1 small can

1 1/2

tbsp

olive oil

1

tbsp

parsley

optional – we're not huge parsley fans here

10

oz

spinach

Use frozen, chopped spinach. Optional. We leave it out since some of the family doesn't like it but it's delicious in this.

12

oz

spaghetti

Uncooked measurement. I highly recommend Barilla or Catelli

23

oz

spaghetti sauce

I used one large can of Hunt's Thick and Rich Roasted Garlic and Herb spaghetti sauce in the 680 ml size. You can make your own sauce if you'd like.
Instructions
Make the meatballs by placing the ground chicken in a bowl (with the spinach if using it).  Add the garlic, onion, bread crumbs, Parmesan, nutmeg, salt, pepper, parsley (if using), and 2 tablespoons of the tomato paste. In a separate bowl using a fork, gently combine the milk and egg. Add this to the rest of the meatball mixture and combine. You don't want to overmix but you do want it evenly mixed together.

Combine the remaining tomato paste and the olive oil to make a "glaze" to brush over the meatballs.  It's best to put the meatballs on a parchment lined baking sheet first and then glaze them or you may find they stick and are difficult to remove especially once glazed.  Bake the meatballs in your oven for about 18-20 minutes at 325 degrees F until cooked through.

In the meantime, I heated up my spaghetti sauce on the stove and I began boiling water and cooking my pasta.  Drain the pasta, saving 1 cup of the pasta water. Toss your spaghetti with the sauce, adding in some of the reserved pasta water if needed to get the right consistency. I know some people who like to throw a pat of butter in there while tossing the pasta – I have never felt it needed it and why add extra fat but you can try it for yourself. Serve the pasta with the meatballs and sprinkle some extra Parmesan over the top if desired.
Recipe Notes
The nutritional information listed here includes the spinach and parsley. Obviously, the calorie content will be slightly higher with those but the nutritional content will be boosted too.
You may also find that you'd like to make a little more spaghetti and serve this to 8 people instead of 6 – it's easy to stretch it that way! Other options include substituting zucchini "noodles" or spaghetti squash for the typical pasta. 
Nutrition Facts
CHICKEN PARMESAN MEATBALLS AND SPAGHETTI RECIPE
Amount Per Serving
Calories 503
Calories from Fat 135
% Daily Value*
Fat 15g23%
Cholesterol 101mg34%
Sodium 1089mg47%
Potassium 1499mg43%
Carbohydrates 64g21%
Protein 30g60%
Vitamin A 5515IU110%
Vitamin C 28.9mg35%
Calcium 215mg22%
Iron 5.3mg29%
* Percent Daily Values are based on a 2000 calorie diet.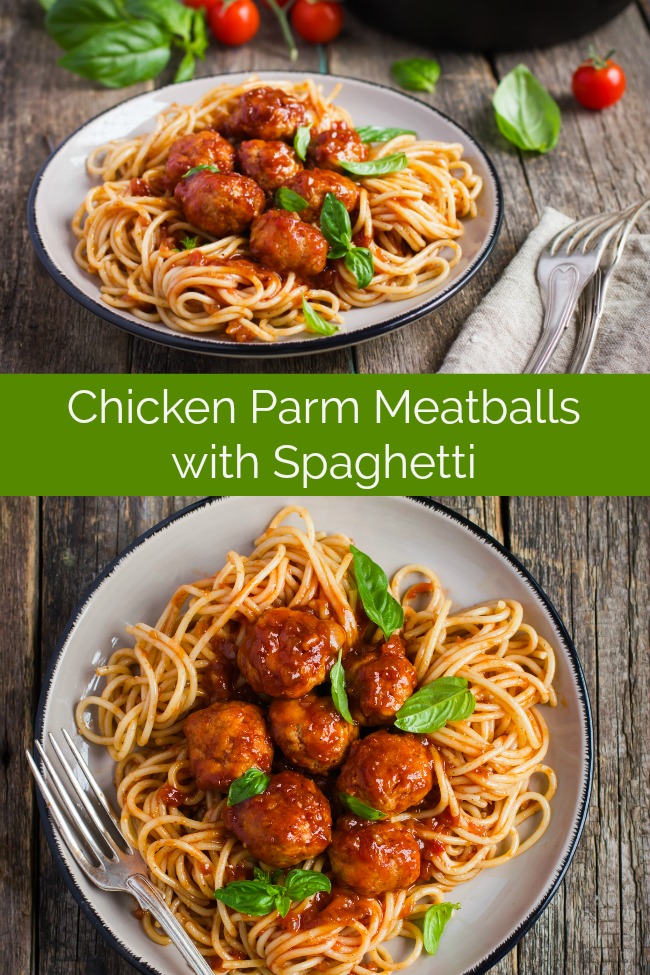 If you like chicken Parmesan, you're going to love this recipe. Try it and I'll bet it becomes part of your regular meal rotation too!
More quick and easy family favorite meals:
Mom's Classic Chicken and Rice Casserole