"Mama's taking us to the zoo tomorrow, zoo tomorrow, zoo tomorrow…." Every time I hear that song, it just makes me want to head off to the zoo. I love the zoo! When I was a kid, I wanted to be a naturalist, so anything to do with animals is exciting for me. So, when I went on a press trip through Ohio in September, I was thrilled to see the Toledo Zoo on our itinerary. I can't believe with how close it is to London, Ontario that I've never been before and I sure know now that I was missing out on a lot.
The Toledo Zoo was voted one of top 20 zoos in the nation by USA Today Travel and as number one in their Readers' Choice 10Best contest. In addition, they were named one of the top 10 zoos in the United States by Family Fun Magazine and in the list of top 25 kid-friendly zoos by Parents.com. Even though my visit was a brief one, it's easy to see why this zoo is receiving so much recognition. It's a small zoo compared to some others I have been to but it's still packed with fantastic exhibits and lots of fun things to do.

In fact, three brand new exhibits opened this year. The new exhibits are: Penguin Beach which includes underwater viewing, Flamingo Key featuring juvenile and adult birds so visitors can watch them grow up, and 'Keet Retreat, a free flight parakeet encounter with an optional feeding experience available.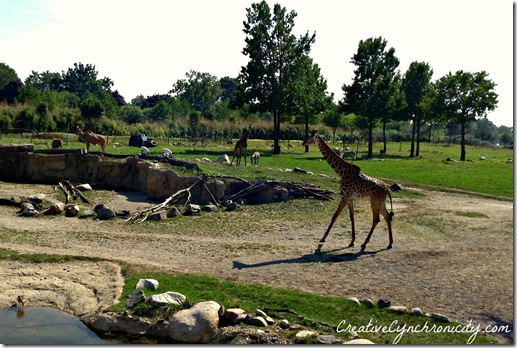 Along with these new exhibits, the Toledo Zoo also has the Africa! exhibit including giraffes, zebras, ostriches, wildebeest and more.
Arctic Encounter includes polar bears, seals, and grey wolves
Tembo Trail including elephants and hippos and featuring a world renowned Hippoquarium.
Reptile House – featuring Baru, originally from Darwin, Australia, at 17 feet long and 1500 lbs, now the biggest saltwater crocodile in North America.
There's also the Kingdom of the Apes including orangutans and gorillas, the Primate Forest including monkeys, lemurs, gibbons, the Aviary with free flight walk-throughs, Museum of Science with frogs, salamanders, and bugs of all kinds, Nature's Neighborhood, an award winning children's zoo and so much more.
The Toledo Zoo is a place for all seasons with year-round events and activities. Upcoming events at the zoo:
Saturday October 25 and Sunday October 26 10-4 pm – Pumpkin Path – a celebration with themed trick-or-treat stations located throughout the zoo including games, stories, songs, interactive inflatable play area, scarecrow making, magic show, pumpkin decorating, pumpkin seed roasting, and pumpkin carving art demonstrations.
Saturday, November 1 – Jumping Pumpkins – It's time for the zoo animals to get their Halloween treats! Watch as they are given their own pumpkins – some will eat them and some will play with them. Either way it's lots of fun to watch.
A few weeks later, on November 14th, the Lights Before Christmas celebration begins and continues until January 4, 2015. (Closed Christmas Eve, Christmas Day, and New Year's Day). Lights Before Christmas lights up the zoo with over a million lights, animated displays, visits from Santa, and even live reindeer! Take a thrilling ride down the ice slide, take a photo with an iconic leg lamp like the one from A Christmas Story, the movie, listen to carollers, see the amazing ice carvings, and check out the crafts and model trains at Nature's Neighborhood.
Monday to Wednesday evenings in December until December 17th, you can enjoy a Festive Feast. Family friendly seasonal entertainment, a zoo animal encounter, holiday crafts, and more await you!
You can even take your kids to ring in the new year at Noon Year's Eve. This is a great way for families to celebrate the New Year with the making of party hats and noise makers, choosing reZOOlutions, and joining in the big countdown at noon!
Tickets are reasonably priced at:
Adults – Jan to Oct $15, Nov-Dec $7.50, Lights Before Christmas $13
Children over 2 and Seniors 60+ – Jan to Oct $12, Nov-Dec $6, Lights Before Christmas $10
Children under 2 and members – FREE
You can even purchase your tickets ahead of time online!
The Toledo Zoo is only about a 2.5-3 hour drive from the London, Ontario area, an hour from the Detroit, Michigan area, and about 2 hours from Cleveland, Ohio. It's a great place to spend the day with your family. Make it a full weekend and check out what else the Toledo area has to offer!
Find out more information on the zoo on their website, follow them on Facebook, or connect with them on Twitter.