I admit it. One of the things I get excited about when heading out on a road trip is the possibility of the yummy food we're going to encounter along the way. We don't have Cracker Barrel or Bob Evans in Canada. So, the moment we find out we're going on a road trip through the US, we start plotting out where these two restaurants are. On top of that, I do like to find local restaurants to try out too. It's all part of getting that regional cultural experience. But there are two problems with eating on the road. 1) It can get expensive. 2) It is not always the healthiest food. These road trip food ideas help us balance and round out our vacation eating!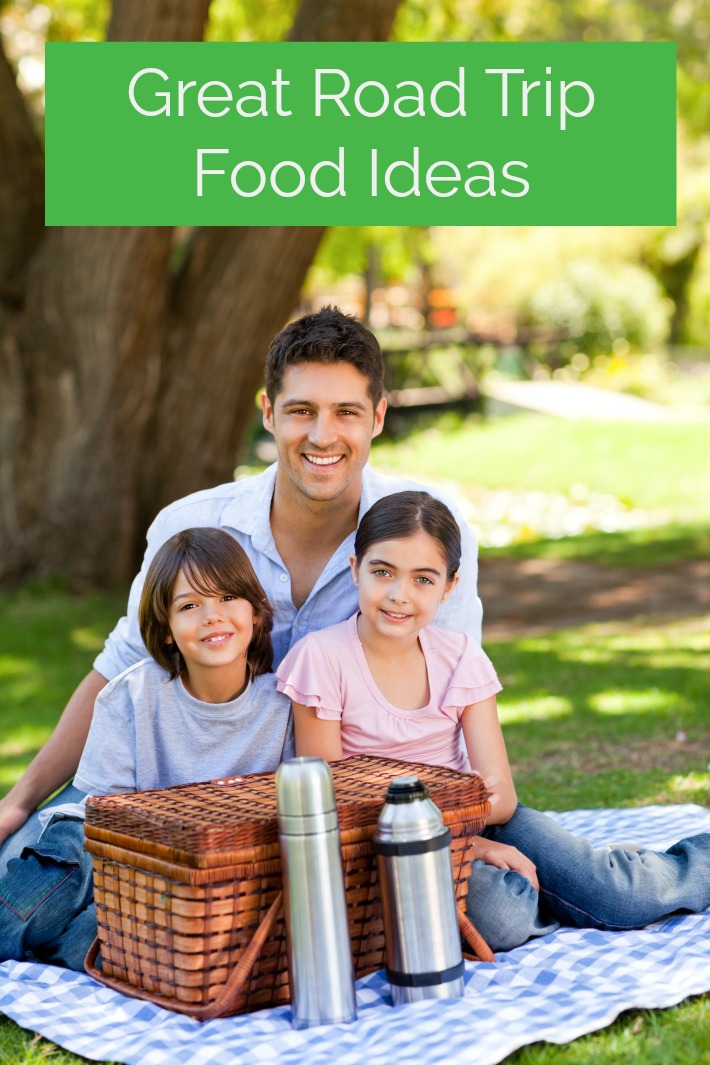 GREAT ROAD TRIP FOOD IDEAS
What equipment to bring with you:
A cooler with ice – we often bring two smaller ones. One will have juice boxes and other beverages in it. The second one is for food.
A cooler jug of ice water – you could bring bottled water instead but this is easy to replenish along the way. We have sometimes frozen bottles of water, used them as some of our ice packs in the cooler, and then was able to drink that water once it thawed.
Plates, bowls – although we'd love to be more environmentally friendly, we tend to pack paper plates and plastic or Styrofoam bowls. I have not found it easy to take reusable dishes and be able to wash them to my satisfaction on the road.
Utensils – we have sets of bamboo utensils, one for each of us. I also like to bring along a serving spoon for any salads and so on that we may want to have. These are simple to keep clean, even in a bathroom sink.
Small container of dish soap.
Plastic tablecloth and tablecloth clips or weights – since we're often stopping at rest stops and eating at picnic tables there, I like to have a tablecloth to provide us a clean surface to serve our meal on.
A few plastic containers and lids – I prefer to use glass at home but plastic is a little safer in the car. These aren't necessary but we've found that they can come in handy for picking up groceries along the way or packing up leftovers.
Sharp paring knife – I like the ones that are in a sheath. It's much safer when traveling. These give you some more flexibility again in purchasing food on your trip. For example, in Paris and Quebec City, we went to a local cheese shop and picked up some cheeses and fruits for a makeshift picnic. The knife was invaluable for this.
Paper towels.
Reusable plastic cups with lids – again, these are quite easy to wash as we go so no need for disposables.
Reusable sandwich wraps. I make my own.
Hand sanitizer.
Meals that Travel Well:
Chicken, egg, or tuna salad sandwiches. Serve them in wraps or on bagels, both of which travel well and are easy to eat even in the car.
Pasta salad. Add cubed ham or leftover chicken and vegetables to it to make it a more complete meal.
Cold roasted chicken pieces.
Sandwich on a skewer. Use pretzel sticks as safe skewer alternatives.
Coleslaw
Bean salad
Potato salad
Macaroni salad
Tossed salad. Pack the dressing separately. We put the salad in a large plastic container or storage bag. When we get to our picnic spot, we add the dressing and close the container/bag back up again and shake to toss.
Muffuletta. This sandwich feeds the whole family and travels really well! You need a large unsliced loaf of bread for this. You can use any kind you want – sourdough is a favourite of ours. Cut it in half horizontally and scoop out some of the bread from both the top and bottom. (What do to with the leftover bread? I usually pop it into a container in the freezer and save it for a delicious panzanella salad.) Lay your choice of lettuce leaves in the bottom of the sandwich. I prefer baby spinach! Now, top with a salad dressing. Ranch, Italian, Balsamic, and Russian are all good choices. Layer on thin slices of cucumber, cheese, deli meat (or leftover chicken, ham, or turkey), tomatoes, onions, and then more meat and cheese. Top it off with more dressing and lettuce (in that order it helps to keep the sandwich from going soggy). Finally, add the top crust and wrap tightly in plastic wrap. Refrigerate this from 2-24 hours to allow the flavours to meld together. Experiment and vary the ingredients according to your preferences!
Snacks for On the Road:
Cut up vegetables and dip – I put some dip down into a cup and then add the veggie sticks. Pop a lid on the cup and each person has their own individual serving. Instead of dip, use hummus for a higher protein option.
Trail mix – this is a classic snack to take on a journey. We usually put out a variety of ingredients and let each person create their own mix, according to their preferences.
Fruit – apples are a great option for a non-messy snack that won't get all mushy along the way. Other ones we like to bring include bananas (put them in a container or on top of everything else so they don't get squished), containers of grapes, watermelon, and berries.
Pretzels.
Cheese and crackers – add some fruit and raw veggies to this and you've got a complete meal.
Veggie chips – you can make these yourself to offer a healthier alternative to commercial potato chips.
Muffins – look for more nutritious whole grain options.
Snack bars – many commercial granola or fruit and nut bars are full of sugar. Read the labels so you can find the healthier options or make your own at home.
Peanut butter – this is such a quick and easy way to fill up bellies with a good source of protein. We like dipping apples, carrots, and pretzels in it or we spread it on crackers or bread/bagels.
Applesauce cups or pouches.
Hard boiled eggs.
Roasted chickpeas.
Yogurt parfait cups – one of these and a muffin makes for a yummy, simple breakfast picnic.
Popcorn
Cottage cheese cups
Dry cereal – again, check the labels to find the ones with the lowest sugar content. This is yummy to snack on but you can also pick up some milk as you travel and have a bowl of cereal in the traditional way instead.
Food Safety on the Road:
Did you know that I'm a community food advisor? As part of the training for this program, I also became certified in safe food handling. I have developed a LOT of understanding and respect for how food safety works. First of all, make sure that everyone cleans their hands well before eating and before handling the food for serving. It's also important to remember that the temperature danger zone for perishable food is between 4 and 60 degrees Celsius (39 to 140 degrees F). These are the temperatures at which bacteria can easily develop on food. It's much easier to keep food cold than it is to keep it hot when on a road trip, so packing a cooler is essential.
But how can you know that your cooler is working properly? Cracks and other damage can affect your cooler's ability to cool to proper temperatures. I like to add a thermometer to mine so that I can be sure it is at and stays at the necessary temperature of below 4 degrees C. Full coolers keep their temperatures longer than those that are only partially filled. The cooler the air around the cooler, the better. So, don't keep it in your trunk but rather, put it in the air conditioned portion of your vehicle. Once you take food out of the cooler, it's important to eat it within 2 hours (or make sure it goes right back into the cooler!).
Food should not be left out of the cooler for more than an hour in temperatures above 32 degrees C (90 degrees F). Any food left out longer than that needs to be thrown away. Keep coolers closed and open them as few times as possible! Packing beverages in a separate cooler from the food can help maintain the food's temperature better (since people tend to open the food cooler far less frequently than the beverage cooler).Keep all food in sealed bags or containers to prevent any cross-contamination. All food should be completely chilled (or frozen if possible!) before placing it in the cooler. It should go directly from the fridge or freezer into the cooler with ice and/or freezer packs.
What is your favourite food to take along on a road trip?