We've had a few spring-like days but not nearly enough for my liking! I decided that if nature can't provide me with some flowers right now, I'll just make one of my own. Since I'm doing quite a bit of sewing these days, I made the flower in the form of a handy-dandy pincushion.
This makes a great handmade gift idea for Mother's Day or any occasion as a special gift to someone who likes to sew. It pops right into the top of a spool making it a really useful way to keep both your needles and thread right at hand!
Flower Pincushion
Supplies Needed:
To make one of these yourself, this is what you'll need:  a spool of thread, a needle, some felt, tacky glue, a golf tee, a small amount of polyester stuffing, and a pair of scissors
Instructions:
To make the flower petals, I found it easiest to begin by cutting rectangles of the felt roughly the size that I wanted the petals to be. I folded each one in half lengthwise and cut one end to a bit of a point.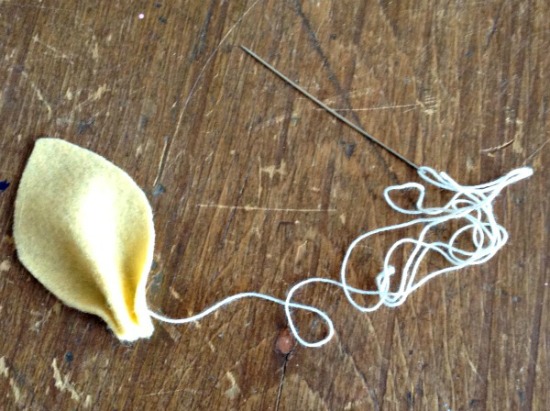 Make a couple of pleats at the bottom of each petal and run your needle and thread through to hold them in place. Don't worry if they don't stay perfectly pleated right now – once you add all of the petals and tie it off, it will be just right.
Repeat for each of your petals, adding each one onto the needle and thread.  When they're all attached, tighten up the thread to hold the pleats in place and tie off, making a knot to secure.
Making the Center of the Flower
For the center of the flower, cut out a circle of felt. I used a different shade of yellow to add a little contrast. You need to make the center big enough to hold a little bit of stuffing. This part becomes the pincushion.
 Run a stitch around the outer edge of the circle.  Pull the thread to start gathering it and stuff in as much stuffing as you can fit in.
Assembling the Pincushion:
Put some glue all over the head of the golf tee and press it down into the stuffing. Tighten up the thread as much as you can to gather the circle. Let this dry thoroughly before using.
Once the center is dry, you're ready to use it.   Simply put the golf tee down through the center of the flower and into the spool of thread. You can add a bit of glue or make a few stitches to hold the pincushion part to the petals if you'd like.
When you're sewing, move the pincushion to the appropriate spool of thread and have both where you need them. This would make a great gift! Add one to an Easter basket or give one as a Mother's Day gift. Or make one as a stocking stuffer for Christmas time!