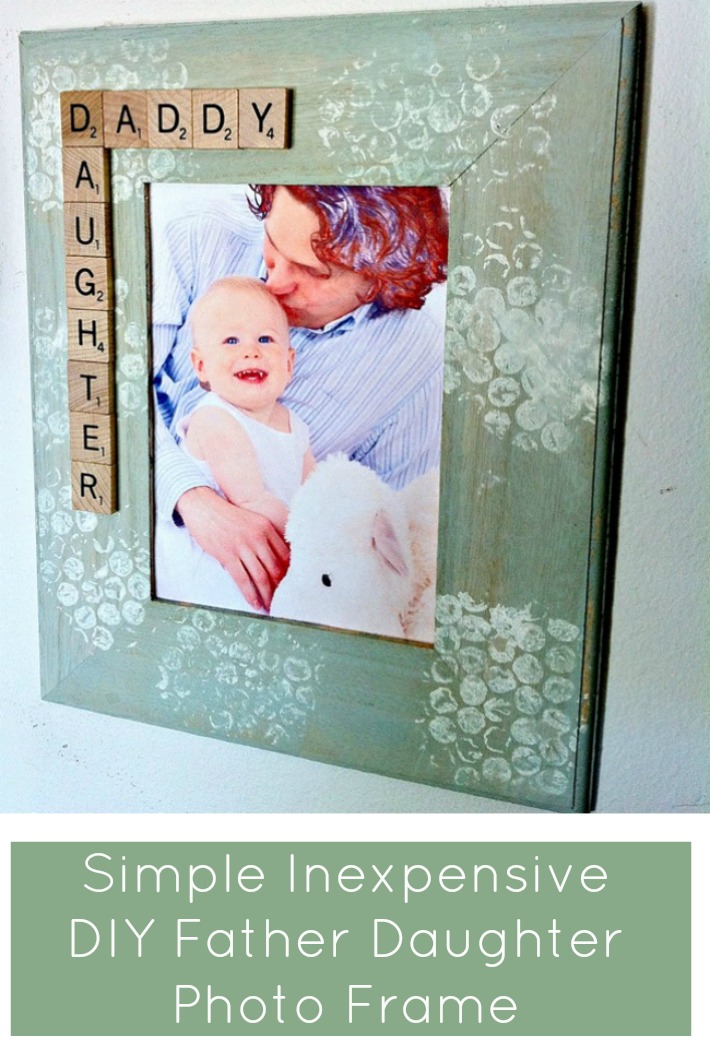 Looking for a fun Father's Day gift idea for a girl to give her dad? This Father Daughter Photo Frame is simple and inexpensive to make. Add a photo of the two and it becomes a treasured keepsake sure to pull the strings of dad's heart.
Quick and easy are definitely what I look for in a DIY gift for dad. June has always been a crazy busy time of year for me. Lots of family birthdays, the end of the school year – it all adds up to less time!That's why I'm partnering up once again with the Craft Lightning Series for a simple but special present that can be made in under 15 minutes. My dad is no longer here and so Father's Day can be bittersweet for me. I've been wanting for some time to have a special father-daughter frame to display in my home in loving memory of him and the wonderful times we had together but any dad would be touched by a sweet, sentimental gift like this too. By the way, this is simple enough that the kids could easily make it themselves (with a little supervision from you).
Father Daughter Photo Frame
To make this frame, you'll need:
a plain wooden frame (they often have simple and very inexpensive ones at Michaels or a dollar store like Dollarama or Dollar Tree), a foam paint brush, two colors of acrylic craft paint (I'm using one of my favorites: Americana Decor Chalky Finish Paint from DecoArt in Refreshing and Everlasting), water, glue (you can use a hot glue gun but if the kids are making it a plain white glue like Aleene's Tacky Glue works well too), Scrabble letters (I buy up old Scrabble games at yard sales but most craft stores sell them too), bubble wrap, sand paper, an old rag.
Instructions:
Step One: Sand the frame as needed to ensure that all edges are smooth. Those inexpensive frames often come with ragged spots. I wipe away any dust from the sanding with a damp cloth.
Step Two: Paint one color of paint onto a scrap of bubble wrap and press onto the frame in a random design. I press it several times before reapplying the paint so that some areas are lighter than others.
Step Three: Once the bubble wrap painted frame has dried (it takes mere minutes but you can speed it along with a hair dryer on low if you want), mix a small amount of your second color of paint with some water. You want it to go on more as a wood stain than as paint so that it's sheer enough for the bubble wrap design to show through. Paint a section at a time and let it soak into the wood for about 30 seconds or so before wiping some of it away with an old rag. Keep adding paint and taking some away until you get the desired effect. Still too much paint in some areas? Dampen the rag and wipe again. You can even use some sandpaper to buff parts away and give it more of a rustic, weathered look.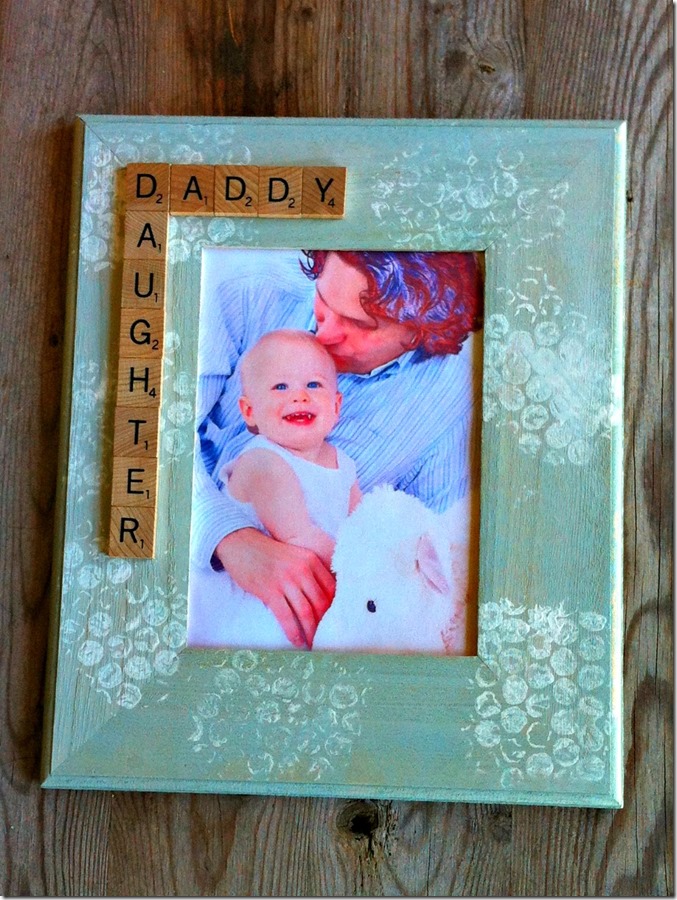 Step Four: Once the frame has dried, glue on the Scrabble letters to spell out your message. I'm putting DADDY and DAUGHTER on mine but you could certainly spell out anything you like – it doesn't even have to be a frame for a father and daughter!
Step Five: Let the glue dry and place your photo in the frame. Ta da! This father-daughter frame is a gift that's sure to please.
Want another fun DIY photo frame idea? This Dr. Seuss inspired set of 2 frames is perfect gift from twins or 2 other siblings.
Looking for more ideas for DIY gifts for Father's Day? Just click on the image below to see more of the Craft Lightning Father's Day Edition Series!