This Slow Cooker Apple Bacon Pork Chops recipe is one of our all-time favorites from Sandi Richard. Sandi is a Canadian cookbook author and host of the show Fixing Dinner on The Food Network Canada (not showing in my area right now but they bring it back in reruns sometimes).
Her cookbooks include not only recipes but also weekly meal plans using those recipes and grocery shopping lists to accompany the plans. You can literally just print out copies of the shopping list and take them right to the store with you and you automatically have the makings of a week's worth of meals.
On the show, she goes into people's homes and teaches them how to menu plan and serve quick, easy but tasty and healthy meals to their families. Sandi has some great hints and includes some basic techniques in her books and shows to save time and energy.
Learn more about her and find many more of her recipes here on the Cooking for the Rushed website.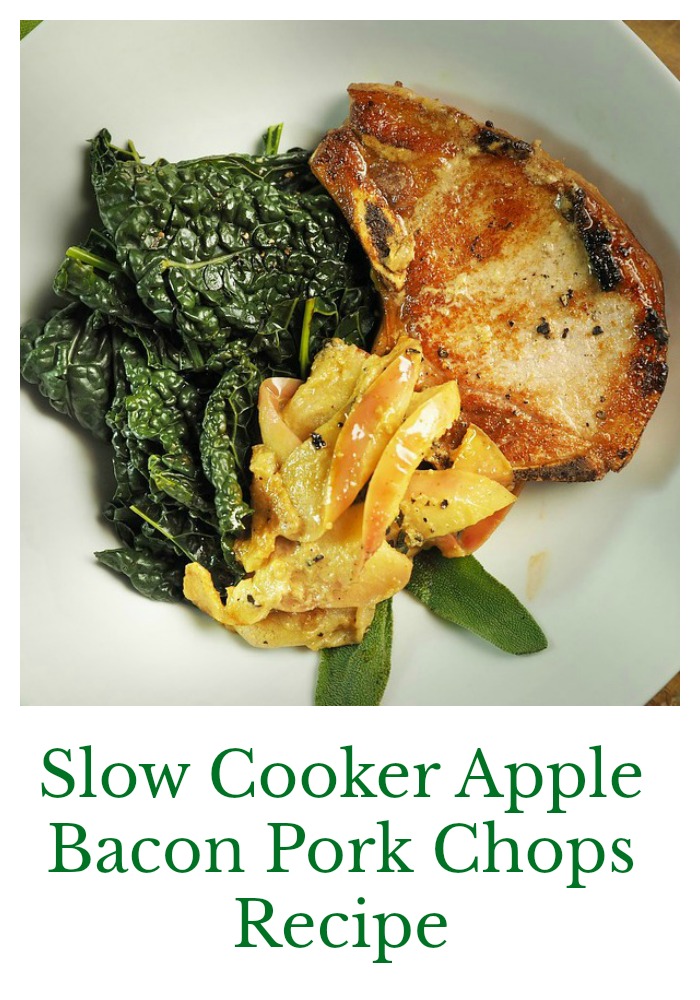 Slow Cooker Apple Bacon Pork Chops
Makes 4-6 servings depending on your family's appetites
Ingredients:
Cooking spray (such as Pam)
6 large pork chops
½ cup broth on hand (chicken, vegetable, beef)
1 Tbsp. maple syrup
1 tsp. cinnamon
2 apples, peeled and sliced
8 slices bacon (Sandi believes in making good cooking easier and more accessible by using convenience products so she would advise the use of that precooked bacon you can buy at the grocery store but any bacon works here)
2 cups croutons
1 10 oz. jar of applesauce (284 ml)
Directions:
Heat a large fry pan that has been sprayed with cooking spray. Brown the pork chops on both sides until golden brown. Remove chops from the pan and place them in the crockpot.
Using the same pan, combine broth, maple syrup, and the cinnamon over high heat, stirring to deglaze the pan. Pour that broth mixture over the chops and top with the peeled, sliced apples.
Turn the crockpot onto low heat and cover. Chops will be ready in about 8-10 hours (generally if you put them in before leaving for work, they will be just perfect by dinnertime).
When you are ready to begin making your side dishes, remove the chops with all accompanying broth and yummy bits and place in an oven safe dish (unless of course you have one of those jazzy crockpots which have that centre crock that is removable and oven-safe in which case you can just use that!).
Top the pork chops with the bacon, croutons, and applesauce. Place in a 375 degree (F) oven until everything else is ready. DELISH!