I think cocoa bombs are just such an adorable idea! So naturally, for this year's annual Peeps post, I just had to share the instructions for these blue bunny "Peeps" cocoa bombs!
These bombs are less work to make than you might think, especially since I've picked up a couple hacks to make everything easier. (Hint: it involves freezing and microwaving plates!)
These cocoa bombs are perfect for spring and Easter, though I may just enjoy these year-round!
Disclosure: Some of the links in the post below are affiliate links provided for your convenience. This means that if you purchase something through one of these links, I get a small commission at no added cost to you.
Blue Bunny "Peeps" Cocoa Bombs Recipe
Makes 6 hot cocoa bombs.
Supplies:
One large freezer-safe plate
8 oz blue candy melts
Small microwave safe bowl for melting candy
Spoon or pastry brush
Small ceramic plate
6 tsp hot cocoa mix powder
Mugs, hot water or milk, and additional cocoa mix, to serve
Directions:
Before starting, place a large plate into the freezer.
Pour the blue candy melts into a bowl and place the bowl in the microwave. Heat in 30 second intervals, stirring well after each heat session, until the candy is fully melted.
Add a small spoon full of melted candy into 12 of the bunny cavities, and use a small spoon or pastry brush to completely coat the inside.
Put the candy coated mold into the freezer for 5 minutes.
Remove the mold from the freezer, and then add a second coat of melted candy to those same 12 mold cavities. Then freeze for an additional 5 minutes.
Remove the chilled plate and candy coated mold from the freezer. Very carefully remove each candy coated bunny from the mold and place on the chilled plate. *TIP – Start by very gently removing the bottom of each bunny first, and work slowly to remove the rest of its body. If you're too quick or not gentle enough, the bunnies will break when being unmolded.
Heat the small plate in the microwave for 2 minutes. (Make sure it's a microwave-safe plate, like ceramic. To prevent damaging the microwave, fill a safe container with water and place on top of the plate. A glass measuring cup works well for this.)
Put one candy coated bunny upside down on the heated plate to slightly melt the candy coated edge.
Fill it with 1 teaspoon of cocoa mix.
Next, place another candy coated bunny upside down on the heated plate to slightly melt its edge as well, and then adhere the two together along the edges to form one bomb. This should fuse them together nicely, but if not, just use your finger to add a little melted candy around the seam.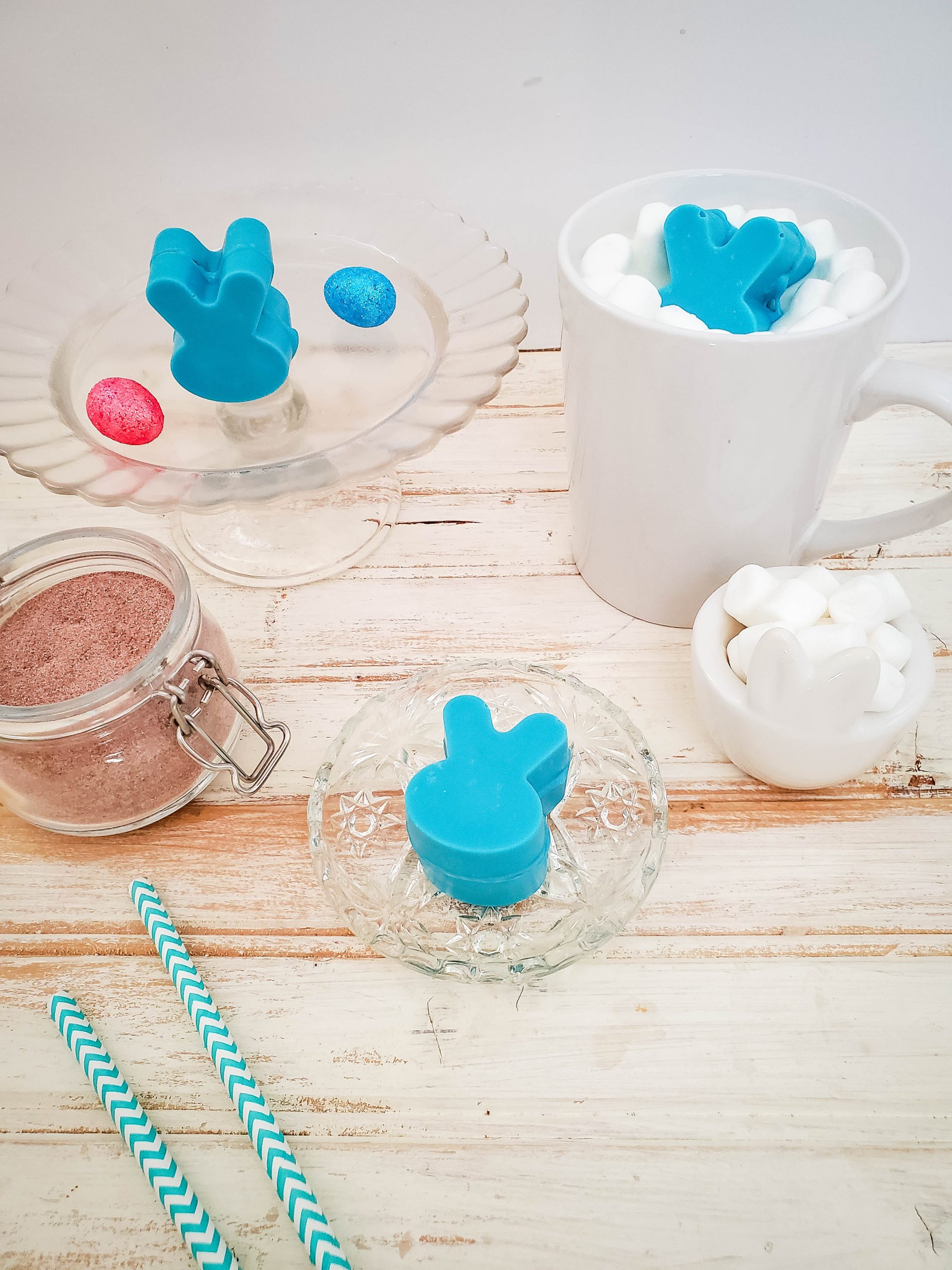 When you're ready to serve, place a cocoa bomb into a mug with an additional tablespoon of hot cocoa mix. Then, pour 6 ounces of hot water or milk over the cocoa bomb. Stir well and enjoy!
So see? Really easy! And aside from the silicone mold, it didn't need a whole lot of fancy equipment and it only takes two ingredients – the candy melts and the cocoa powder!
What other Peeps crafts and/or recipes do you love?