You've probably seen the posts on social media all about schools removing analog clocks because students don't know how to use them to tell time. I have seen some people getting really hot and bothered over this issue and decided that as a former teacher, I really wanted to weigh in.
Do Kids Need to Learn to Tell Time with Analog Clocks?
Let me begin by saying that I don't personally know of any schools removing their analog clocks. In my experience, classrooms were filled with outdated text books and aging equipment. I find it hard to believe they're going to be in any sort of a rush to throw their clocks out.
But let's also consider the source of this information. I've seen it multiple times on Facebook. And each time there are hundreds if not thousands of comments underneath. "Well, I'm going to march right in to my kids' school and demand that they put them back and begin teaching them to tell time on an analog clock immediately." – signed Susie from Ohio.
Great Susie! I do applaud parents who take an active interest in their children's education. However, did you actually READ the article being shared on Facebook? I'm guessing no, because every single time I clicked through, it took me to an article about schools in the UK. Before you have a hissy fit on social media, maybe you should find out what is really happening in your own child's school.
Then there was Janet in Texas. "Those damn teachers! If they'd just stop being so lazy and do their jobs, our kids would know how to tell time using analog clocks!" Okay Janet. Let's take a step back. Are there some lazy teachers out there? Yep. Because there are lazy people in every profession. I promise you that the lazy teachers are the exception though.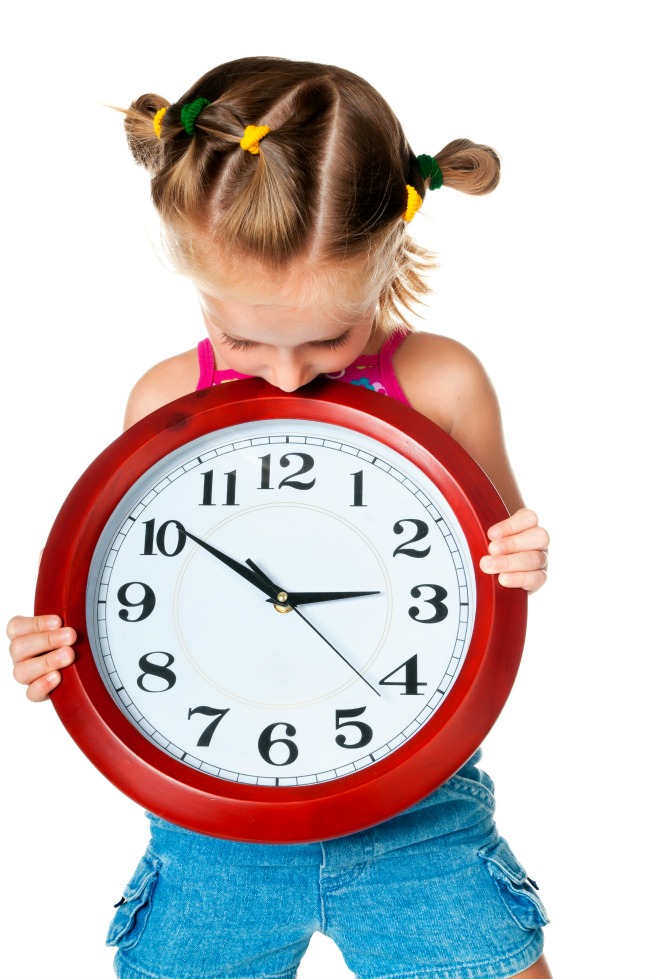 I also want to point out one really important fact. If clocks are being removed from schools, it's not the teachers who are removing them. I wasn't even allowed to move the pencil sharpener in my classroom without filling out 3 forms in triplicate, asking for permission from administration, and waiting a year for approval. I also was not allowed to do it myself – that had to be left to the custodian.
But let's suppose that I decided I no longer wanted an analog clock in my classroom and got that approval to have it removed. Well, I would still have to teach my students how to tell time using those clocks anyway IF it's part of the curriculum.
You see, teachers don't decide what to teach/not to teach based on their whims. Here in Ontario, the government does that – specifically, the Ministry of Education. They're the ones who establish the curriculum, and then the next time the wind blows, they change the curriculum, and then change it back again. Oh wait. Maybe that doesn't happen all the time but yeah, ours changed frequently.
But back to teaching kids to tell time. I don't know about where you live but here in Ontario, the curriculum documents are available online to the general public. According to the Mathematics documents, in Grade 1, students should be able to "read demonstration digital and analogue clocks, and use them to identify benchmark times (e.g., times for breakfast, lunch, dinner; the start and end of school; bedtime) and to tell and write time to the hour and half-hour in everyday settings."
By the end of Grade 2, students should be able to "tell and write time to the quarter-hour, using demonstration digital and analogue clocks". And by the end of Grade 3, students should be able to "read time using analogue clocks, to the nearest five minutes, and using digital clocks (e.g., 1:23 means twenty-three minutes after one o'clock), and represent time in 12-hour notation". AND analog clocks. Not, hey teachers, take your pick! You can choose to teach whichever one you want.
Back to the Facebook comments. Next up was Cheryl, from New York. Cheryl was really angry about the loss of basic skills in schools. She was worried about what the children would ever do if all the devices and digital clocks stopped working. How would they tell time then?
I'll be honest. My first thought was a sassy one. I wanted to tell Cheryl that I survive just fine without a sundial so I'm pretty sure that the younger generation will be okay without analog clocks. Cheryl's reaction seemed like that kneejerk reaction that many people have when it comes to change – 'Well, I don't know about all those newfangled digital clocks. Analog was good enough for me.'
I think this is where it's important to take a deep breath. Repeat after me: Not everything new and progressive is evil.  Don't get mad at me! I'm not saying we need to immediately ditch the analog clocks. I'm just saying that most people under 30 have never used a rotary dial telephone and they've lived to tell the tale. I had to learn Roman numerals. It's not even taught here anymore and for good reason. It was used so rarely and took up valuable time. Things DO progress and schools need to stay abreast of those changes.
The whole point of school is to prepare your children for the future. Maybe that future requires them to tell time with analog clocks, maybe it doesn't. One thing I do know is that there isn't infinite time in a school day or a school year. When new things need to be added to the curriculum, something has to be taken away. Is telling time the old-fashioned way (yep, I went there) worth the fight? If it comes down to it at your kids' school, what are you willing to give up for it?
What it boils down to is this – when it comes to your children's education, don't just freak out over little change that might be made. (If you live where I do, we have MUCH bigger changes to worry about anyway). But if it is a change you're worried about, I've got some suggestions for you below.
Here are some things to remember when you have concerns about your child's schooling (whether about telling time or something else):
Do your research. What is the situation at your child's school? What is in the curriculum – what needs to be taught and when?
If you have concerns about what your child is learning (or not), the conversation should begin with your child's teacher. Just because something is taught doesn't mean it was learned. Perhaps your child struggled with that particular concept (in this case, telling time) and needs some extra help.
Get involved beyond your child's classroom and school. Like I mentioned, if we stop teaching kids how to tell time using analog clocks in our schools, it will be because the provincial government has changed the curriculum. Make sure you're taking your concerns to the right people!! If it's about something that is at a ministry level, write to your MPP! Write to your premier! (If you live in the US or elsewhere, obviously, the point is to contact the appropriate government officials).
Remember that you were your child's first teacher. They still gain so much from you! If you're concerned that they are lacking in specific skills, why not work on them at home too? Consider how you can support your child. When my daughter was little, we had a paper plate clock hanging up. I used brads to make the hands movable so that I could change the time on it. I'd set it to show her bedtime or dinner time or what time Grandma and Papa would be coming to visit. We'd TALK about time.
Not all kids are motivated simply by something being taught at school. They need to see the practical implications of it! So, when it comes to telling time, do you have analog clocks in your home? (We don't – but it's easy enough to buy a cheap one from the dollar store). Look for opportunities to reinforce what they're learning in real life situations.
I suppose I didn't really answer the question, did I? That's because I think you need to decide this for yourself. I do think that, for better or worse, the days of teaching telling time with analog clocks in school are numbered. There are too many other skills that kids need and will use on a far more regular basis, and time is so limited in today's classroom. In the meantime, though, if this is a fight you want to take on, you need to truly understand what you're fighting for and take it to the proper channels. Complaining on social media just isn't enough.