I absolutely love to travel. And one of my favorite ways to travel is on my own. Traveling alone can seem rather scary at first. It isn't uncommon for someone planning their first solo trip to be worried about what may happen, and how they will navigate through everything without someone else by their side. All these worries will quickly disappear though, when you realize how many benefits come from traveling solo. Booking your first trip alone doesn't have to be scary if you prepare ahead of time. These tips for the solo traveler can help you approach your trip with confidence.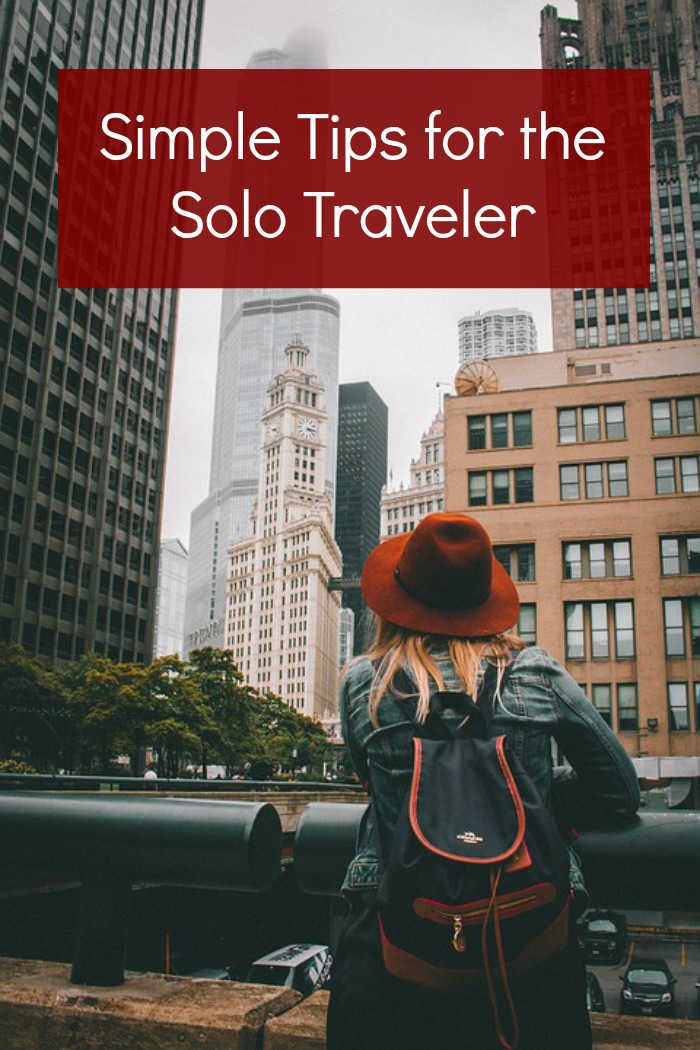 SIMPLE TIPS FOR THE SOLO TRAVELER
Know Your Strengths
When you're planning your trip, make sure you are very aware of your strengths. If you're an introvert, a language barrier at your destination may not be an issue. However, if you are a very social person, not being able to communicate can end up being frustrating for you. Take a few lessons ahead of time. Or bring along a translation guide or app. These will be helpful for everyone but especially for those who want to try and carry on a full conversation.
In addition, if you are a very social person, you may want to consider signing up for some group activities at your destination. I love to be able to wander through a museum at my own pace alone but if that's not you, there are often options for group tours, sometimes even with discussion groups before or after. If you belong to any associations, some of them host get-togethers in other cities that you can join in on. You can even ask around and see if any of your friends have friends and family in your destination for those times when you want a bit of friendly company.
You can even try using sites such as Meetup.com to find some local gatherings to attend.
Don't Fear Being Alone
Learning to love your own company is a very important part of solo travel. Knowing that you will be solo for a long period of time may seem daunting, but you will be surprised at how well you get to know yourself. I think it's helpful to look at the positives about the situation. You get to choose what you want to do and when.
Do you feel awkward when going places like restaurants alone? It can be less awkward at lunch than at dinner. One option is to go out to eat for your midday meal and then buy yourself a little picnic to take back to your room for dinner. What I tend to do is to simply take something to do along with me. I might be posting on social media if I have wifi or reading a novel or working on my foreign language skills. Sometimes I even take my sketchbook along. You're probably used to having someone to chat with while at dinner, so having something else to do in place of the conversation can be helpful.
Be Prepared
Have local help numbers pre-programmed into your phone. You may not ever need them but just knowing that they are there can give you the confidence to navigate your vacation solo. If you're traveling out of country, know how to reach your embassy or consulate if needed.
Have Fun
Don't lose sight of all the fun you can have traveling by yourself. If you do get lonely, remind yourself of the amazing perks that come with your new-found travel independence. Whether it means being able to choose what you want to do, change your mind whenever you see fit or just picking the channel on the television, there are perks to not having to share your experience.
It can also be really helpful to set yourself a bit of a routine. Of course, when you're traveling you want to embrace new things and see as much as you can. But it can help you feel more connected to others if you at least establish something familiar in your environment. Think about finding a cafe in the area that makes you happy. Go there once a day – perhaps every morning for your first cup of coffee or mid-afternoon for a tea break. It will become a welcome known place in among the unknown. You might even make a few friends with the staff or other regulars!
Get Out and Learn
Learn a few words and phrases of the local language prior to departing on your travels. Know how to introduce yourself, order a drink and say no. The locals will love that you are trying and doing your best to interact, even if it's not perfect.
Once at your destination, don't avoid situations because you are afraid to tackle them on your own. Go out to that restaurant you have been wanting to try, join a tour group at a museum or get out and learn about the culture. Cutting back on your activities because you are alone will only make the trip boring.
Get an overview of the area with a hop on-hop off bus tour. This will give you some ideas of places you'd like to go back and visit in more depth. It's kind of the best of both worlds too. You're on a tour so there are other people around and you could try to strike up a conversation if you want. You've also got that sense of safety in numbers and with an experienced guide. However, since it's hop on-hop off, you can control where you go and when.
I have found walking tours to be another great way to really see a city (and often the "off the beaten tracks" areas that you might miss otherwise) and even more conducive to conversations than bus tours. The downfall though is less freedom. You are being led from place to place as a group so there are fewer options where you can choose for yourself. Still, it's generally only for a couple of hours and can be a lot of fun and a great way to meet people.
Be Aware of Safety
Be mindful of any safety concerns that you may be faced with while traveling solo. Keep a close eye on your valuables, be aware of any local scams that may be occurring and watch your drinks. Traveling solo can be safe as well as rewarding if you are aware.
Traveling alone doesn't have to be scary. In fact, it can be a lot of fun, a great way to get to know yourself and an amazing way to learn new things. It can also be a great way to really immerse yourself in the culture and meet some locals. It's a little easier to do that on your own than when traveling with a group. All you need to do is plan ahead, stay safe, and be open to the adventure!