I am kind of a weird blend of a staunch lover of tradition and someone who embraces progress and anything new. I know it sounds like those two don't go together but hear me out. Those traditions, the ones handed down through the family, are something we have always shared together and bonded over. They have brought us together and formed part of our foundation. We smile fondly, laugh, maybe even sometimes shed a tear or two over those traditions. But, society changes and new things come along all the time. Being members of a family who cherish and encourage lifelong learning, it's only natural that we would welcome those changes. And as our family grows and we welcome new members into it, they bring their traditions along to join ours too. So, even when it comes to something as simple as a holiday meal, we like to shake things up a bit, keeping part of the tradition and adding in some new dishes we're excited to try. It's a great way to honour the past while embracing the future. Together, as a family.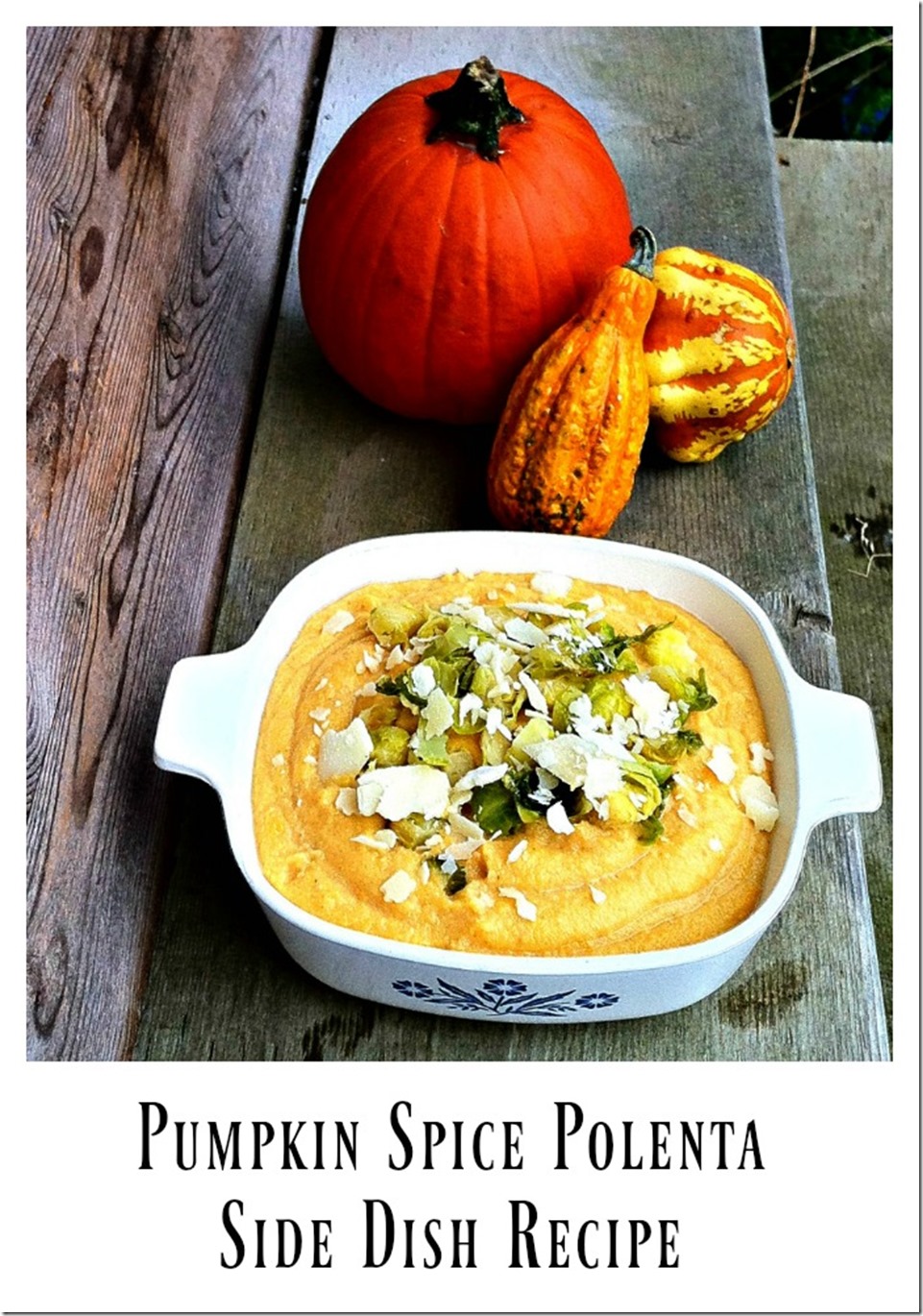 This Pumpkin Spice Polenta Side Dish comes out of that attitude. It has the traditional pumpkin spice flavour of Thanksgiving and Christmas but in a new direction. And, polenta is something we have all grown up on as well – only in my family, it's referred to as cornmeal mush. So putting these together is an almost natural marriage of favourite family flavours into one new delicious side dish. Serve this alongside your main dish or serve your main dish over top of the polenta. Yum!
PUMPKIN SPICE POLENTA SIDE DISH RECIPE
This recipe is so quick and easy to make. It takes very few ingredients and can be "dressed up" in whatever way you like.
Ingredients:
2 1/2 cups milk
2 cups water
1 cup cornmeal
1 cup pumpkin (you can use canned or fresh pureed)
2 T. cream cheese (not absolutely necessary but adds a lovely creaminess to it)
1/2 tsp. of pumpkin pie spice – make your own with this recipe for Pumpkin or Apple Pie Spice (better than store bought!)
Salt and pepper to your liking
1/8 cup grated Parmesan cheese
For this particular batch, I topped it with chopped roasted Brussels sprouts that had been tossed in olive oil and Balsamic vinegar, some fresh chopped sage, and some shaved Parmesan cheese. You can keep it a bit plainer and top with your main dish – roast beef, pork, or chicken are all good choices. Pumpkin seeds make a nice garnish as well.
Instructions:
Put milk and water into a saucepan. Heat to boiling over medium heat and whisk in the cornmeal. Remove from the heat and add the pumpkin, cream cheese, Parmesan, and spices. Stir until blended. That's it. It takes mere minutes to make and is that simple! PRO TIP: If you're making it a bit ahead of time, it may thicken up quite a bit. Simply stir in some liquid as you reheat it– water, milk, or even chicken broth until it's smooth and creamy once again.
Another make ahead option is to pour it into a loaf pan and place in the refrigerator. If the loaf pan isn't non-stick, I like to line it with non-stick foil or parchment paper to make it easier to remove from the pan. Once it has solidified, remove from the pan and cut into about 1/2 inch thick slices. Melt some butter in a skillet and fry these slices up until lightly browned on each side. DOUBLE YUM!
Find my recipe for plain fried cornmeal mush (polenta) here.
Sauteed Mizuna (Spinach works well too!) over Creamy Polenta Recipe.
For a breakfast option of this pumpkin spice polenta, check this out.
For more pumpkin recipes, check out my pumpkin ravioli