Along with my friends at Social Fabric, I'm taking part in this "Our Favorite Places to Eat" blog hop. My focus will be restaurants in and around London, Ontario. Some of the restaurants I've included here are ones you'd probably find on other lists of top restaurants in London while a few others are more of the "hidden gem" type. Here are my top 10 favorite restaurants in London, Ontario (in no particular order):
Garlic's – Located downtown at 481 Richmond St, Garlic's is the perfect place for a before or after Grand Theatre/Orchestra London dinner. The quiet, romantic atmosphere makes for a very relaxing dinner. The menu changes on a monthly basis and is based on local and regional London area and Canadian sustainable organic food such as Arctic char, wild BC salmon, elk, and duck. Of course, with a name like Garlic's, there are plenty of garlic-based recipes on the menu as well. Try the garlic frites, brie and garlic toast, the cheese and duck liver pate with pickled garlic scape, oh and of course, the Garlic's classic: Garlic Bisque with roasted onions, garlic, cream and truffle oil.
Marienbad – This has been one of my favorite restaurants, not just in London, but anywhere from the time I was a kid going there with my parents. The building itself is a charming example of early London architecture, dating back to 1854 first as the home of the London Free Press, then the Queen's Hotel, and finally the Farmer's Advocate before becoming the Marienbad in 1974. Well known for its delicious European fare, I highly recommend the Weiner Schnitzel, Carlsbad Rouladen, Hungarian Goulash, and the Chicken Paprikash. Entrees range from $14.99 to $25.99. In downtown London at 122 Carling Street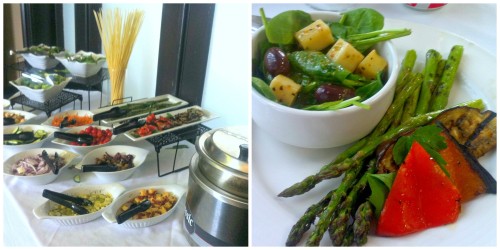 Windermere Cafe – Located within Windermere Manor at 200 Collip Circle on the grounds of the University of Western Ontario, we love this place so much that we've actually booked Windermere as the venue for my daughter's wedding and reception. I went there for the first time a couple years ago and was seriously underwhelmed but it has undergone a chef and kitchen staff change since then. It now offers a delightful meal in a serene atmosphere out on their enclosed patio surrounded by windows looking out on the treed property. At $12.99, their pasta lunch buffet including soup (try their butternut squash bisque with creme fraiche and spiced apples or the roasted tomato soup with bacon), all you can eat salad bar, and create your own pasta buffet is a delicious bargain. They also have a lovely Sunday Brunch menu as well as a prix fixe three course dinner menu.for $29. They keep bees on site and cultivate their own honey, used on its own and in making their house honey stung ale and honey stung iced tea. Head there for dinner on a Friday night and you'll enjoy live music as well.
Under the Volcano – If you're looking for a great Mexican meal, this is the place to be. This is not your typical fast food Mexican fare – they specialize in fresh food without any preservatives and additives. They even make their own chips and salsa, and believe me, the difference is noticeable! They've recently moved to the corner of Wharncliffe and Riverside, a new location that provides ample free parking. The menu at the restaurant is quite extensive and averages in the $15-20 range. However, there are some great weekly specials such as All You Can Eat Taco Tuesdays for $13.99, Fajita Wednesdays offering a $10 discount off double fajitas, and Nacho Thursdays featuring half price nachos. Have special dietary needs? Under the Volcano is highly recommended for those on gluten free diets and have a great selection of vegetarian and vegan meals.
Spageddy Eddy's – Whenever we have out of town guests visiting the city for the first time, this is generally the first place we take them to. Despite the 428 Richmond St, downtown address, you might just walk right past this restaurant without ever even noticing it if you didn't know what to look for. Located down an alley (Artisan's Alley), you have to head downstairs below street level to find this tiny little restaurant. Don't let all of that fool you though because once inside, you'll find a quaint rustic place with lots of charm and atmosphere. Family owned and operated, they must be doing something right as they've been able to build and sustain business for over 20 years now! What they're doing right is a fun casual yet intimate atmosphere, fantastic customer service, and HUGE portions of yummy pasta at affordable prices ranging from $8.99 to $14.99. I've never been able to finish one of their entrees and always end up with enough left over for my lunch the next day. My daughter always goes for their signature spaghetti while my favorite is the carbonara.
Smoke's Poutinerie – Okay so this one is a chain restaurant, located throughout the country, but really, it is just too good not to mention. Serving nothing but poutine and beverages, you'd think the menu might be too limited to be successful but once you taste their poutine, you'll understand why people rave about it. For those of you who aren't familiar with traditional French Canadian poutine, well essentially, it's French fries, piled up with cheese curds (seriously, this stuff is better than it sounds), and topped with gravy. In recent years, it has become trendy to take the basic poutine recipe and kick it up a notch and that's just what Smoke's does. Try the pulled pork poutine, Montreal poutine (with Montreal smoked meat), or peppercorn steak poutine. Large portions priced between $5-10, located right downtown near Victoria Park at 551 Richmond Street
Family Circle – This is probably an unlikely inclusion on this list but one we've been going to since long before my daughter was born. In fact, her first trip to Family Circle was at the age of 5 days old (she's now 25). It's an unassuming restaurant that, as my daughter says, Gordon Ramsay would have a hey-day with! From the bad food photography on the menu to a schizophrenic menu with way too many options and not enough focus, you can just picture Ramsay screaming at the owners. The thing is, this family owned restaurant has been in operation since 1955 and I truly believe it's because there's one thing they do really really well – breakfast. Just try to get a table on a Sunday morning after church lets out and you had better be prepared for a wait. The good news is that they serve breakfast all day every day so you don't have to fight with the Sunday crowds. Portions are generous, the staff is friendly, and the prices are reasonable with breakfast meals averaging around $8. At 147 Wellington Street not far from downtown.
Helen's – Here's another hidden gem. This place could be described as a hole in the wall and you might look at it and think, oh it's one of those greasy spoons with sub-par food. But you would be wrong! It's a small, diner style place in an out of the ordinary location for a restaurant at 1830 Wharncliffe Road near near the corner of Wonderland serving the best Polish food I've ever tasted. You'll see Helen herself behind the counter, cooking and serving up homemade food with an obvious passion and love. Menu choices include cabbage rolls, beef goulash with potato pancakes, pierogis, schnitzel, Polish sausage, and cabbage stew. You can even purchase some of her soups and relishes in jars to take home and use and items such as her pierogis, frozen and ready to be served in your own kitchen. Portions are large and prices are reasonable.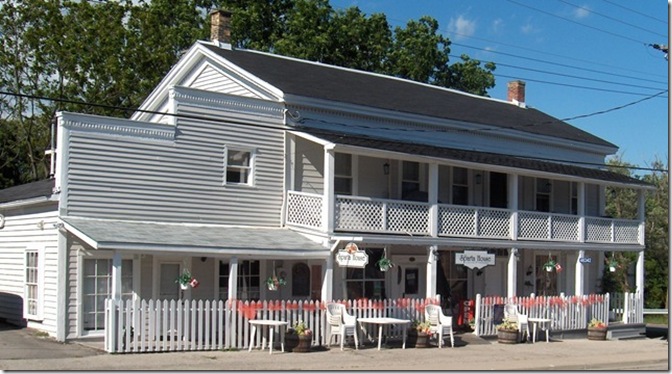 Sparta House Tearoom – So, this particular choice is not located in London but rather is about 30-40 minutes away in the small town of Sparta, Ontario and it is well worth the drive. Sparta House was built in about 1838 to serve as a hotel, complete with ballroom and both upper and lower verandahs. The old time charm has been preserved and the atmosphere has been enhanced by the whimsical decor which includes an extensive teapot collection. The menu is made up of traditional British fare such as a Ploughman's Lunch, Cornish Pasties, Bangers and Mash, Scouse, and Steak and Kidney Pie. In general, they are only open from 11 am to 4 pm, so be sure to head there early. We also love to stop in while out and about for a late afternoon cream tea – a lovely and delicious break in a busy day. Recently, they've added high tea to the menu as well.
Mackie's – This is another unlikely choice and out of town location but locals cherish this as the perfect summer hangout on the beach in Port Stanley, Ontario about 45 minutes from London. Family owned and operated, they sell traditional beachside fare – burgers, hot dogs, fries, fish and chips, and the like. Their scrumptious fries are hand cut, fresh made, and are accompanied by their own secret fry sauce. Try their old fashioned real ice cream milk shakes and of course, the classic Mackie's orangeade they are known for. A fun place to take a break and grab a bite while spending a day at the beach.