If there's one thing I love, it's a good holiday party. Christmas music, delicious foods, great conversations, and festive holiday gift exchange games. 
---
Fun Holiday Gift Exchange Games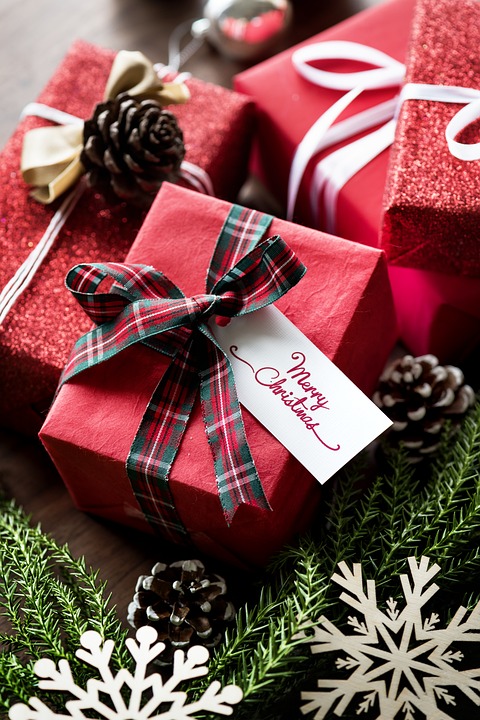 I'm sure pretty much everyone has participated in a holiday gift exchange before. It can be so fun to do this at a Christmas party! I've seen it take several different forms:
Cutthroat Christmas –
Each person draws a number to determine the order in which they choose a gift. The first person picks and opens a gift. The next person opens their gift and can either keep it or steal the gift from the first person. By the time you get to the last person, they can choose ANY of the gifts that have been opened, making this the coveted position in the game!
For each number, you assign an action. Roll 1 and you trade gifts with the person to your left. If you roll 2, you trade gifts with the person to your right. Roll a 3 and you can steal a gift from anyone you want and so on until everyone has rolled. Whatever gift you are left with is the one you open and take home!
Gift Auction –
Give each guest a survey to fill out. On it, you might have things like: if you have your Christmas tree up already, give yourself 1 point. If you have already completed your Christmas shopping, give yourself 3 points. Once all questions have been answered, each person will be given a ticket for each point they have earned. Now the fun really begins! An auction is held where the guests use their tickets to bid on the gifts (wrapped or not, you decide). Highest bid wins that gift.
My friend Shannon of Shasher's Life holds one of these parties every year. It is a blast! Each person brings 5 gifts, each one the same, and each one worth $5 or less. So, my first year, I took these adorable little appetizer plates that I collect. This year I took Santa and Mrs. Claus salt and pepper shakers because my grandmother used to collect them. The idea is that the items you bring are supposed to be some of your favourite things in some way.  By exchanging gifts (full details on Shannon's post here), you end up going home with 5 different things. This year, journals (for bullet journalling), coffee mugs, candy, and bath products were quite popular.
Fun Gift Exchange Draw –
I have put together a sheet that you can print out, cut and fold the slips of paper, and then have each person draw one of the slips. Each slip contains a unique idea for trading gifts – with a person with blonde hair, with someone who has a dog, with a person wearing a sweater – that kind of thing. It's simple and a lot of fun! Check out the printable PDF below.
white elephant gift exchange game idea

My Christmas Movie Trivia Quiz and Match the Christmas Movie Quote Quiz both make really fun Christmas party games too!
What's your favourite holiday party game?