This DIY Craft Stick Catapult is a really fun STEM project the kids will love (I'll be honest – I had a great time with it too!). It's a really easy and inexpensive one to make.
It helps teach concepts of physics, mathematics, and critical thinking. Most of all, it's a great way to spend an afternoon! Add an art component in by using plain craft sticks and letting kids paint and decorate them.
DIY Craft Stick Catapult
I used to make these with my students when I was a school teacher. It's an ideal complement to learning about Medieval history or for a physics lesson. But you can make them with your kids just as a fun activity – shhh, they don't need to know it's educational too. That can be our little secret.
This craft stick catapult takes well under 15 minutes to complete (unless you add in the art component!) and is very economical too. Most of the supplies can be found at your local dollar store so it's perfect to do with large groups like Scouts and camps.
HOW TO MAKE A DIY CRAFT STICK CATAPULT
Supplies needed: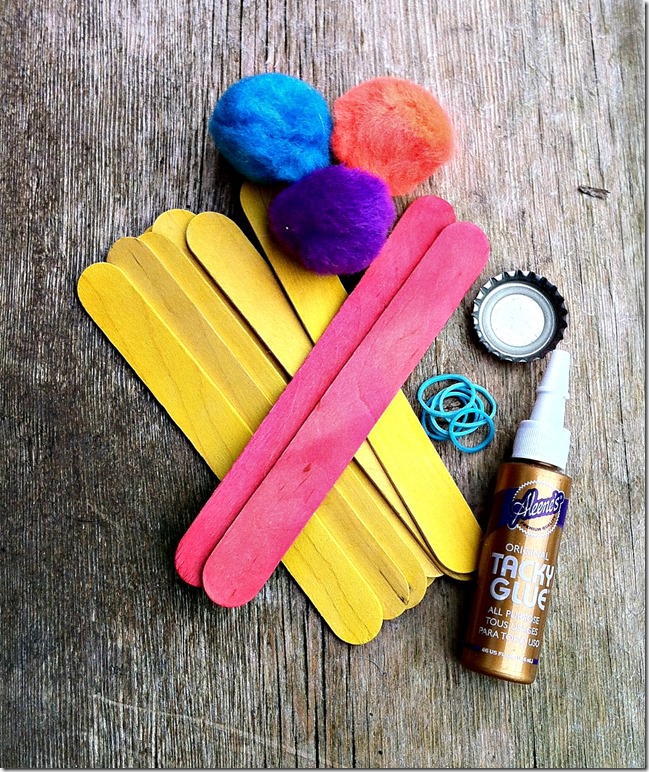 Craft sticks: (you can use Popsicle sticks but I find the ones that are larger, like tongue depressor sized work best) – you'll need 9 sticks for each catapult
Rubber bands: (I found that small ones work best. I actually raided a rubber band bracelet kit for the ones I used here and they were perfect) – you'll need 5 for each catapult
A bottle cap: (there are lots of other options you can use if you don't have any bottle caps on hand – raid the recycling bin for a jar lid, the lid to a pill bottle, or something similar) – you'll need 1 for each catapult. Instead of gluing on a bottle cap, I have seen them made by using a plastic spoon that has been attached with a rubber band. 
Glue: Depending on the age of children you are making these with, you can use tacky glue or a glue gun.
Pompoms: You can certainly use something else soft to shoot in your catapult. I've seen some do it with mini marshmallows but why waste food and risk getting something sticky all over the place? Pompoms are cheap and plentiful. Look for other options to try too. Wadded up pieces of paper, a small unbreakable toy, or a button, for example. 
Options:
Of course you can also turn this into a craftier project by giving the kids plain sticks and some paint and letting them decorate as they wish. Or how about embellishing with some Washi tape? Rhinestones? Sequins? Just remember, any added weight will affect how the catapult performs so often in my classes, I would have my students make a plain one first and experiment with it. Then, they could add some decorations and see what kind of difference it might make!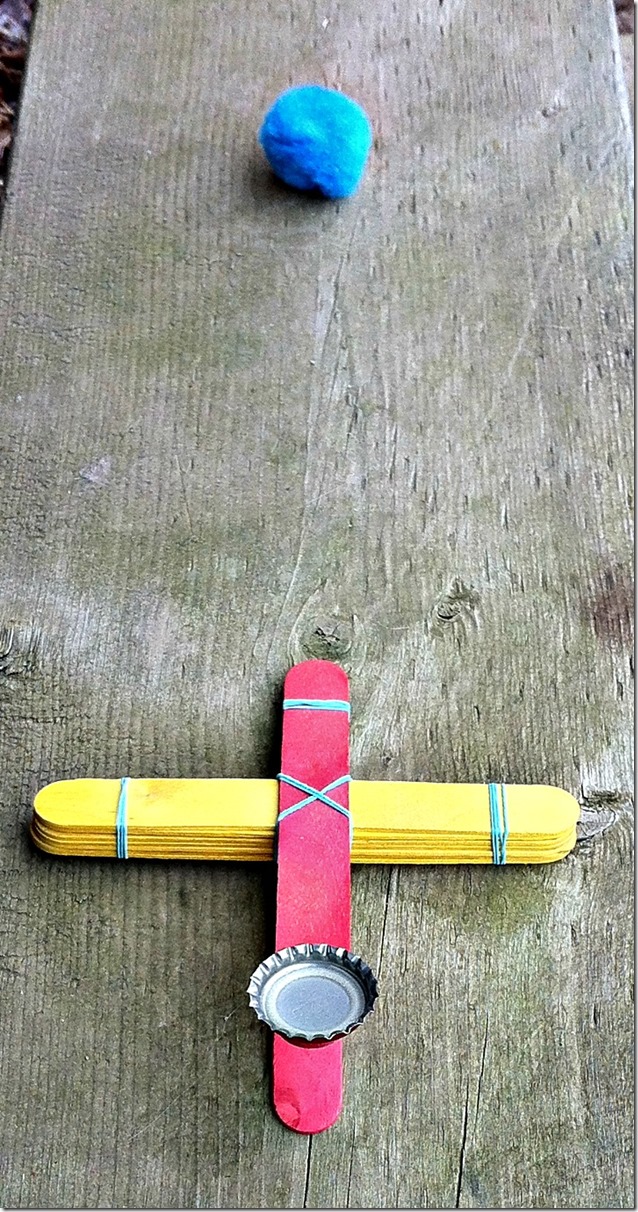 Instructions:
This is such a simple project to make!
1. Stack 7 craft sticks together and secure at each end with rubber bands.
2. Glue a bottle cap (or other "launch pad") to one end of another craft stick. Let dry. (You can do this after assembling if you are using the glue gun).
3. Stack the craft stick with the bottle cap on it with another plain craft stick and secure at one end with a rubber band.
4. Place the stack of 7 sticks inside the stack of 2 as shown in the photo above.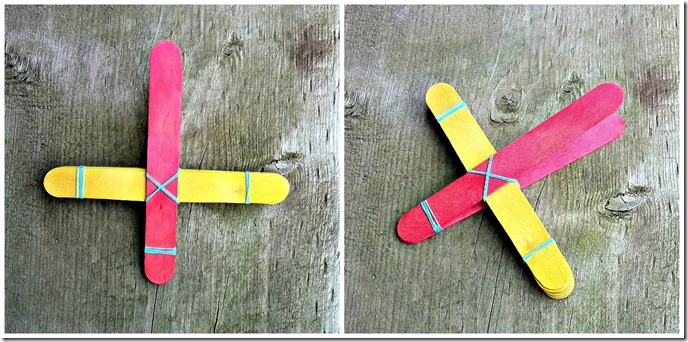 5. Secure with rubber bands. I use two and crisscross them over to make sure it holds in place.
That's it! You're ready to launch some pompoms. Simply press down on the bottle cap end and let go! Note: The placement of the 7 sticks inside of the 2 can affect how far the pompoms will fly. Let the kids experiment with moving it and see what happens!
Have the kids test out various options and then measure the distances they can launch the pompoms or other projectiles. What variation can launch the items the highest? What variation has enough force to knock over a toy character, domino, or other such item?
More ways of constructing DIY catapults here