Here's a fantastic weeknight meal idea that's really going to spice up your menu plan! You won't believe how quick and easy these tasty Chorizo Stuffed Poblano Peppers come together. My taste testers absolutely loved them! You can have this delicious, low-carb entrée on the table in just over half an hour without much fuss. The spicy Chorizo sausage delivers a ton of flavor without adding a lot of other seasonings. As an added bonus, these peppers freeze extremely well, so you can easily double or triple this recipe for even faster weeknight meals later.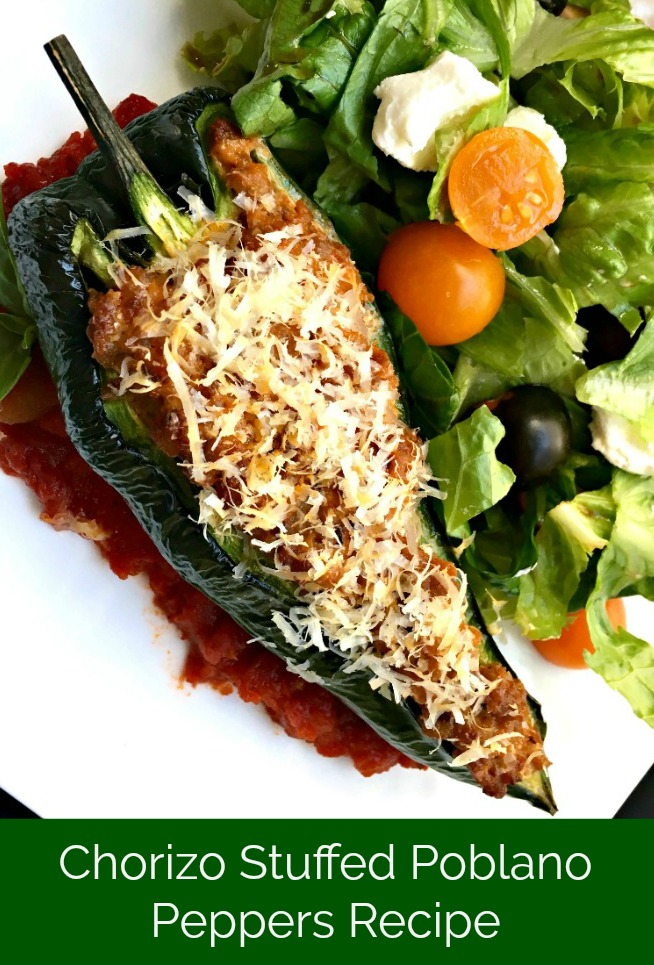 Chorizo Stuffed Poblano Peppers Recipe
Prep time: 10 minutes
Cook time: 25-30 minutes
Serves: 4-6
Ingredients:
2 c. tomato sauce, divided
4 large Poblano peppers
1½ lbs. bulk Chorizo sausage
8 oz. cream cheese, softened
4 oz. goat cheese, softened
½ c. freshly grated Parmesan cheese, divided
Sea salt and black pepper, to taste
Optional: Additional tomato sauce and Parmesan cheese, for serving.

Directions:
Preheat oven to 350°F and spread tomato sauce across bottom of 9×13" glass baking dish. Set aside.
Cut Poblano peppers in half lengthwise, leaving stems intact on one side. Remove seeds and set aside.
Brown Chorizo in a large skillet over medium-high heat, stirring occasionally, until no longer pink. Remove from heat and drain excess fat from pan.
Add cream cheese, goat cheese, and ¼ cup Parmesan cheese to skillet and stir until cheese is melted and sausage is thoroughly coated. Season with salt and pepper, to taste.
Carefully spoon sausage mixture into empty Poblano pepper halves and arrange in prepared glass baking dish and sprinkle with remaining Parmesan cheese.
Place baking dish in preheated oven for 25-30 minutes, or until cheese is melted and peppers are heated through. Remove from oven and serve immediately with additional tomato sauce and Parmesan cheese, if desired.