If you want some Christmassy decor to brighten up your mantel or add some color to a corner of your room, these 3D Felt Christmas Trees are the perfect project. Template provided so you can manually cut them out or use the SVG file and your die-cutting machine.
3D Felt Christmas Trees
I don't have much room downstairs in my granny suite. (Or should I call it a Meemaw suite?). We have the big Christmas tree upstairs where we put the gifts and all of that.
Still, I like to have some simple holiday decorations downstairs, including a Christmas tree. Or in this case 3 Christmas trees! They're a little bit rustic and perfectly on-trend.
Welcome back to year 6 of our Festive Christmas Event where we team up with a bunch of talented blogging friends to bring you a plethora of creative ways to celebrate your holiday season.
We will be baking some cookie recipes for you, sharing some party games, making some handmade gifts, doing some ornament crafting, and sharing our Christmas movies family fun. There will be breakfast recipes and as always our decorated Christmas Trees which is always a fun tour of homes.
New this year is Gift Guides. We are right there with you shopping from home due to Covid 19 and we understand how hard that can be so we have been busy little Elves doing tons of research to create fabulous Gift Guides to help you with your holiday shopping.
You will find new ideas every Monday and Wednesday between Oct. 19th through Nov. 18th. Scroll all the way down to find all the ideas linked at the end.
Here's how to make these Christmas trees:
Materials:
Felt fabric in 3 coordinating colors such as green and blue
Fabric scissors
Hot glue gun and clear craft glue
Wooden dowel, 8" long
Wood stump (1" diameter x 1.25" high)
Instructions:
Preparing the Materials:
Gather supplies.
Drill a hole in the center of the stump the same size as the wooden dowel.
Cutting Felt Out by Hand
Print off pattern template on 8.5×11 sheet of paper.
Cut around each of the pattern pieces.
Cutting out one tree at a time, place the pattern on top of the felt sheet in desired color. Using a pair of fabric scissors, cut out the tree shape along the solid line.
Cut 6 pieces of each tree.
Repeat for the remaining tree patterns.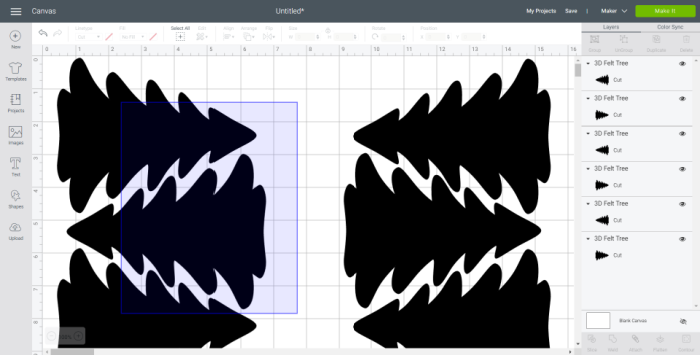 Using Cricut to Cut the Felt
Alternatively, use a cutting machine and SVG file to cut tree shapes out of felt.
Open a blank canvas in Cricut Design Space.
Upload the Christmas Tree SVG File into Design Space.
Select "Make It" in Design Space.
Set material type to Felt.
Follow prompts for loading the mat into the Cricut cutting machine and cutting the felt. When prompted, unload the mat from the cutting machine.
Continue cutting 6 pieces for each tree.
Assembling the 3D Christmas Trees:
Along one side of a tree piece, apply a bead of glue along the outer edge.
Place another tree piece on top pressing the glued edges together. Lift and fold back the unglued side and apply another bead of glue along the outer edge.
Press another tree piece down on top to glue the edges together.
In order to leave space in the center for the dowel, avoid gluing the center of the tree.
Repeat with the other tree pieces. Fold each tree piece outwards and glue the inner edge together with the inner edge of the tree piece next to it.
Continue until all 6 pieces are glued together.
Insert the dowel into the wooden stump.
Insert the top end of the dowel into the center opening and push it all the way up to the top. If the opening is too big, glue it some more to make it smaller.
Repeat to make more 3D felt trees.
FIND MORE FESTIVE CHRISTMAS TREE IDEAS BELOW: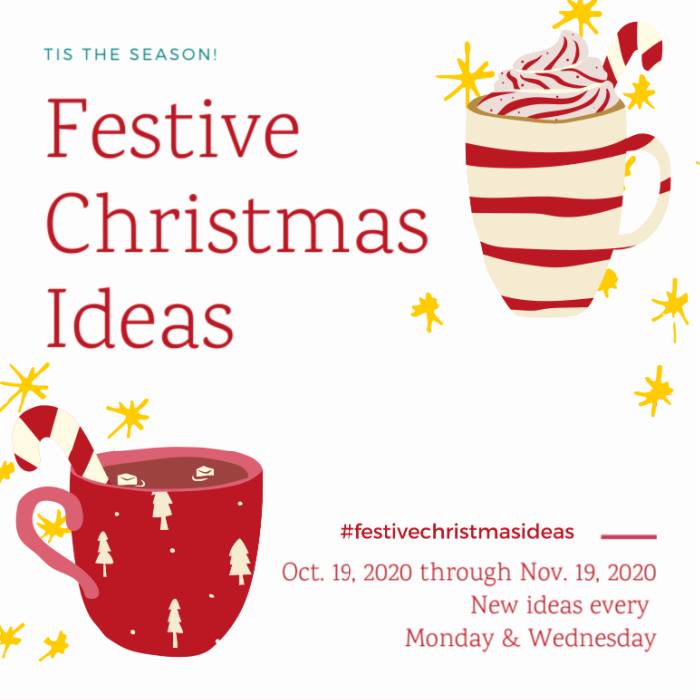 Animal Crossing Christmas Tree My Pinterventures
Simple Silver & Gold Christmas Tree Decorations Intelligent Domestications
3D Felt Christmas Tree Creative Cynchronicity
Tips for Decorating a Small Christmas Tree Farm Girl Reformed
Small Christmas Tree for the Bedroom Little Vintage Cottage
Slim Flocked Christmas Tree An Alli Event
Louvered Door Slat Tabletop Christmas Tree Interior Frugalista
Rustic Minimal Christmas Tree Mom Home Guide
Coastal Christmas Tree Across The Blvd.
How to Create a Unified Look on an Eclectic Christmas Tree Tikkido
Black and White Christmas Tree Domestically Creative
2020 Candy Christmas Tree Craft Rocker
Rustic Christmas Tree As For Me and My Homestead
Washtub Christmas Tree Skirt Coffee With Us 3
A Christmas Tree Filled with Memories Made Through the Years Blogghetti
Woods and Silver Christmas Tree Polka Dot Poplars
Crochet Filled Christmas Tree Eye Love Knots
Purple Hues Christmas Tree Purple Hues and Me
Festive Outdoor Christmas Trees Domestic Deadline
How To Decorate A Stunning Christmas Tree – 5 Easy Steps My Humble Home and Garden
How to Make a Super Easy Paper Christmas Tree! Our Sutton Place
Neutral Farmhouse Christmas Tree Pretty DIY Home
Grinch Christmas Tree From House to Home
Mickey Mouse Christmas Tree Simply Inspired Meals
Christmas Tree Trends for 2020 Christmas Tree Lane