If you want some Christmassy decor to brighten up your mantel or add some color to a corner of your room, these 3D Felt Christmas Trees are the perfect project. Template provided so you can manually cut them out or use the SVG file and your die-cutting machine.
3D Felt Christmas Trees
I don't have much room downstairs in my granny suite. (Or should I call it a Meemaw suite?). We have the big Christmas tree upstairs where we put the gifts and all of that.
Still, I like to have some simple holiday decorations downstairs, including a Christmas tree. Or in this case 3 Christmas trees! They're a little bit rustic and perfectly on-trend.
Here's how to make these Christmas trees:
Materials:
Felt fabric in 3 coordinating colors such as green and blue
Fabric scissors
Hot glue gun and clear craft glue
Wooden dowel, 8" long
Wood stump (1" diameter x 1.25" high)
Instructions:
Preparing the Materials:
Gather supplies.
Drill a hole in the center of the stump the same size as the wooden dowel.
Cutting Felt Out by Hand
Print off pattern template on 8.5×11 sheet of paper.
Cut around each of the pattern pieces.
Cutting out one tree at a time, place the pattern on top of the felt sheet in desired color. Using a pair of fabric scissors, cut out the tree shape along the solid line.
Cut 6 pieces of each tree.
Repeat for the remaining tree patterns.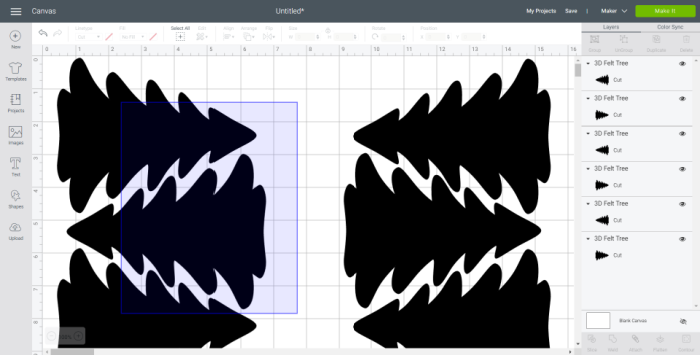 Using Cricut to Cut the Felt
Alternatively, use a cutting machine and SVG file to cut tree shapes out of felt.
Open a blank canvas in Cricut Design Space.
Upload the Christmas Tree SVG File into Design Space.
Select "Make It" in Design Space.
Set material type to Felt.
Follow prompts for loading the mat into the Cricut cutting machine and cutting the felt. When prompted, unload the mat from the cutting machine.
Continue cutting 6 pieces for each tree.
Assembling the 3D Christmas Trees:
Along one side of a tree piece, apply a bead of glue along the outer edge.
Place another tree piece on top pressing the glued edges together. Lift and fold back the unglued side and apply another bead of glue along the outer edge.
Press another tree piece down on top to glue the edges together.
In order to leave space in the center for the dowel, avoid gluing the center of the tree.
Repeat with the other tree pieces. Fold each tree piece outwards and glue the inner edge together with the inner edge of the tree piece next to it.
Continue until all 6 pieces are glued together.
Insert the dowel into the wooden stump.
Insert the top end of the dowel into the center opening and push it all the way up to the top. If the opening is too big, glue it some more to make it smaller.
Repeat to make more 3D felt trees.