It's nearly Valentine's Day. For some of us, that may mean having a quiet romantic evening with our significant other. Don't get me wrong – once in a while, I enjoy getting dressed up and heading out for a fancy dinner and night of dancing. But most of the time, it's those occasions where we settled in for a delicious dinner at home followed by a good movie that stick out in my memories most of all. These romantic movies on Netflix Canada are just perfect for Valentine's Day or indeed, anytime you want to snuggle up with your sweetie (or for a girls' night) and enjoy an evening at home.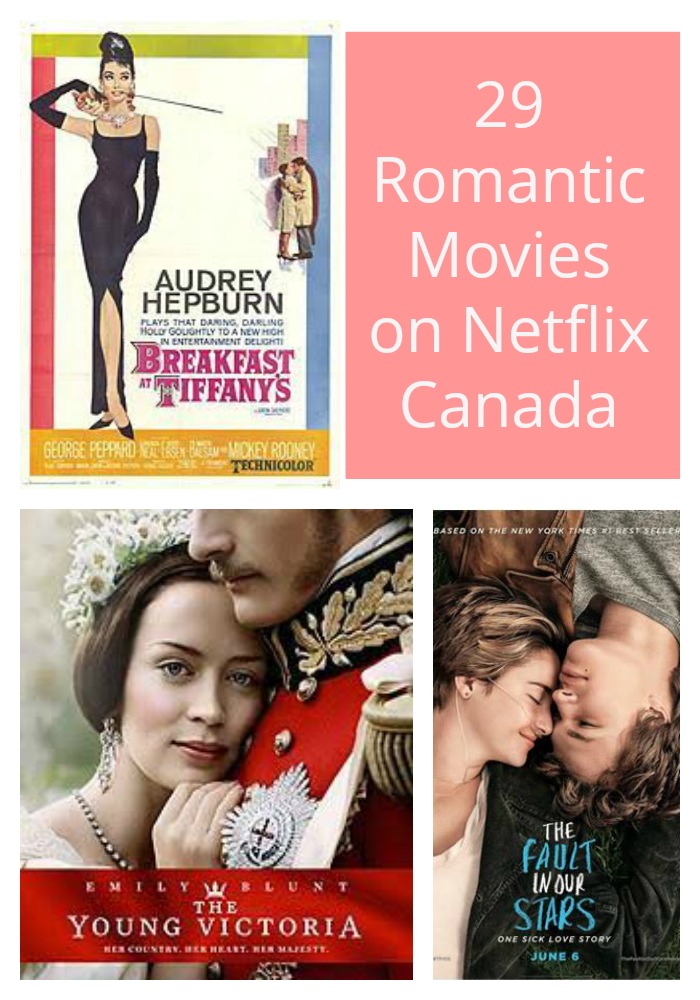 The Classics:
Breakfast at Tiffany's –
Fortune hunter Holly Golightly finds herself captivated by aspiring writer Paul Varjak who moves into her building on a wealthy woman's dime. Not your classic romantic plot, this Audrey Hepburn classic still delivers a love story for the ages.
Roman Holiday –
Another Hepburn classic, she stars as a stifled princess who slips away from her guardians and is taken under the wing of a tabloid reporter looking for a scoop. As you can imagine, what he finds instead is love.
Barefoot in the Park –
A pair of newlyweds, he a stuffed shirt lawyer, she a free spirit, attempt to adapt to each other and life in a small Greenwich Village flat. Stars Robert Redford and Jane Fonda.
Grease –
The classic good girl meets "bad" boy musical set at a high school in the 1950s and starring John Travolta and Olivia Newton John.
Footloose –
Another classic musical. Big city Ren is transported to a small town where dancing is outlawed. Will he find love and happiness in this straight-laced town? Kevin Bacon made a name for himself in this one.
Move Over Darling –
He is having a wonderful honeymoon with his lovely new bride until his other wife shows up in this comedy mix-up. A classic with Doris Day and James Garner.
How to Marry a Millionaire –
Marilyn Monroe, Betty Grable, and Lauren Bacall headline this classic comedy in which 3 New York models plan to use their looks, charm, and talent to catch and marry a trio of millionaires.
Gentlemen Prefer Blondes –
A blonde showgirl (Marilyn Monroe) is unknowingly tracked by an investigator hired by her fiance's father. But the detective only has eyes for her brunette friend (Jane Russell).
Period Pieces:
The Young Victoria –
A sheltered teenager becomes the Queen of England. But her love for a handsome German prince comes first.
The Danish Girl –
In 1920s Denmark, married artists embark on a journey of unconditional love when the husband announces his intention to live life as a woman.
Their Finest –
In this romantic comedy, public morale in war-time Britain at an all-time low, an ex-secretary is hired to write feminine flair into a propaganda film.
A Royal Affair –
In 18th century Denmark, the unstable King Christian VII neglects his young queen Mathilde who falls in love with his German physician.
More Modern Stories:
The Best of Me –
Sparks fly between former high school flames when they return home for a funeral, but painful memories may keep them from having a future together. (Note: this is based on a Nicholas Sparks novel so be sure to have tissues nearby)
Safe Haven –
Another Nicholas Sparks story so see my warning above. When a mysterious woman arrives in a small North Carolina town, she begins a new life but remains haunted by a terrifying secret. Stars Julianne Hough.
The Notebook –
Yep. We have a theme going. Here's another one from Nicholas Sparks. Two young lovers are torn apart by war and class differences in the 1940s.
Love Happens –
Starring Jennifer Aniston, a self-help guru's failure to come to grips with his wife's death may cost him a chance at happiness with a quirky florist.
The Fault in our Stars –
Two teens meet at a cancer support group and together they face the challenge of building a relationship under the shadow of terminal illness.
Coffee Shop –
A small town coffee shop owner with romantic and financial woes can't get a grip on her problems – until realizing she can't go it alone.
Charlie St. Cloud –
Ben Sherwood's intriguing novel is the basis of this ghost story about Charlie who is devoted to his brother Sam even after Sam's death. When Charlie meets Tess, he is faced with the difficult choice between living in Sam's world or Tess's. Stars Zac Effron.
One Day –
Starring Anne Hathaway. After a brief college romance, Emma and Dexter pursue separate dreams but meet on the same day each year to compare their progress in life and love.
The Time Traveler's Wife –
Due to a genetic disorder, handsome librarian Henry involuntarily zips through time, appearing at various moments in the life of his true love. Rachel McAdams.
The Accidental Husband –
Relationship expert Emma leads a sensible life until she makes the shocking discovery that she's married to a man she's never even met. Uma Thurman, Colin Firth, Jeffrey Dean Morgan
The Vow –
When a recently married young woman awakens with amnesia following a car accident, her devoted husband must help her recover and win back her love. Channing Tatum and Rachel McAdams.
A Little Bit of Heaven –
After learning that she has terminal cancer, a spirited young woman thinks she's finished with love forever- but her heart has other ideas. Starring Kate Hudson.
He's Just Not that Into You –
Jennifer Aniston, Drew Barrymore, Ben Affleck. Love hungry Baltimoreans deal with the pitfalls of human interaction.
Ghosts of Girlfriends Past –
At his brother's wedding, playboy Connor discovers that the ghosts of his many girlfriends have come to give him a piece of their mind. Matthew McConaughey and Jennifer Garner.
Definitely Maybe –
Ryan Reynolds. Interested in knowing how her divorced parents met, a young Maya listens as her dad Will recounts his romantic past with three different women.
How to Lose a Guy in 10 Days –
A player bets his co-workers that he can make a woman fall in love with him in just 10 days. But he bets on the wrong woman – a writer with her own agenda. Kate Hudson, Matthew McConaughey.
Our Souls at Night –
Another Jane Fonda, Robert Redford pairing. After widowed neighbours Addie and Louis begin sleeping together in bed platonically to alleviate their loneliness, real romance begins to blossom.
Have you seen any of these? Which romantic movies do you recommend?