I've been doing quite a bit of traveling the past few years. As I write this, I'm actually on a plane on my way to Europe. Over that time, I have come up with some ideas of essentials (at least for me!) that I always take in my carry-on when I board a plane.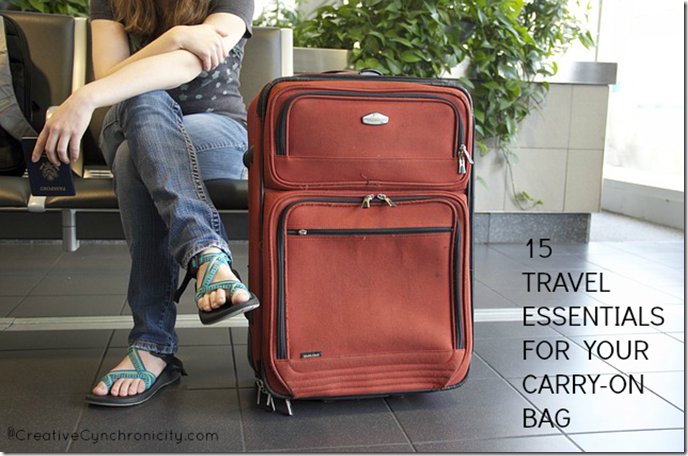 Here are my suggestions for 15 Travel Essentials to Take in Your Carry-On Bag:
Tide To Go – if you're anything like me, that bit of turbulence is going to occur right at the moment I'm drinking a cup of coffee and I'm going to end up spilling. A Tide To Go pen is a fantastic little product to carry along. It takes up little space and can deal with those stains right away.
Mouthwash strips and/or mints; gum – I like being able to freshen up my breath before I arrive at my destination. Of course you can always bring along a toothbrush and toothpaste (make sure it's a size that's allowed) but I often find it gets inconvenient to try brushing my teeth prior to landing. Mouthwash strips work well in a pinch. I always always always carry gum with me. Have I ever told you about the time I suffered an ear trauma while flying? Chewing gum can help minimize a recurrence of it.
Sanitizing wet wipes – I used to carry antibacterial hand gel but I find the wipes so much more versatile. With these, not only can I clean my hands, but I can use them to clean off the trays on the plane (do you KNOW how germy those things are?) as well as the arms of the seats and any other surfaces in need of cleaning.
Headphones or ear buds – Yes you can purchase them on board but why not just carry your own? I am rather picky about mine and sometimes find other brands uncomfortable. Plus, why spend money when you don't have to? To keep them from getting tangled and easy to find, I put mine inside one of the little plastic eggs you get inside of a Kinder Surprise. Be sure to bring some for the kids too. Many planes have TVs for each seat with a wide selection of music, movies, and TV shows for all ages.
Earplugs and an eye mask – I usually just put in my ear buds and listen to music when I want to block out the noise from on the plane but at times, I want quiet. That's when the earplugs come in handy. On my most recent flight, it took them what felt like forever to turn the lights off in our cabin. My eye mask was invaluable in allowing me to block out the light and get some sleep!
Sunglasses – Many times I have taken off in overcast weather only to find the sun shining brightly once on board. Of course there are the shades that can be pulled down but if your seatmate isn't too keen on doing that, having sunglasses handy can be a lifesaver. If you wear contact lenses, I also strongly suggest you bring along the case, solution, and your eyeglasses with you in case your eyes get irritated or you want to sleep.
Inflatable pillow or a pillowcase (you can stuff your jacket in here and use it as a pillow) – I prefer to carry an inflatable pillow with me. You can fill it right up or just partway and use it for your neck or behind your back for lumbar support. I've also heard of people who carry a pillowcase and simply roll up their sweater or jacket in it and use that as a pillow instead.
A light blanket or pashmina or other shawl – Many airlines charge you for a blanket these days. I sure don't want to have to buy one every single time I get on a plane so I carry a light blanket that doesn't take up much space or bring a pashmina with me so I can cover up if it gets chilly. Remember to dress in layers too – temperatures on planes can really vary.
Healthy snacks – Food provided on board a plane can sometimes be a bit of a hit or miss situation. You might get a tiny snack, full meal, or nothing at all. Take along some healthy snacks – if there are flight delays you will always have something to eat.
Flat water bottle – You can't take a full bottle of water through security in the airport and if you wait to purchase one after clearing security, you will overpay for it. Take one of those refillable water bottles that are completely flat before adding water. They take up little space and you can fill it up after you get through security.
Tablet – My tablet can help save my sanity when travel plans go awry. I have my Kindle on it and can download several books on it prior to taking off that I will be able to access even if there is no wifi available. If I do have wifi, Texture (formerly called NextIssue) gives me access to a large selection of magazines and Songza gives me access to many different types of music right at my fingertips.
Slippers or socks – I have a pair of folding slippers that I like to bring with me. Those or a pair of extra socks will allow you to take off your shoes and get comfortable while traveling (assuming you don't have a foot odor issue!).
Tissues, hand lotion, lip balm, and nasal gel – All of these items are helpful in dealing with the inevitable dry air found in an airplane cabin. The tissues are also great to have on hand in case you end up in a bathroom with no toilet paper. As for the nasal gel, not only is a dry nose, an uncomfortable nose, but the drier your nasal passages, the more likely you are to catch a cold or other virus while traveling. The gel acts as a bit of a barrier to those germs. (Don't use petroleum jelly – it can actually cause damage to the nasal tissues). Lip balm to keep your lips from getting dry and chapped will make you feel more comfortable too. Finally, hand lotion will help keep your skin moisturized – in a pinch, you can use it on the rest of your body as well.
Travel documents and cash – Be sure to have all your travel documents handy. When I arrived in the UK, they even wanted to know the full address of where I was going and were telling others that simply having the name of the hotel was not enough. I've traveled over the US border before and they have wanted to see all tickets, my itinerary, boarding passes, and confirmations. It's best to have all of this, as well as of course, your ID and passport handy in your carry-on bag in case it's needed. And I'm sure this is a Captain Obvious moment but never put your cash in your luggage. Carry it in your bag or better yet, in a money belt you are wearing.
Any medications in their original bottles – Here's the thing. It can be really inconvenient to carry larger bottles of medications along and it's such a temptation to put them into smaller pill boxes. The reality is that you could lose your luggage and be left with an insufficient amount of medication. The other reality is that you could be delayed at the border while they verify that those little orange pills really are what you say they are. If you can, carry all of your medications with you. Don't forget some OTC medications as well – I never travel without Imodium, Tylenol/Advil, PeptoBismol, and Zantac.
It's also a good idea to think about carrying any valuable, fragile, or sentimental items such as jewelry and electronics. Some people also like to bring along a change of clothes (or at least underwear) and a few toiletries to tide them over in case their luggage gets lost.
What are your must have items for your carry-on bag?